Kate Garraway says husband Derek Draper is still in a 'terrible state' after covid 'devastated' his body
The TV stars gives an update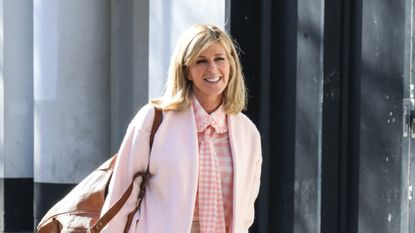 (Image credit: SOPA Images / Getty Images)
Kate Garraway's husband Derek Draper is still "devastated" by covid, despite returning home after 13 months in hospital.
The Good Morning Britain star has given the first update on her husband's condition in what feels like months during an appearance on Piers Morgan's Life Stories—before she takes over from the TV host.
Derek is thought to be fighting one of the longest battles with covid-19 in the country—a story that has touched even The Duke and Duchess of Cambridge.
But the disease has "devastated" him, according to Kate. "From the top of his head to the tip of his toe. His digestive system, his liver, his kidneys, his heart, his nervous system. We're pretty sure that the inflammation did pass through the brain."
"He still can't communicate, he still has issues with mobility. Fundamentally, he's in a terrible state. Look, he's alive, Piers."
The Good Morning Britain star's husband was first admitted to hospital in March last year and spent several months in a medically induced coma in intensive care before finally returning to the family home in April.
Despite being free from the virus now, covid-19 has wreaked "extraordinary damage" on Derek's body, of which the ongoing repercussions are currently unknown. Kate touched on these in her NTA-winning documentary, Finding Derek.
Although there were fears he could be "locked in" forever, Kate and Piers discussed how there are glimpses of hope.
Piers explained, "We had a moment last night when I rang you about this interview. Without warning, you said to me, 'Why don't you talk to Derek?' and Derek replied when you said it was me, very loud, clear, 'Hello.'"
Piers—who walked out on Good Morning Britain earlier this year—said he was "stunned" at the exchange, as was Kate.
"Well, so were we," Kate—who shares two children Darcey, 15, and Billy, 12, with Derek—confessed. "The carers that were with me at the time burst into tears. I mean, I don't want to suggest you're a healer Piers but it was a remarkable moment. It's moments like that that make you realise that he is in there.
"And we've had others - he will turn to me and say, 'I love you.'"
Tearing up, Kate added, "He is there! He's fought so hard to stay in this world and I'm not giving up on him ever. He will have moments of clarity and it's like he disappears again."
Georgia writes across Woman & Home and Good to Know and specialises in all things royal. Previously labelled the "Queen of the royals," Georgia knows the whose who and what's what when it comes to the monarchy. When she's not eagerly following the royal family, Georgia enjoys shopping and self-care. She lives with this motto in mind; "if your dreams don't scare you, they aren't big enough."