Dame Julie Walters reveals secret bowel cancer battle
She was diagnosed 18 months ago.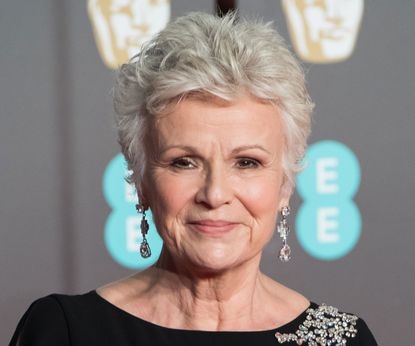 (Image credit: Getty)
Dame Julie Walters has revealed she has been battling with stage three bowel cancer.
The iconic actress spoke out about the health journey to BBC's Victoria Derbyshire, explaining she underwent surgery and chemotherapy after being diagnosed 18 months ago.
The award winning movie star, who has appeared in smash hits like Harry Potter, Mamma Mia and Billy Elliot, also revealed that when she first heard the news of her diagnosis, she thought there had been a mistake.
"I was still thinking, 'That's ridiculous, he must have made a mistake'. I couldn't believe it," Julie admitted.
Speaking on the moment she told her husband, Grant Roffey, about the two primary tumours doctors had found in her large intestine, the BAFTA winner went on, "So I came out and then Grant was waiting in the car because he'd taken me. And I'd say, 'They're worried it's cancer.'"
READ MORE:The importance of early diagnosis when it comes to bowel cancer - discover the symptoms to look out for (opens in new tab)
"I'll never forget his face. And tears came into his eyes and I thought, 'Oh Grant!' So I then worried about him, more than [me]."
After having 30cm removed from her colon in hospital, Julie settled down to watch some reality TV, "I said to the night nurse, 'Is Love Island on?' - because we were talking about it - and we watched it together.
READ MORE:'It is a dream to be in my position' Deborah James opens up about beating 'incurable' cancer (opens in new tab)
"It was only a couple of days later I thought, I feel exhausted, and a bit low actually."
Confirming that her health is on the up, Julie explained, "I've just had a scan, and I know that [I'm] clear," but went on to add that her next film The Secret Garden could be one of her last