Judy Finnigan criticises Alex Jones for comments about working mothers at the BBC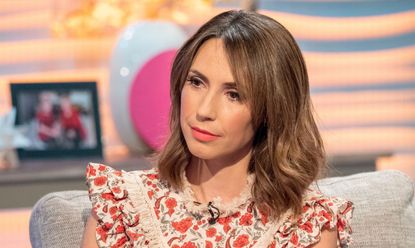 Alex Jones has been chided by TV veteran Judy Finnigan for her comments about returning to work after having her baby son, Teddy.
Recently, Alex Jones made headlines after calling out the BBC over their lack of facilities for new mothers.
"The facilities… aren't there," Alex said. "They talk a good game but even at the BBC there isn't a crèche. There isn't a room where you can express. There isn't a fridge where you can keep your milk."
Judy admitted that after hearing Alex's comments (regarding the BBC and the way the company treats new mothers returning to work) she was left feeling 'cross'.
The TV star's frustration towards One Show host Alex comes from her own experience as a working mum in television.
'Maternity leave was nonexistent when I was first pregnant and I was thrilled when it was introduced just before my twins were born 40 or so years ago' Judy explains in her column for the Express.
'What new mothers such as Alex need to appreciate now is that going back to work early is a matter of choice. You can choose to spend six months breastfeeding your baby or only three because going back to work is what you decide to do.'
'Alex chose to go back to work on The One Show when her baby boy Teddy was just three months old,' Judy writes. 'Her professional anxiety got the better of her and she went back to work three months early.'
'May I say that much as I like her it's about time that Alex and other new mothers who complain about their jobs grew up.'
After making her views on the matter evident, Judy closes out her column with a direct word of warning for Alex Jones and other mums in a similar position.
'Sorry Alex. You and your generation enjoy a lot of privileges our mothers would have died for. Don't spoil it by refusing to accept that you pays your money and you takes your choice.'
Digital Editor - Woman & Home
An internationally published digital journalist and editor who specialises in SEO strategy and content production, Rachael has worked as a writer and editor for both news and lifestyle websites in the UK and abroad.
Rachael's published work covers a broad spectrum of topics and she has written about everything from the future of sustainable travel, to the impact of the coronavirus pandemic on the world we live in, to the psychology of colour.