Jo Whiley opens up on the drastic impact the menopause had on her life
"You lose your sense of self"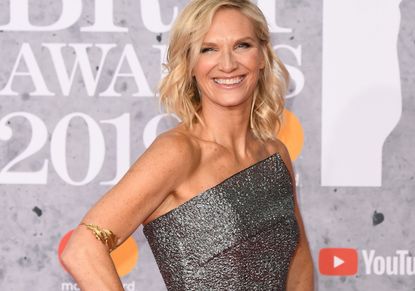 (Image credit: Getty)
BBC Radio 2 presenter Jo Whiley has opened up about the impact going through menopause had on her life.
The 54-year-old mum-of-four revealed that she felt as though she lost her "sense of self" when going through the big hormonal change.
Speaking to The Times about experiencing that particular time in hr life, the UK media icon explained, "You lose your sense of self, you've accomplished so much and you start to think, 'OK, what's next?'
"That was definitely going on for me. I wasn't in a terrible state, but I was feeling more anxious and I didn't like it, because I'd never felt like that before, ever."
READ MORE:Delay the (opens in new tab)menopause by substituting these common household items says Dr Marilyn Glenville
Now, Jo has been prescribed Hormone Replacement Therapy and says she finds her menopause symptoms easier to deal with now and feels more like "her old self".
She's also turned to fitness to help get her spring back in her step, revealing, "I'd been a very strong woman physically and mentally and I felt I was beginning to become a little unravelled, in both ways. Getting back into fitness and giving myself a challenge made me feel a lot better."
Jo also recently revealed what she feels is her health motto.
"Try hard not to fall apart mentally and physically. I think it's incredibly important to do exercise and to keep yourself as healthy as possible. Whatever you can do, just try to do it," she told Good Housekeeping.
Going on to explain that her "happy place" is somewhere rather simple, she said, "The garden – it's something I've grown into. You get a real sense of achievement when you've worked incredibly hard. Six months down the line, when you see something blossoming, you feel so good."