JK Rowling donates £1 million to charity to protect vulnerable during the coronavirus pandemic
An incredible move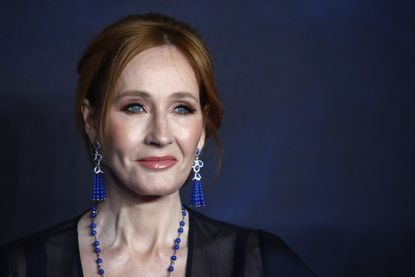 Over the past few weeks we've seen companies, royals and celebrities do their bit to help people during the coronavirus pandemic.
Now, JK Rowling (opens in new tab) has donated £1 million to charity to help the most vulnerable in society at this difficult time.
Every year on the 2nd May, the Harry Potter author celebrates the anniversary of the Battle of Hogwarts – the fight between Harry and the Hogwarts students and Lord Voldemort and his Death Eaters in the final book.
But this year the writer said it would be inappropriate to celebrate fictional deaths, while there is a global pandemic.
Instead she explained that she would be donating to two charities - Crisis and Refuge - who help the homeless and victims of domestic abuse.
In the tweet, she wrote, 'Today's the 22nd anniversary of the Battle of Hogwarts, but I'm going to be honest and say that it feels inappropriate to talk about fictional deaths today. Too many people are losing loved ones in the real world.
'So on this anniversary of a great wizarding victory, I'm thinking of the people who're out there doing their jobs to protect us and our way of life. I have 3 key workers in my immediate family, and like all such relatives, I'm torn between pride and anxiety.'
She continued, 'As ever in a crisis of this sort, the poorest and most vulnerable are hit hardest, so in honour of the Battle of Hogwarts, I'll be making a donation of £1m, half of which will go to crisis.org.uk, who're helping the homeless during the pandemic, and half of which will go to refuge.org.uk, because we know that domestic abuse has, sadly, increased hugely during the lockdown.'
JK Rowling's move comes after the chief executive of Refuge, Sandra Horley, stated that domestic abuse could increase during lockdown, due to the fact that people would be spending more time around their abusers.
In a statement, she said, '1.6 million women experienced domestic abuse last year, and self-isolation has the potential to aggravate pre-existing abusive behaviours by perpetrators.
'While in lockdown or self-isolation, women and children are likely to be spending concentrated periods of time with perpetrators, potentially escalating the threat of domestic abuse and further restricting their freedom.'
Lizzie Thomson is a regular contributor to woman&home, and also contributes to Metro.co.uk, Ideal Home, Culture Trip, and Evening Standard, covering all things lifestyle.