Jamie Oliver: "I Don't Want My Kids To Have The Life I've Got"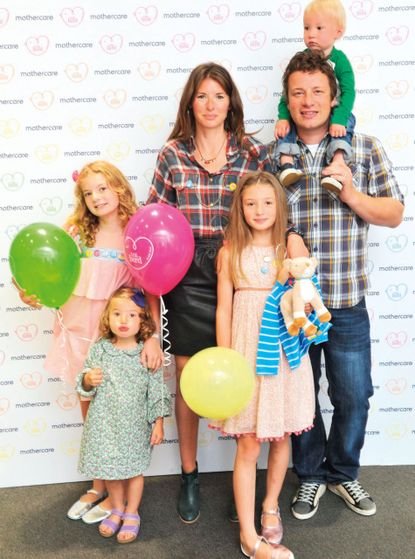 Jamie and Jools Oliver have just announced the birth of their 5th child. A currently nameless son who they showed off in an adorable family photo taken outside the hospital shortly after he was born. Jamie has also revealed that his oldest daughter Poppy, 14 was present for the birth and the rest of their children cut the umbilical cord of their new sibling.
Jamie Oliver recently spoke to Vicki Power about his growing family, romantic interludes and his new TV series and book, Super Food Family Classics...
Jamie, 41, lives with his wife, Jools, and their four children: Poppy, 14, Daisy, 13, Petal, seven, and Buddy, five. When we meet up at Jamie's London offices, Jamie and Jools' fifth child was about to be born. The family lives between homes in London and Essex.
I waited for the right time to get involved in the super food debate. The idea had been growing in the public's consciousness for five or six years, and then when I lost two stone last year by cutting down on sugar and fine-tuning my diet, and starting a diploma in nutrition, I thought it was the right time to try to shift thinking a bit on super foods. The TV series Jamie's Super Food and the cookery book Everyday Super Foods came out of that. It went well and so now I'm back with Super Food Family Classics, based around the sort of stuff I make at home for my kids but packing them full of nutrients and keeping the calorie count fairly light.
There's chocolate porridge in the book and it's bloody delicious. Everyone associates chocolate with being unhealthy but the point is there's never been anything unhealthy about cacao or chocolate - it's the rubbish you put with it to make it cheaper, the saturated fat and sugar, that's unhealthy. My recipe has cocoa powder and uses dates for sweetness. I make it every other weekend and the kids love it.
I know I said I didn't want any more children. It's quite unbelievable we're having another baby. When we first started going out, Jools always wanted a family and so did I, but I thought that meant two kids! But having a lot of children was a really important thing to her, and being married to me comes with quite a lot of complications, like working late and making noise about issues. I run this business and she runs the family and I think we've got to support each other in our jobs. Jools was like, 'Yep, one more, please,' and I said 'Fine.' We're really excited, especially the older girls.
Of course I'm going to be there at the birth. I've been to all of them and I really get amongst it - the business end doesn't bother me in the slightest. Jools is more nervous about this one, but I try to remind her she's done it four times before. Still, because she's 41 it is taken much more seriously by the doctors. Silently behind the scenes, Jools has to be credited with everything I've ever done. We are quite opposite but it does work and we've been together since we were 16. As wonderful as The Naked Chef-to-now story has been, it's flipped up some curve balls and challenging press moments that are just not normal, but Jools has dealt with all that stuff. And she does the normal mum bit total justice - she's totally hands on and holds the fort. I couldn't take on a third of what I do without her.
I'm sure Jools has a long list of things that annoy her about me. She would say wearing trainers on the carpet and putting my clothes in a pile on the floor. But if we're paying for a cleaner then surely I've earned the right to leave my clothes on the floor. Jools doesn't do anything that really annoys me, although she's not very decisive about plans sometimes. We don't get enough time alone together. I'm going to try to take her away in the next two or three weeks if I can convince her, probably to our boat. We prefer that to a luxury hotel. We've been renovating a little old wooden riverboat in Norfolk called Katinka. It's lovely and so cosy - you can get on there and just chug about, moor up and cook and sleep on it.
We didn't have any help until the third child. We don't really have a nanny, just a helper. Jools has always been a hands-on mum and she doesn't want to go off and have somebody else look after the kids. I think when you get a trained nanny along with the mum, if you're both there all the time that can be a strange scenario. So we have a mum's helper just to take a bit of pressure off of picking up and taking to school. It works really well. I'm a bit tougher than Jools as a parent. I parent very differently from her, maybe because I'm a geezer. She runs a tight ship and I'm slightly less structured. I'm also a little bit more into tough love, like, 'Fall into line or crack on in your room' and naughty corner stuff. I suppose that's how I was brought up, with a bit of discipline. I don't want my kids to be young millionaires like I was. I built up a small empire at a young age and I'm proud of the things I've done, but I don't aspire for my children to do that. To have a solid wage and slowly evolve a career over many years and focus on a slightly smaller fish pool are the things I dream about. I'm well beyond that now and I've made my choice, but my life is like a train you can't get off. I don't want my kids to have the complicated life that I've got and the amount of things to gain or to risk. My life is like a really highly tuned game of poker. I really want my kids to have really nice, fulfilling, normal jobs. I've never taken my kids to McDonald's, but I should. McDonald's isn't where it was ten years ago; they've improved their sourcing and procurement. The kids don't go to fast food restaurants in general, and we tend to cook at home because it's easier. There are a lot of us and if you have my face then people want to come and talk to you. If your older kids have fizzy drinks and fast food when they're out, the answer is to make sure they eat well at home. Like with most things in life, you can take a little bit of damage or wastage if you get it right most of the time. My missus and I would be bothered if our kids were drinking loads of Coke outside the home, but at the same time we wouldn't want to stop them having a Coke. We just take the view that we've done our bit at home and that's two thirds of their nourishment, and if they're going get one third wrong then we have to make sure the rest is sound. I grew up drinking milk and water and so have my kids.
The sugar tax is great news [The 2016 Spring Budget levied a two-tier tax on sugary drinks to be levied from April 2018]. I know it's only a start, but symbolically it's powerful and it rattled around the world. But the most exciting bit of the story is the Child Obesity Strategy being put together, which was delayed until after the EU vote, so we're waiting for that. In my view this was the first time that a government in my opinion showed some confidence and aibility to deal with the most important fight ever, which is child health.
I've just started a master's degree in nutrition after I did a diploma last year. I was rubbish at school because I was dyslexic, so this is a whole new thing and really exciting. You start to realise how amazing the subject is, and how important, and then you discover that studying nutrition is optional for GPs during their medical study. And you start looking at what population studies say about diet-related disease. And you realise there's a hell of a lot of work to do.
At weekends I like to relax, but I only get control of the remote on a Sunday. I like to watch Countryfile with a nice glass of whisky and a roast in the oven. I'm also keen on Gardeners' World and Chelsea Flower Show - clearly I've turned into a proper old guy, big time. The way I look at it is I have enough going on in my life - I don't need to get involved with Keeping Up With the Kardashians. Jools loves all that.
Jamie's cookery book, Super Food Family Classics (Penguin Random House) is out now. The accompanying TV series, Jamie's Super Food Classics, starts early September on Channel 4.