Jamie Foxx's friends are urging fans to pray for the actor as he remains in the hospital following a medical complication
Although it's still not clear what his condition is, Jamie Foxx is still in the hospital and those closest to him are urging fans to pray for the actor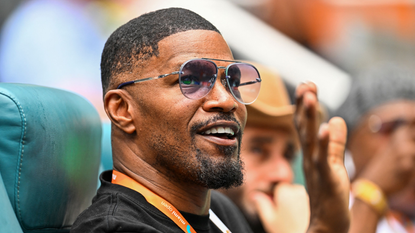 (Image credit: CHANDAN KHANNA / Contributor)
Fans are getting concerned about the health status of Jamie Foxx, who is reportedly still in the hospital following an undisclosed "medical emergency" that plagued him three weeks ago while shooting his latest movie in Georgia.
On April 12, the 55-year-old actor's daughter, Corinne Foxx, posted a message on Instagram letting her followers know about her father's situation.
"From the Foxx family: we wanted to share that my father, Jamie Foxx, experienced a medical complication yesterday," she wrote on social media. "Luckily, due to quick action and great care, he is already on his way to recovery. We know how beloved he is and appreciate your prayers. The family asks for privacy during this time."
However, despite Corinne's reassurances, TMZ now reports that not only is Jamie still in the Atlanta hospital that he was first admitted to, but that "those closest to him say he needs all the prayers and well wishes his fans can muster."
According to the outlet, the Foxx family is urging all to "pray for Jamie."
Given the current situation, Jamie will not appear on the next season of the popular FOX music lyric game show Beat Shazam, which starts filming today with a different host. Corinne herself, who serves as the DJ on the program, will be absent as well as she sticks to her father's bedside.
As for his role on Back in Action, the Netflix movie he was filming in Atlanta when he initially fell ill, reports suggest that a stunt and a body double are currently filling in for him.
Fans had been patiently waiting for the release of the Netflix comedy, which famously got Cameron Diaz out of retirement.
Also starring Glenn Close and Kyle Chandler, the production is draped in mystery as Netflix has yet to disclose what the film is actually about and when, exactly, it will be released. Add to it all the lead actor's recent medical issues, and the lack of details surrounding the situation, and you've got yourself a pretty complicated scenario to navigate.
For what it's worth, last week, People reported that, according to a source close to him, Jamie is actually doing relatively fine.
"He's okay, thank God," the source supposedly disclosed. "He's still in the hospital and doctors are running tests but he's awake and alert. They're keeping him under observation."
The actor's fans have been expressing their love, concern, and hopefulness on social media since Jamie's condition was first announced.
"Wishing him quick recovery," a Twitter user wrote on the platform. "He has always gone all out for others."
"He is definitely a great entertainer. Hopefully, he pulls through it. ❤️," someone else commented.
"Prayers for Jamie," a third user noted. "He has entertained us all so much with his career, a prayer for him is the least we can do ❤️"
We are, of course, all praying for Jamie.
Anna Rahmanan is a New York-based writer and editor who covers culture, entertainment, food, fashion and travel news. Anna's words have appeared on Time Out New York, the Huffington Post, Fortune, Forbes, Us Weekly, Bon Appetit and Brooklyn Magazine, among other outlets.