How Barbra Streisand's 'controlling' reputation and tension with Robert Redford almost stopped The Way We Were being made
It's now considered one of the all-time greats, but Barbra Streisand's 'controlling' reputation and other tensions almost stopped The Way We Were ever being made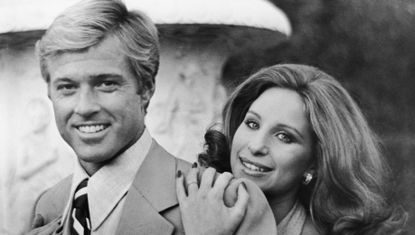 (Image credit: Columbia Pictures International/Courtesy of Getty Images)
"Your girl is lovely, Hubbell."
Five words uttered at the end of The Way We Were were enough to cement the movie as one of the all-time heart-breaking, heart-aching classics.
The movie, which follows politically active and opinionated Katie (Barbra Streisand) and her conservative, career-minded flame Hubbell (Robert Redford) as they grow from college students to complicated lovers, is regularly listed in the best ever romantic movies of all time, despite the fact it doesn't have a traditionally happy ending.
Despite being a box office smash and still reaching new generations with its message that sometimes love just isn't enough to make it work, the movie almost didn't happen.
Robert Hofler's The Way They Were: How Epic Battles and Bruised Egos Brought a Classic Hollywood Love Story to the Screen is a new book that delves into the making of the movie, and will be on sale January 24, 2023 to celebrate the film's 50th anniversary.
However, titbits from the insightful book revealed that Robert Redford was firmly opposed to the idea of working with Barbra Streisand, due to her alleged "controlling" reputation.
Barbra, the legendary multi-talented star of stage and screen, had notched up plenty of accolades by 1973, including opening Funny Girl on Broadway, starring in the movie adaptation of the musical (for which she won the Academy Award) and starring in the movie version of Hello, Dolly!
However, her seemingly difficult or controlling reputation was widely reported at the time.
Hello, Dolly! co-star Walter Matthau was open about clashing with Barbra on set, with IMDB reporting that he disliked her so intensely that he refused to be around her unless the script required it.
To give both sides of the story, Barbra was said to mutually have disliked Walter.
Today, Barbra's confidence and determination would be praised – she was unafraid of speaking up about the quality of the work she was involved in. Alas, a few decades ago, this was enough to have her tarnished as a difficult woman to work with – something of which Robert Redford must have gotten wind.
Robert Hofler's book suggests that The Way We Were director Sydney Pollack stated Robert Redford thought of Barbra, "Her reputation is as a very controlling person. She will direct herself. It'll never work."
He was also particularly concerned with Barbra's musical background, saying, "She's not going to sing, is she? I [don't] want her to sing in the middle of the movie."
(Barbra doesn't sing as her character Katie in the movie, but her theme tune for the movie, also titled The Way We Were, became a global smash, topping the charts and selling over two million copies.)
"Barbra had never worked with a really strong leading man," Sydney Pollack said. "She has a tendency to take over a picture, just by the size of her talent and larger-than-life presence. It's hard for a co-star to stay in the same ring with her."
After eventually being coaxed to give the movie a shot, tensions between Barbra and Robert persisted, the book alleges.
In one memorable passage, the book suggests Robert Redford wore "two athletic supporters for his love scene with Streisand, who chose to don a bikini" to not get too close with the actress, who was known to get close to some of her co-stars back in the day.
Despite tensions and initial doubts, The Way We Were became a runaway success. becoming one of the top grossing movies of the year and ranking sixth in the American Film Institute's top 100 greatest love stories in American cinema.
Barbra Streisand and Robert Redford also became friends, too. The pair remain friends today, five decades after making the picture.
In 2015, when the Film Society of Lincoln Center bestowed the Chaplin Award Redford, Barbra was on hand to pay tribute.
"You never quite know what he's really thinking, and that makes him fascinating to watch on screen," she said. "Bob understands the power of restraint. You're never going to get it all, and that's the secret, I think. That's the mystery. That's what makes you want to keep looking at him."
In 2010, Robert surprised Barbra for an interview with Oprah, where he was also forthcoming with praise.
"I saw her sing way back in the '60s, and I thought she was really, really good," he recalled of the first time he encountered her. "Really talented. Unusual. I found her attractive in that way."
Of filming The Way We Were, he added, "I remember liking her energy and her spirit; it was wonderful to play off of. I also really enjoyed kidding her. She was fun to kid."
Jack Slater is not the Last Action Hero, but that's what comes up first when you Google him. Preferring a much more sedentary life, Jack gets his thrills by covering news, entertainment, celebrity, film and culture for woman&home, and other digital publications.
Having written for various print and online publications—ranging from national syndicates to niche magazines—Jack has written about nearly everything there is to write about, covering LGBTQ+ news, celebrity features, TV and film scoops, reviewing the latest theatre shows lighting up London's West End and the most pressing of SEO based stories.