Helen McCrory on Fearless: 'The first time I read the script, I couldn't put it down'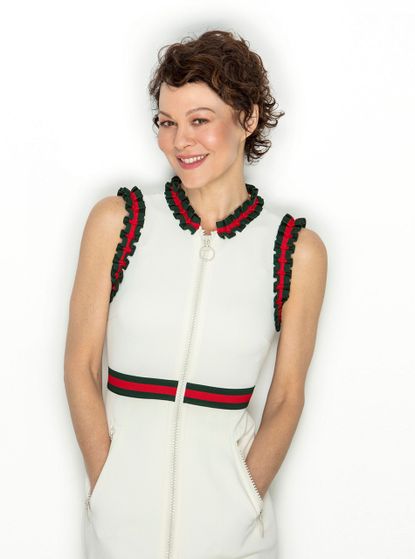 woman&home newsletter
Sign up to our free daily email for the latest royal and entertainment news, interesting opinion, expert advice on styling and beauty trends, and no-nonsense guides to the health and wellness questions you want answered.
Thank you for signing up to Woman & Home. You will receive a verification email shortly.
There was a problem. Please refresh the page and try again.
She's starring in new ITV show Fearless and winning new fans all over the country but we've been under Helen McCrory's spell since she starred in our May cover shoot.
The woman&home interview: Helen McCrory
For Woman & Home's May cover shoot, Helen McCrory enters the w&h studio in a head-turning outfit of top-to-toe tartan. It's a sartorial homage to her Glaswegian father who's staying with her, a mix of "Vivienne Westwood and Topshop; punk-rock Scottish."
She's been up since 6am managing the kids and walking the dog, but you'd never guess. A veritable ball of energy, Helen can't wait to see the clothes rail as, she explains, "I have three premieres coming up and might find something for the red carpet." This is an actress in demand.
We're here to talk about Fearless, the new ITV six-part political thriller written by Homeland writer and executive producer Patrick Harbinson in which Helen plays the lead, Emma Banville, a lawyer who defends lost causes.
But she also has the romantic comedy Their Finest out soon, as well as Loving Vincent, an animated film telling the story of Vincent van Gogh. Plus, the fourth season of the hugely popular TV series Peaky Blinders is on the horizon.
The eldest of three siblings, Helen had a peripatetic childhood thanks to her diplomat father, growing up in Africa, Scandinavia and Paris. Despite only watching her first film at the age of nine, she became interested in acting as a teenager when she attended boarding school in England. She has since played everyone from Narcissa Malfoy in Harry Potter to Medea at the National Theatre.
In fact, it was on the stage that she met her husband, actor Damian Lewis, when they worked together in Five Gold Rings back in 2003. "I could have warmed my hands on it!" said the play's director, Michael Attenborough, of their chemistry. "It was like directing a fire." The couple now have two children, Manon, ten, and Gulliver, nine, and live in London.
"I lightened my workload when the children were younger, but I'm building it up again now. I often played the lead until I became a mother. Then I played smaller roles to keep my foot in the water. Despite the Homeland connection [Damian starred in the first three seasons], I didn't know Fearless' writer Patrick Harbinson beforehand.
(Helen with husband Damian Lewis)
The first time I read the script, I couldn't put it down, but I couldn't not see my family, who were all going to live in New York while Damian filmed [the TV series] Billions. But they made it work for me. I filmed 11-day fortnights, and every 11 days flew to New York to spend time with the family. I did that for four and a half months - and I loved it.
Without any distractions, I could reach a level of intensity that the character needed. She's a woman who never sleeps, a woman who is hounded and chased by her past, and it propels her into her future. She has that intensity that, by the end of it, I had. Damian is my best friend. Why? Because he's the most available person to me! No, it's because I love him to bits and because I respect his opinion and because he's funny. He likes the same stuff that I do. I don't go up to Anfield with him at the weekend [he's a Liverpool fan], and he's not interested in facials and going to Bikram yoga with me.
It's not like we're totally hand in glove. Damian and I met on stage and we haven't acted together since. Damian's said he'd love to do Antony and Cleopatra with me; I'd love to do that too. Or Beatrice and Benedick from Much Ado About Nothing. It would be great to work with him - he's very good.
We're about to have our 10th wedding anniversary. Every year I make something relating to that anniversary as a present - cotton handkerchiefs, for instance, or I did a paper bikini. This year it's tin, I believe, although I don't know what I'm making yet.
I actually wanted a tin wedding ring - the one I have isn't real tin, it's titanium, which is supposed to be the lightest and strongest of all metals. I wanted a ring I could wear anywhere in the world and never have to take it off. One of the nicest things is making things with the children. We even have a sewing machine at home now.
Female friendship is so important - there's nothing better than confiding in someone. "Oh, I always forget to put the packed lunch in too" - that kind of thing. You need support - no one does it alone - and there certainly needs to be a bit more sisterhood. Everyone is trying to find balance in their lives.
The only way I find balance is because I go at a thousand miles an hour from the second I wake up at 6am until the moment I stop at 11pm. I never sit down. I'm doing housework, I'm with the kids, I'm trying to do the next thing. And it's constant. I relax by just stopping. I'm completely exhausted by the end of every day.
(Helen starring in Harry Potter as Narcissa Malfoy)
Becoming a mother was overwhelming, but I wanted to be overwhelmed. I surrendered to it, and I enjoy it. Also, in the beginning, I had the incredible privilege of not having to do anything else other than be a mum. Most people have to go back to work to pay the rent. Because Damian was working, I could stay at home. I don't think you ever feel like the person you were before you had kids again.
You change so much. I've been amazed I've liked having children so much. Don't get me wrong - I didn't dislike children previously, it's just that I didn't have any interest in having children. It was the same with marriage. Damian and I have very different parenting styles. We're a good balance and complement each other.
As it gets dark, I will go upstairs and shut all the shutters, turn the lights down and turn down the bed, and know where the books are and run the bath hot, and then make tea for the children. Whereas Damian is much more normal, so their routine is more relaxed with him.
My parents have a great marriage and showed me that marriage is work. Every marriage goes through times that are tricky. Hopefully, you've married someone of similar values. My mother has just been reading politics and philosophy at Cardiff University - she says mainly so she can argue with my father! Most importantly, though, they love each other very much.
I'm not sure what we'll be doing in 10 or 20 years' time. I'm looking forward to my fifties but, to be honest, I don't think about age that much. I'm about to play a lead in a show, and then a lead in another show, so I'm incredibly lucky. Damian and I both love walking, and we love the countryside. But we'll definitely keep on acting. You don't stop - and the unique thing is, as an actor, you're often employed because you are older - so we may go out to pasture but we will never, ever retire."
See the full interview was in the May issue of w&h.
Video
Sign up to our free daily email for the latest royal and entertainment news, interesting opinion, expert advice on styling and beauty trends, and no-nonsense guides to the health and wellness questions you want answered.