Gwyneth Paltrow was 'not prepared' for what her kids learned at school in sex education
Gwyneth Paltrow says she is 'very careful' when talking about sex with her two kids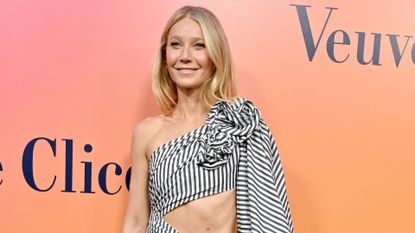 (Image credit: Getty Images)
Gwyneth Paltrow recently recalled her strong emotions about what her kids learned in sex ed at school.
Gwyneth Paltrow's two kids, Apple, 18, and Moses, 17, apparently both got quite the talk about sex education during school - a detailed conversation she was not necessarily prepared for, she says.
While on the newest episode of the popular podcast Call Her Daddy, host Alex Cooper asked Gwyneth a slew of questions throughout their hour-long conversation about how the topic of sex plays varied roles in her life.
Although Gwyneth is famously very open about her sex life (she has recently launched a new vibrator on Goop) she told Alex that, with her kids specifically, she "treads lightly" when approaching the topic.
"I mean, I think you have to tread lightly and let them come to you," she said on the episode.
She said on the podcast that Apple and Moses learned about sex when they were in sixth grade at a middle school in Los Angeles, where Gwyneth still currently lives.
"I remember my kids both went to this fantastic elementary school here in Los Angeles, and once we moved from London, and they taught them sex ed in sixth grade, which, like, yeah, OK," she said. "But I really was not prepared with the information that they came home with."
"They taught them everything. Everything. Anything you're thinking — they taught the 11, 12-year-olds. Told them everything, I swear," she continued.
She said that her kids were indeed shocked about the information they learned, too. "They're like, 'Do people do this?'" she said to Alex.
Even her daughter was having difficulty digesting the information at the time, Gwyneth said. "I will never forget Apple and her best friend, Emily, sitting at our kitchen banquette in shock, like color drained from their face," she said.
Apparently, the conversation still proves to be a little precarious for Apple, as seen in a TikTok of her posted the other day reacting to her mom talking about her sex life on the podcast.
The official Call Her Daddy TikTok account made a video with Apple, Gwyneth, and Alex, captioned "When your literal mom goes on Call Her Daddy," - with an accompanying sound effect that says "no, no, no, no!!" To be honest, though, we wouldn't want to hear our own moms talk about their sex lives on a globally relevant podcast, either.
In this same interview, she discussed with Alex which of her sexual partners was best in bed (Alex makes a note to point out that Gwyneth has "quite the roster") - and ultimately had to compare Brad Pitt and Ben Affleck. She says that, although Ben was "technically excellent," Brad Pitt ended up winning the #1 spot of the two of them.
Madeline Merinuk is woman&home's US lifestyle news writer. She covers celebrity, entertainment, fashion, and beauty news but is also obsessed with internet trends - you can find her reciting trending TikTok sounds out loud at any given time.
After winning multiple student journalism awards for her investigative work, she graduated from Hofstra University in 2021 with a B.A. in Journalism. After graduating, she worked at today.com, the digital site for the Today Show, where she wrote pop culture news and interviewed big-name personalities like Emily Ratajkowski, Haley Lu Richardson, Emma Corrin, and more.
Her personal interests, in no particular order, are: cheese, Joni Mitchell, reading, hot yoga, traveling, having multiple chapsticks in every handbag at all times, and dancing to ABBA songs as if she were in the Mamma Mia movies.