Gloria Gaynor gets candid on 'extremely liberating' divorce after 26 years of marriage
Diva Gloria Gaynor was married to her now former manager Linwood Simon until 2004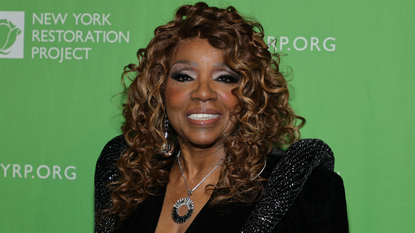 (Image credit: Jamie McCarthy / Staff)
Gloria Gaynor clearly knows how to survive… and thrive.
In a new interview pegged to the upcoming release of her fragrance and the 45th anniversary of her classic disco anthem I Will Survive, the 79-year-old superstar goes into detail about one of the most significant moments in her life: her divorce from her former manager Linwood Simon, whom she married back in 1979.
Talking to People (opens in new tab), Gloria remembers the "wonderful moments" that her and Linwood shared throughout 26 years of marriage but also admits to feeling off-balance throughout most of their relationship.
"[I] swallowed whatever he said and did whatever he said and just let him have his way," recounts Gloria, also mentioning that, for example, she's always wanted kids but he never did.
When reflecting on the moment she finally settled on leaving Linwood, Gloria mentions a "religious awakening" that took a hold of her in the 1980s and convinced her to file divorce papers against her husband in 2004.
Even more specifically, she recalls the moment she was suffering from a horrible migraine for the second time in a few days and her then-husband didn't want to take her to the hospital.
"I said, 'OK, I'm done. You really, truly don't care about me, and I'm done.' I'd have to be freakin' comatose not to get that," she said to the outlet. "My friend nailed it when she said it was disregard. You don't know how painful that can be until you experience it. [Leaving him] was extremely liberating."
Gloria, however, has not yet given up on finding a partner - albeit cautious about it all.
"I absolutely believe in love," she says on the record. "Whether it's in the cards for me, I sincerely doubt it, 'cause I'm truly not interested anymore. If it happens, it happens. If not, I'm good. It's a wonderful place to be."
Gloria isn't the only celebrity to get candid about her divorce in recent days. In a new interview with the Los Angeles Times (opens in new tab), for example, Drew Barrymore discusses how her divorce led to "alcohol as a solace" as friends including Cameron Diaz said it was "difficult to watch."
Despite her friends' intervention, Drew says that it wasn't until she landed her own show in 2019 that she realized she needed to cut out alcohol altogether. "I think the opportunity at a show like this really hit me," she said. "I was like, 'I can't handle this unless I'm in a really clear place.'"
Drew isn't associated with AA and doesn't refer to herself as sober, the interview reveals that this is because she isn't "some perfect Puritan" and doesn't want to be perceived as such.
Reflecting on this struggle she comments, "I kept thinking, 'I'll master this. I'll figure it out.' And finally, I just realized: 'You've never mastered this, and you never will.'"
Clearly, divorce affects everyone differently - whether in the public eye or not.
Anna Rahmanan is a New York-based writer and editor who covers culture, entertainment, food, fashion and travel news. Anna's words have appeared on Time Out New York, the Huffington Post, Fortune, Forbes, Us Weekly, Bon Appetit and Brooklyn Magazine, among other outlets.