Five Times We Fell In Love With Hugh Grant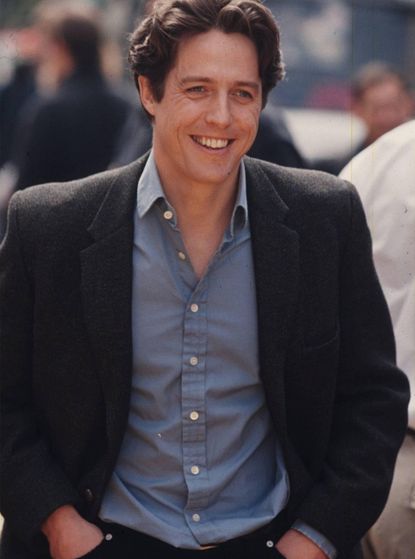 (Image credit: Rex Features (Shutterstock))
Ahhh...Hugh Grant. Whether he's charming us as the devilish but oh-so-handsome Daniel Cleaver, or seducing us as a floppy haired bookshop owner in Notting Hill, we'll admit we fell in love with Hugh Grant a long time ago. And now the British actor can put another notch in his belt, as his contribution to film has earned him a fellowship from the British Film Institute.
He joins the likes of Laurence Olivier and Dame Maggie Smith who have previously been awarded the prize. Speaking of his work, BFI chairman Greg Dyke stated "We are absolutely delighted to honour Hugh Grant with a BFI Fellowship. With impeccable comic timing and huge doses of his unique, ironic self-deprecating and very British charm, Hugh always pulls off the hardest thing of all - a seemingly effortless performance." Grant said it was "lovely surprise" and added that it was "a great honour and I'm very grateful to the BFI for thinking of me." He was joined by a host of celebrities and fellow actors, including his Love Actually co-star, Martine McCutcheon on Tuesday night as he was presented the award at the BFI Chairman Dinner in London.
To celebrate his win, we've been taking a dreamy look back at some of our favourite Hugh Grant heart throbs. Keep scrolling...
Pre Liz Hurley, Hugh Grant played one of his more reliable characters in the 1995 production of Sense and Sensibility. He portrayed the stately young gentleman Edward Ferrars who marries Elinor Dashwood (a young Emma Thompson).
In the Oscar winning Four Weddings and a Funeral he was the loveable, bumbling bachelor Charlie. Fiona, (Kristen Scott Thomas) is in unrequited love with him, while his fiance Henrietta only makes it to the altar. He eventually ends up with the stylish, jet-setting Carrie played by Andie MacDowell.
Then there was William Thacker, the self-effacing travel bookshop owner in Notting Hill whose wife had recently left him for a man "that looked exactly like Harrison Ford." He then meets and falls in love with Anna Scott, a world famous film star played by Julia Roberts - romantic comedy at its finest.
Post Liz Hurley (ahem) Hugh Grant played Daniel Cleaver, the ultimate on screen heart throb who enchanted us all with his witty banter and roguish charm. Luckily Bridget escapes from his womanizing clutches and marries the highly eligible Marc Darcy, who loves her just as she is.
Last but not least, we fell in love with Hugh Grant all over again as he played the recently elected, rather dashing prime minister in Love Actually. And who could forget that speech?...David Beckham's right foot, David Beckham's left foot. Yeh, we're obsessed.