Emma Willis admits it wasn't 'love at first sight' with her husband Matt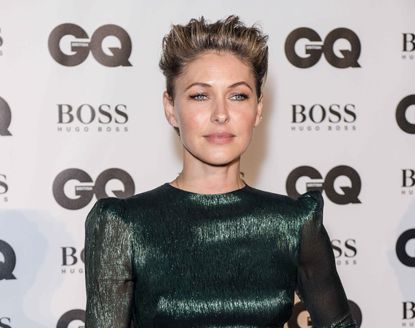 Emma and Matt Willis are without doubt an aspirational celebrity couple - the pair who seem to have truly stood the test of time, despite wildly successful, separate careers, and multiple personal battles.
The couple married back in 2008, and have since welcomed three children Isabelle, nine, Ace, six and Trixie Grace, two.
But according to Emma, the couple's very first meeting wasn't all fireworks and sparks. No, according to the The Voice presenter, the pair took a while to warm up to one another, romantically.
She exclusively told Woman & Home magazine, "It wasn't love at first sight with Matt – we were friends at the beginning, and our friendship developed. I was working at MTV when we met."
And so the secret to the pair's enduring marriage? "The secret is that we still like each other, we love each other, and fancy each other. We try to make time for each other with date nights. He asked me the other day, "shall we have dinner out on Friday?" but to be honest, I'd prefer to stay at home." A woman after our own hearts.
But according to Emma, her Busted husband still makes time for special moments. She said, "He did take me to Venice on a surprise trip for my birthday this year. It's where we got engaged – and we've just celebrated our tenth wedding anniversary."
With a busy presenting career, hosting The Voice, Big Brother, and multiple other strings to her bow including a new interiors range with Dunelm, it's little wonder the TV star has time for date nights.
Emma revealed however that it's a daily balancing act. She said, "Men never get asked how they juggle everything, but if you asked Matt how he juggles it, he'd say, "Emma juggles it!"
"I couldn't do it without help, though, in particular my parents – they're available whenever we need them so we're very lucky. otherwise, it would be impossible."
She continued, "Matt and I reconvene at the end of the week and plan things like babysitting. and he's fantastic with a list. He's all, 'I'm happy to do stuff but I will forget – so give me a list and I'll get it all done.' I love the honesty."
And if she had time for one more thing to add to her list? Emma confessed that she'd love to take part on Strictly Come Dancing, which has just started again on BBC One.
The 43-year-old confessed, "I've always thought doing Strictly would be amazing. they all look so incredible at the end, but the hours you have to put in are insane.
"In an alternative universe, I'd jump at the chance, but at the minute, with three kids and all my work, it's wishful thinking."
We're keeping our fingers crossed Emma!
Want to read more from Emma Willis' exclusive Woman & Home interview? Pick up a copy of the October issue of Woman & Home, on newsstands now.