Ellen DeGeneres criticized after revealing she drove wife Portia de Rossi to hospital under the influence of cannabis drinks and sleeping pills
She consumed them before realizing Portia needed urgent treatment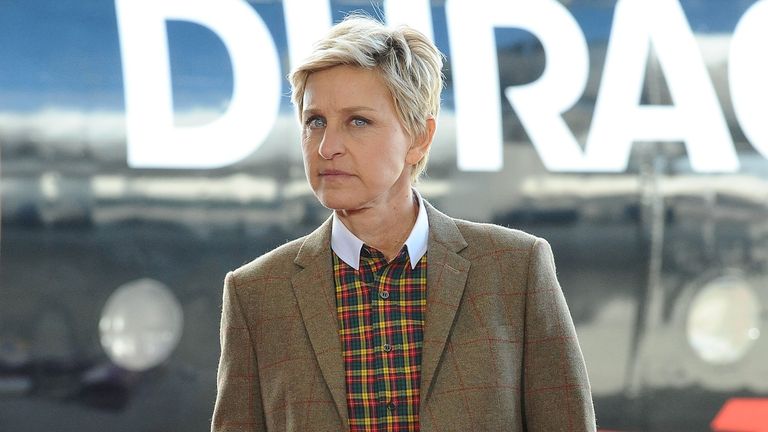 (Image credit: Photo by Jason LaVeris/FilmMagic via Getty)
Ellen DeGeneres is facing criticism after the talk show host revealed she drank cannabis-infused drinks and took sleep supplements before she was forced to rush her wife Portia de Rossi to the hospital last month. 
Actor Portia was taken to the hospital by Ellen after experiencing extreme pain in her abdomen. An inside source told PEOPLE at the time, "Ellen rushed Portia to the hospital on Friday night, she was in a lot of pain. It was appendicitis and she had surgery."
She left the hospital a few days later and returned to the couple's Beverly Hills home. Now Ellen has revealed further details about the rush to get her wife to hospital that frightening night.
And it has led to criticism from some after the star made a shocking admission. 
Why is Ellen DeGeneres being criticized for driving Portia de Rossi to hospital?
During a recent interview with fellow talkshow host Jimmy Kimmel, Ellen revealed that she had driven Portia to the hospital after drinking three "weed drinks". The star then admitted that she had also taken some sleeping pills that night. 
This happened before she realized that Portia needed to go to hospital.
"So, Chelsea Handler told me about these weed drinks, they're called Cann, and they have CBD or TH— I don't know what the good thing is," Ellen said. "I drank one, and I didn't feel anything, so I drank three, and then I took two melatonin sleep pills".
Cann reportedly sells several varieties of cannabis-infused drinks, including some with CBD and some with THC. Whilst THC is one of the main components in cannabis that produces a 'high' sensation, CBD does not and is often used for its alleged medicinal benefits, including for sleep. 
It's not clear what exact drinks Ellen consumed and what their specific components were. 
She later went on to recall the terrifying moment she discovered Portia wasn't in bed and was in extreme pain, on all fours on the ground. 
"I said, 'You're not OK.' She goes, 'I'm OK.' I said, 'No, unless you're playing Twister by yourself, you're not OK.' So I rushed her to the emergency room", Ellen said.
Jimmy Kimmel then tried to clarify if that meant she drove Portia to the ER.
"I did." Ellen said. "I mean, I kicked in, like my adrenaline, because I just had to rush her there. It's probably not safe. I shouldn't be saying any of this."
How have people responded to Ellen's revelations?
Many people have been quick to share their criticizm of Ellen's decision-making that night on social media.
One took to Twitter to declare, "Talk show host admits to driving under the influence of drugs smh. Should get her show banned". 
'I lose ALL RESPECT FOR PEOPLE WHO do this careless c***. Getting behind the wheel knowing their compromised' another wrote. 
While another leapt to Ellen's defence and tried to explain the situation, "Calm down people! She did what she thought was best at the time and no one got hurt. Portia could have died and all you guys want to do is bash the woman for taking care of her wife! Driving while high is NOT the same as driving drunk!!! Do your research!"
This news comes as Ellen revealed that Portia is "feeling much better" following her time in hospital. 
Emma is Senior Lifestyle Writer for Goodto.com, womanandhome.com and Myimperfectlife.com and she loves sharing the latest lifestyle, royal, celebrity and entertainment news. Before joining Future, previously TI Media, Emma was a Freelance Editor and before that a Publisher for an independent digital publisher. When she's not writing about the next big lifestyle trend, she enjoys cooking, long walks and watching as many crime dramas as she can!