Dolly Parton makes an emotional case for treating the planet better—mistreating nature is 'like being ugly to your mama'
Dolly Parton has set her sizeable heart on getting people to take climate change more seriously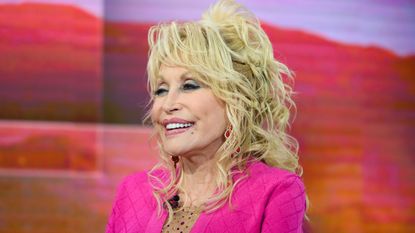 (Image credit: Nathan Congleton/NBC/NBCU Photo Bank via Getty Images)
Dolly Parton should really re-record one of her most famous songs, 9 to 5, because the icon puts in far more hours than that.
From helping fund the coronavirus vaccine to Dolly Parton writing a book with James Patton, not even the last few years could slow down country music's brightest star. Now, she's focusing her attention on how we can treat the planet better.
Maybe this is the reason Dolly Parton wears makeup to bed? Reuse and recycle everything, after all.
Dolly Parton is unafraid to stomp her glittery heel when it comes to caring for the environment. Respecting the music, the land, the people—all that lies at the heart of Parton's hopes for the future. pic.twitter.com/zJmEUNzfKlApril 6, 2022
See more
In an interview with National Geographic ahead of Earth Day on 22 April, Dolly waxed lyrical about her love for her home in the Great Smoky Mountains, the lessons she learnt from the unspoiled nature in those parts and how we need to take better care of the world around us.
"We should pay more attention. We're just mistreating Mother Nature — that's like being ugly to your mama," she quipped.
"We need to take better care of the things that God gave us freely. And that we're so freely messing up," the legend continued.
Dolly went on to explain the impact growing up amid the Great Smoky Mountains in Tennessee had on her saying, "We got the most radiant flowers, the biggest assortment of trees."
"The Smokies have a heart of their own. It's the way the water flows, the way it sounds, and the way it feels when you get in it. I don't know if it's just because it's my home—but I really don't think so. I think it's just one of those special places that God put here for us to enjoy."
Her love for nature is something of an easter egg for fans, too. Fans will know that Dolly loves a butterfly motif. It is all over her album artwork, it is the logo for Dollywood and she has written a song called Love is Like a Butterfly.
Dolly explains this all started in the heart of the Smokies too. "When I was little I would wander off, chasing butterflies into the woods. I always related to them because I felt like they were harmless and they were colorful—kinda like I think that I am," she said. "They're just meant to be mine, I think."
Never one to not walk the walk after talking the talk, Dolly has committed to doing her part to helping those affected by climate change.
In 2021, Dolly and her Smoky Mountain businesses raised approximately $700,000 to help residents impacted by floods in Tennessee.
More than 500 homes and 50 businesses were damaged after up to 17 inches of rain fell in less than 24 hours.
Dolly's Dollywood theme park is also the largest corporate sponsor of the American Eagle Foundation, which has led to the organization crediting the country icon for helping to keep the bird (an enduring symbol of America) active.
American Eagle Foundation Executive Director Jessica Hall said that Dollywood, "has been instrumental in our success."
So, when it comes to your impact on the environment, ask yourself WWDD—What Would Dolly Do?
Jack Slater is not the Last Action Hero, but that's what comes up first when you Google him. Preferring a much more sedentary life, Jack gets his thrills by covering news, entertainment, celebrity, film and culture for woman&home, and other digital publications.
Having written for various print and online publications—ranging from national syndicates to niche magazines—Jack has written about nearly everything there is to write about, covering LGBTQ+ news, celebrity features, TV and film scoops, reviewing the latest theatre shows lighting up London's West End and the most pressing of SEO based stories.