Did you know Bette Midler was supposed to star in Sister Act? Here is why she didn't
Bette Midler on turning down the protagonist's role in Sister Act because of the costume she would have been required to wear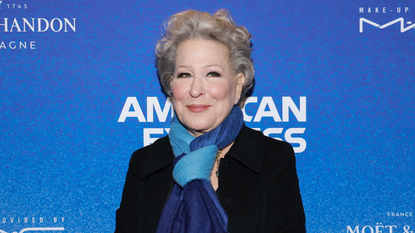 (Image credit: Jason Mendez / Stringer)
In a new interview, Bette Midler reveals that she was actually the first choice to take on the role of Deloris Van Cartier/Sister Mary Clarence in the uber-successful 1992 movie Sister Act.
The part, which ultimately went to Whoopi Goldberg, was the lead in the hilarious film about a lounge singer who joins a convent after being placed in a witness protection program. So successful was the production that it led to a sequel, Sister Act 2: Back in the Habit, that famously co-starred a young Lauryn Hill.
So why did Bette, who recently weighted in on the "serious diss" that prevented a sequel to one of her biggest movies, turn down the job? Turns out, it was all about the nun costume.
"They came to me with Sister Act and I said, 'My fans don't want to see me in a wimple.' Can you believe that? How off the wall is that? How crazy is that?," Bette said in an interview with Variety (opens in new tab) after being asked about a role that got away. "Jeffrey Katzenberg called me every day, [saying,] 'Please, please.' I stood my ground because I really was afraid of the costume. Isn't that amazing? I can wear anything but a nun's habit?"
Lest you think Bette should stand by her choice, think again: the 77-year-old actress did acknowledge that the comedy was a huge hit (it made almost $300 million worldwide!). "Whoopi wore [the nun costume] all the way to the bank," said Bette. "So God bless her. And she was perfect for it."
But Sister Mary Clarence isn't the only character that Bette passed on. As she mentioned in her latest interview, the actress was asked to star opposite the late James Caan in Misery back in 1990. That role ultimately went to Kathy Bates, who actually won a best actress Oscar for it.
"I just couldn't," the actress said about the part. "It was too violent. The character was so not funny, so without any qualities of redemption. She cut off his foot. Come on. Who does that?"
As cinephiles may remember, the movie focuses on the aftermath of novelist Paul Sheldon's car crash. In the film, former nurse Annie Wilkes, who claims to be a big fan, takes him to a remote cabin to help him recover - and that's when things turn dark as Annie learns that Paul is planning on killing off her favorite character from his novels. We don't blame Bette for turning this one down, to be quite honest.
But back to Sister Act: although what's done is done, Bette may soon regret her choice as a third installment of the franchise is reportedly in the works.
"It took a little while, but it's happening," Whoopie said in October of last year while on The View before calling out one of Bette's most popular films, Hocus Pocus. "You all helped that happen, I think, because they brought Hocus Pocus back [for a sequel]. They finally said, 'We might as well put those nuns back out there and see if they have any juice'."
Of course, we're oh-so-glad they did!
Anna Rahmanan is a New York-based writer and editor who covers culture, entertainment, food, fashion and travel news. Anna's words have appeared on Time Out New York, the Huffington Post, Fortune, Forbes, Us Weekly, Bon Appetit and Brooklyn Magazine, among other outlets.