Claudia Winkleman thanks NHS nurses: 'The greatest people who walk this earth'
An emotional tribute.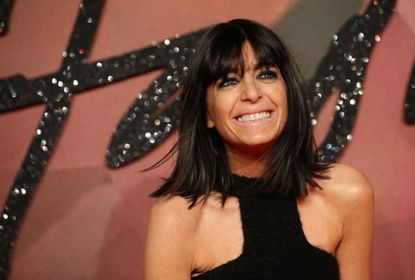 (Image credit: AFP via Getty Images)
Claudia Winkleman, one of the nation's sweethearts, has graced our screens since the early nineties, so we wonder why she only decided to write a book now, after all this time?
The TV presenter's debut book, Quite, published last week and it reading it truly feels like having a glass of wine and a good old gossip with her about life's most important issues. It is warming and witty and covers everything from fashion, sex, friends and eyeliner (of course). But an important thing she also talks about is her love and respect for nurses.
"The greatest people who walk the earth are nurses. They are kind, they are clever, they work incredibly hard, they are there to save us, or to help us through it when saving is simply not possible", she pens in her book. And it is at "the most terrifying, the most confusing, the most discombobulating" moments in her life when she has realised this.
It was back in 2014 when her daughter Matilda suffered severe burns as a result of her Halloween costume setting on fire that Claudia really started to appreciate how wonderful these people are
The incident was so bad that her neighbour received second-degree burns after he tried to put Matilda out with his hands. it resulted in the government tightening the flame retardant standards of costumes.
In an interview with The Belfast Telegraph, she says, "this time been truly terrible for some people. I'm in awe of the sacrifices people have made being on the NHS frontline, and others keeping services going, like supermarkets." Continuing, "I've always thought nurses were the most important people in the world, and not just because of what happened to my family, and this has made us all value them so much more."
In her book, she beautifully writes: "They'll wait an extra half an hour at the end of the day so they can see your test results, they'll make you laugh when it's time for the foul-tasting medicine, they'll sing 'Let It Go' during the barrage of injections and they'll feel uncomfortable when you offer thanks.
"They'll tell you that it'll be OK when you know deep down it won't and they'll clear up your sick when you can't make it to the bathroom. They hold your hand when your child is going in for an operation, they hold your hand when the surgeon says there's bad news, they hold your hand when the doctor says the medication isn't working."
Rachel is a freelance contributor to woman&home, covering news as well as books, lifestyle and travel. Her byline has also appeared in The Independent, The Financial Times, ELLE Magazine, VICE, Glamour Magazine and others. She loves nothing more than talking with people to share their stories. When she is not writing you will definitely find her nose in a book or magazine, or perhaps training for the next half marathon, practicing yoga or eating in London's best restaurants.