Christine Lampard reveals her 'simple' goal for a happy life as she discusses first year of motherhood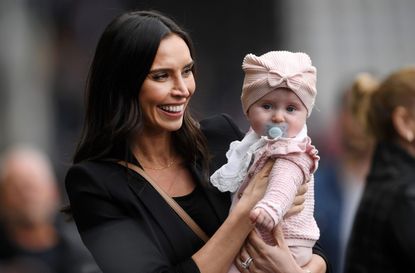 (Image credit: Getty)
Christine Lampard has opened up on all things motherhood, her figure and her marriage in a super honest interview.
The telly presenting favourite and her football star husband Frank Lampard welcomed their first daughter, Patricia, into the world last year.
Now, 40-year-old Christine has spilled the details on her joyous first year of motherhood.
Speaking to Fabulous magazine (opens in new tab), she revealed, "It's been brilliant. It's just the usual madness of getting the hang of surviving on less sleep than you thought you'd ever be able to, but she's great, I have to say."
MORE:Christine Lampard just wore the most gorgeous Marks & Spencer trousers – and they're only £35!
She also explained that her ambitions are different now she has a family, revealing what 'having it all' means to her now.
Christine said, "I suppose it depends on what 'all' means," she says. "For me, it's doing what I'm doing at the minute, having a nice home life and a happy, healthy child. That's my goal.
"That might not be someone else's 'all'.It might be simple, but I'm really happy with it and so I honestly think I have got it all."
"I actually don't want to conquer the world. I have lots of friends who are very successful people – men and women – but my drive isn't quite like that.
"Those things are as important to me as any job and, touch wood, at the minute I've got that balance and I can't really ask for much more than that."
Sweetly, Christine went on to admit that baby Patricia is 'utterly the spitting image' of her Chelsea footie ace father Frank, 41, saying, 'There's a tiny little curl starting to grow at the back of her hair, so that's the one little bit of me that seems to have come through the DNA. Everything else is 100 per cent Daddy.'
Having given birth less than a year ago, Christine admitted she is a stone heavier than she was pre-baby, but isn't desperate to change her body.
She said, "And I've gone up a shoe size since I had her! I could do more to try to trim myself back in, but I don't care. I'm enjoying her and I enjoy a glass of rosé. I mean, come on, it's the summer! I can't say no to any of it.'
October this year will mark the ten year anniversary of Christine and Frank's first meeting.
The couple married four years ago after 'clicking' at the Pride Of Britain awards in 2009.
Getting candid about the early days of their relationship, Christine confessed, 'We just had fun straight away. I remember us properly laughing with each other and thinking: 'This is what I want and need.'"