Celebrities Reveal Their Favourite Moments With Their Dogs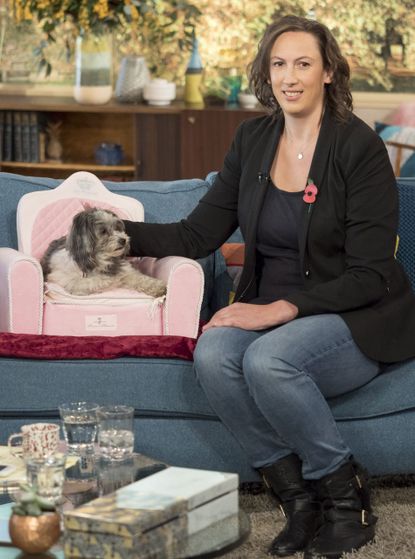 (Image credit: Rex Features (Shutterstock))
woman&home newsletter
Sign up to our free daily email for the latest royal and entertainment news, interesting opinion, expert advice on styling and beauty trends, and no-nonsense guides to the health and wellness questions you want answered.
Thank you for signing up to . You will receive a verification email shortly.
There was a problem. Please refresh the page and try again.
Let's face it. As a nation, we're pretty obsessed with our dogs. We dress them up, let them sleep in our beds, and quite honestly, treat them as though they're our flesh and blood. And given that it's National Puppy day, on 23rd March, we've got all the more reason to celebrate our adorable furry companions.
And it seems that celebrities are really no different to the rest of us in that respect. We spoke to seven famous faces all about their beloved pets. Find out which celebrities allow their doggy companions to sleep on the bed, whose dogs are the worst-behaved, and which celebrities really think they're the boss of their furry friends...
Jennifer Saunders lives with her husband, Ade Edmondson in London and Devon, and has three grown-up daughters. She has a six-year-old Whippet called Olive.
Furry beginnings? I'd always wanted a dog companion and Olive came along at the perfect time when we'd moved back to London [from Devon].
Who's the boss?I'm not bossy with Olive because she's well trained and very obedient. She comes everywhere with me, so we're like best friends.
Sleeping arrangements?She sleeps in her little furry, cosy bed, which sits near my kitchen.
Traits you secretly share? We both love walking and the fresh air - and we both love a good waterproof coat too.
Dog disaster? She loves being on set. But it's always, "Where's Olive?" and then we find her at the catering van, eating sausages!
Jennifer is a patron of CHICKS, a charity providing free respite breaks to disadvantaged children. Visitchicks.org.uk (opens in new tab)
Ruth Langsford lives with her husband Eamonn Holmes and their 14-year-old son, Jack, in Surrey. They got their Border Collie cross, Maggie, from the Dogs Trust in 2011.
Sleeping arrangements? When we first got Maggie I said, "She's not going upstairs and she's definitely not going on the bed." now she pretty much sleeps in the bed with her head on the pillow, mostly with Jack. When Eamonn is away though, I do like her on the bed with me. Jack and I fight over her; I'm like, "Come on it's my turn, I never get Maggie!"
Dog duties?Every three months, I throw a wobbly and say to Jack and Eamonn, "Right! That's it, I'm sick of walking this dog, you two never help me - I'm taking her back to the dogs trust!" They know I won't but for a week or so, they do the work.
Maggie's favourite - you or Eamonn
? If she's sitting on my lap,the moment she hears Eamonn come in, she's off on to his. He's the alpha male and she absolutely adores him.
Best quality?I spend a lot of time in the kitchen and I sometimes find Maggie sitting there, staring up at me adoringly with her big soulful eyes, while I'm pottering about. She's brought so much love to our house.
Unexpected bonus?There's a real community of dog walkers - it's like standing in the school playground where everyone says, "Oh look at yours, hasn't he grown!" It feels like having a child again, which is especially nice now that Jack is at that stage where everything I do embarrasses him.
Martin Cluneslives with his tv producer wife, Philippa Braithwaite in Dorset. They have four dogs (above): black Labrador, Arthur Colin, nine; Cocker Spaniel, Heidi May, two; Jack Russell-Chihuahua cross, Penelope Jennifer, three; and Jack Russell, James Henry, six.
Who's the boss? Me! I have to be otherwise we'd have big problems. But they do like to nab the crusts off Philippa's toast in the morning - they know she doesn't like them, so they hang around waiting for the leftovers.
Naughtiest dog? Penny gets very cross with Heidi May, who's younger than her, if she's messing about. If we're out walking she'll sometimes pin down the other dogs if she gets really annoyed - it's small-dog syndrome. Arthur Colin stays out of her way now!
Dog disaster? We have 14 horses on our farm, and Jim and the mini Shetland pony really wind each other up - he barks at her constantly. Once Jim actually had his foot trodden on by one of the horses and tragically had the pads of his paw ripped off. All the other dogs now steer well clear - they've learnt Jim's lesson, even if he hasn't!
Sleeping arrangement?All four dogs sleep downstairs in their beds- at least they're supposed to. We often find Penny upstairs looking very suspicious. Perhaps it's our fault because she was the last dog we got, and we sort of gave up with training. Plus, she can fit on the bed - it's not quite so easy for the Labrador!
Miranda Hart lives in London and has a nine-year-old Bichon Frise Shih tzu, Peggy.
Furry beginnings?I got Peggy when I was working on the sitcom Not Going Out; I wasn't planning on getting a dog, but the costume lady had a litter of puppies and they were basically balls of the softest, cutest fur. Peggy played with me and leapt up whenever I came in the room, hoping for cuddles, so I found myself saying yes to having her.
What happened next? Suffice to say I found a whining dog at night and the amount of poo and wee (sorry woman&home readers...) all over the flat akin to suddenly having a baby, but without any of the social sympathy to go with it. You can't take a puppy around in a pram to justify your eye bags and stained tracksuit bottoms!
Dog disaster? Peggy once got into the play area in a park and snaffled all the picnic food at a child's birthday party, including taking a sausage straight out of the birthday boy's hand. Mortifying! Like owner, like pet - utterly obsessed with food.
Most annoying habit? She's a wonderfully loyal little dog and loves me unconditionally, but it makes her a little protective, which means there's a lot of barking - she barks at anything that passes by the house. Any tips on whether it's too late to stop her at the age of nine, gratefully received.
Fondest memory? She has been my best friend and when she goes to dog heaven (perish the thought), I will always remember her lying next to me, knowing when I am low and allowing me to hold her paw. Yes, really, my hand in her paw. Such comfort. I adore her!
Miranda Hart's new book,Peggy and me (Hodder & Stoughton) (opens in new tab), is out now.
Monty Don lives in Herefordshire with his wife, Sarah, and has three grown-up children. He now has two Golden Retrievers, Nigel, eight, and Nelly, one.
Furry beginnings? My first dog was a Labrador called Gretel; my parents bought me her for my 21st birthday and for the next ten years, she wenteverywhere with me. Her only flaw was that she was insatiably greedy; she once snaffled an entire Christmas cake, including its Father Christmas, snowman and other accessories!
What happened next?I've had dogs all my life since - we got Nigel after we went to see a litter of seven-week-old puppies.
Sleeping arrangements? We have a strict "no dogs upstairs" rule. Both the dogs' beds sit underneath the radiator in the "back kitchen" (it's an old farmhouse) where we keep the wellies.
Most annoying habit?Nigel constantly wants to be the centre of attention. If you're talking to someone, he'll bark until you stop.He also has an obsession with bringing me a slimy yellow ball - it has to be yellow.
Fondest memory? Seeing Nigel trot out of the vets to the car to meet me after breaking his back ten days earlier. He'd leapt into the air to catch a ball when one of the discs in his back exploded. Having taken him to the vets paralysed on a stretcher, I'd assumed the worst.
Monty Don's new book,Nigel: My Family And Other Dogs (Two Roads) (opens in new tab)is out now.
Mary Berry lives in Buckinghamshire with her husband, Paul, and they have two grown-up children, Thomas and Annabel, and had a third, William, who died in a car accident in 1989. She has a one-year-old Working Cocker Spaniel, Darcey.
Furry beginnings?Darcey was born with seven other siblings in our kitchen last October. Her mother is Poppy, who is my granddaughter Gracie's dog. She delivered eight puppies all through the night, and all have survived and are living with owners in the village and Oxford.
Sleeping arrangements?At the moment she sleepsin a huge cage in the kitchen because she likes chewing anything to hand when I am not looking!
Who's the boss?I'm the boss and she is very obedient and has been trained to heel and to sit patiently. We simply adore each other.
Mary Berry's cookbook,Family Sunday Lunches (opens in new tab)(Headline) is out now.
Kate Humble lives in Wales with her husband, Ludo. She has three dogs, Sheepdog Teg, four, and mongrels Bella, seven, and Badger, ten.
Who's the boss?I'd love to say it's me, but I think that might be a bit deluded. Teg, Bella and Badger all know when they're stepping out of line - but that doesn't stop them!
The trait you secretly share?None, I hope! Bella is very lazy and likes to spend all day lying upside down on a cushion eating pork pies. She and I have a small battle most mornings when I come downstairs with a lead and my running gear on. She looks at me with a death stare as if to say, "You've got to be kidding. No way."
Naughtiest dog? Badger is hugely neurotic. Our spare room is above the kitchen where he sleeps and he's sussed that if he barks in a certain sad way, Ludo and I get worried he's keeping our guests awake, so he gets to sleep on our bed instead. That's the most exciting thing in the world for him!
Kate Humble's latest book, Friend For Life (opens in new tab)(Headline), is out now.