Carol Vorderman asks fans for help as she reveals she's suffering from this unusual menopause symptom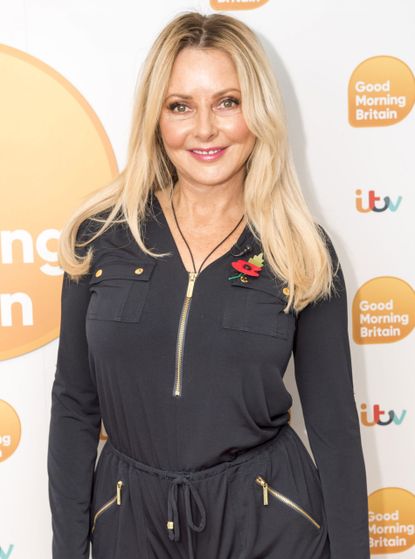 (Image credit: Shutterstock/Rex)
Carol Vorderman took to Twitter to beg her fans for help, after revealing she's been struck down with menopausal hayfever.
The mother-of-two tweeted to her 387,000 followers that her eyes have mostly been affected, after being hit by the unexpected menopause symptom.
She wrote, 'Anybody else got Menopausal Hayfever ?!?!? that's not a laughing emoji... just eyes full of pollen tears.... bleurgh.....never had it before and I'm THIRTYYYYY SEVEN... ahem!!!!'.
The former Countdown star was then inundated with replies from fellow Twitter users, who gave her plenty of advice and medicine to try.
One person replied, 'I have done the rounds of antihistamines. Clarityn is by far the best. Also if you get local honey and have a teaspoon of it, that also works, I have found. But it has to be local apparently!!'
A second user urged Carol not to spend a lot on brand name tablets, 'Get yourself to Tesco buy a 60 pack of their own brand tablets for £4. While your there get their own brand nasal spray £5.50 get some local honey use daily and you'll be fine.'
A third person suggested, 'Try cetirizine hydrochloride - works a treat and doesn't tend to cause drowsiness.'
Many women sympathized with Carol and said they too were suffering from hayfever symptoms whilst going through the menopause, including former Emmerdale actress Claire King.
The 55-year-old replied to Carol's tweet simply saying, 'Yup nightmare!' Carol then retweeted her response and wrote alongside it, 'Well if supersexywoman @claireking101 has got it too, then I'm the most excellent company.... hurrah xxx'.
MORE: A new hay fever vaccine could be in the UK within three years
During the menopause, women may well be more susceptible to experiencing new or heightened allergic reactions due to hormone fluctuations impacting the immune system and weakening the nervous system.
Women who may never have experienced hayfever before could also be vulnerable to it during, just before, or just after the menopause, because of menopausal fatigue and poor digestion. Both of these can leave your body susceptible to infection.
Taking hayfever medication and ensuring you rest and drink plenty of water can help to combat hayfever during the menopause.
Low oestrogen levels during the menopause can trigger lots of changes in the body with some being easier to control than others. As well as weakening the immune system, the menopause can also affect sleep, digestion and also affect the nervous system.
Words: Kirsty McCormack