BBC hit with complaints over coverage of this moment from Prince Philip's funeral
The BBC has insisted the coverage was "legitimate, impartial and proportionate"...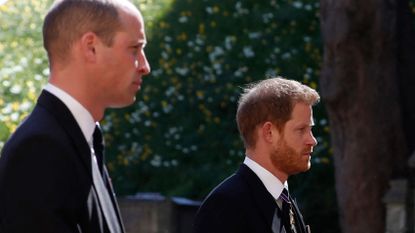 (Image credit: Photo by ALASTAIR GRANT/AFP via Getty Images)
The BBC has been hit with complaints over its coverage of Prince Harry and Prince William's reunion at Prince Philip's funeral.
---
Prince Harry and Prince William were seen together for the first time since Prince Harry and Meghan Markle's explosive Oprah Winfrey interview at their grandfather Prince Philip's funeral earlier this month.
The brothers were filmed speaking as they walked away from St George's Chapel at Windsor Castle, with BBC commentary analyzing the moment and sparking complaints from viewers watching the funeral at home.
While Prince Harry and Prince William were spotted chatting seemingly happily following the funeral service, it's since been reported that Harry was generally met with a "frosty" welcome from his family.
It was Prince Harry's first trip back to Windsor since he and Meghan stepped back from royal life to move to LA with their son Archie, seeing The Firm amid claims of growing tensions caused by the bombshell Oprah chat.
Now, the BBC has shared a statement on the complaints received over the coverage of the funeral, during which the state of the brothers' relationship was speculated upon.
"We received complaints from people unhappy that Nicholas Witchell offered analysis about the relationship between the Duke of Sussex and the Duke of Cambridge, when reporting on the funeral of HRH The Prince Philip, Duke of Edinburgh," the statement read.
"Our Royal Correspondent, Nicholas Witchell, reported in detail on the funeral of HRH The Prince Philip, Duke of Edinburgh, reflecting its historic and national significance, remembering the life and achievements of the Duke, while also examining what this moment meant for The Royal Family."
"The relationship between Prince Harry and Prince William has been a focus of interest in recent weeks. In this context, Nicholas offered analysis of the implications of this solemn event on The Royal Family, and what could be construed about current family relations from what was seen at the funeral.
"This was a legitimate, impartial and proportionate part of the coverage of this story," the broadcasting giant insisted.
During the tell-all Oprah interview, Harry and Meghan opened up about their life in the royal spotlight and the process of stepping away from their royal roles.
Prince Harry admitted that he and Prince William are on "different paths" and said that Prince Charles had stopped taking his phone calls when he moved across the pond.
Harry also revealed that he and Meghan had to rely on his inheritance from Princess Diana in order to start their new life in America, adding that he felt "let down" by Prince Charles.