Are Holly and Phil quitting This Morning? As rumours swirl, let's look at the timeline of their alleged feud
Holly Willoughby and Phillip Schofield are reportedly in a feud which could see a huge shake up at This Morning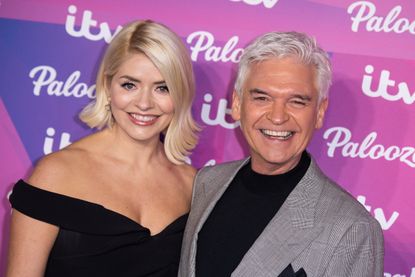 (Image credit: Jeff Spicer/Getty Images)
Sonny and Cher. Kim and Kanye. Tom Brady and Gisele.
There's always been a history of seemingly inseparable celebrity duos doing the unthinkable and, well, separating.
And, if the rumours are anything to go by, there could be another celebrity pairing that could announce their imminent uncoupling soon – although it's not quite the same.
Holly Willoughby and Phillip Schofield have been a professional duo for over a decade, presenting multiple shows together and sharing a close friendship. However, there are widespread reports of a massive falling out between the pair, with their future at ITV's This Morning in doubt.
Here's what we know so far…
Have Holly and Phil fallen out?
Various reports suggest that the long-serving duo are indeed in a feud.
Sources close to production of ITV's This Morning spoke with The Sun and suggested "to those around them on set, it has become clear recently that Holly and Phil are not as close as they once were."
"Behind the scenes their relationship has cooled. Before there would be a lot of banter and camaraderie off camera but that has dwindled."
The pair were notably dropped from a trailer they usually appear in for a feature on This Morning, which had many thinking there was truth to the rumours.
And some eagle-eyed social media users spotted Holly editing her Twitter bio. It formerly made reference to her being introduced to the social media app by a "legend" (referring to Phil), but it has been changed to simply reel off some of her accomplishments.
It now reads, "Broadcaster. Founder of Wyldemoon. Brand ambassador for Marks & Spencer and Garnier. Author of 'Reflections."
However, things might not be as bad as sources are leading fans to believe.
Phillip Schofield released his own statement, insisting that Holly is still his "rock."
His statement read, "As I have said before, Holly is my rock. We're the best of friends - as always, she is an incredible support on screen, behind the scenes and on the phone."
But – in yet another disclaimer – more sources have come forward to suggest that Holly was actually blindsided by Phillip's statement, and only read about it when everyone else did.
How long have Holly and Phil presented on This Morning?
The duo first began presenting the popular daytime staple together in 2009.
Holly took over from Fern Britton, who had previously hosted the show alongside Phillip Schofield since 2002.
Holly and Phil took their success on morning television and translated it to prime time, coming together to host ITV's Dancing on Ice.
They have jointly hosted the show for 12 seasons, starting in 2006. Holly stepped back from the show for three seasons after series six, but later returned in 2018.
Could Holly and Phil quit – what has been said so far?
As speculation runs rife, it's thought that the pair could announce a departure from hosting This Morning together.
However, this doesn't mean they'll both leave the show.
The same insider who has given quotes to publications about the alleged feud added that, if Phil were to leave This Morning, Holly would "want to stay" as the pair are "separate entities."
Jack Slater is not the Last Action Hero, but that's what comes up first when you Google him. Preferring a much more sedentary life, Jack gets his thrills by covering news, entertainment, celebrity, film and culture for woman&home, and other digital publications.
Having written for various print and online publications—ranging from national syndicates to niche magazines—Jack has written about nearly everything there is to write about, covering LGBTQ+ news, celebrity features, TV and film scoops, reviewing the latest theatre shows lighting up London's West End and the most pressing of SEO based stories.