A genius plant watering hack for keeping them alive while you're on vacation has gone viral on TikTok
A clever plant watering hack has hit the internet just in time for vacation season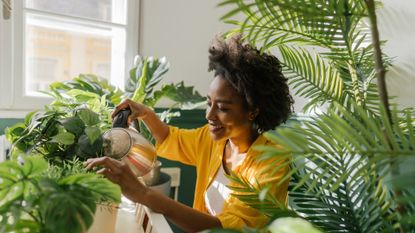 (Image credit: Getty Images)
A plant watering hack for keeping greenery alive while away on vacation is going viral, with the genius trick racking up over two million views and blowing people's minds.
If you're always working to keep your outdoor space perfectly pruned and flourishing with the best garden plants you can get your hands on, all while keeping up with the ultimate gardening trends of the season, it's likely you're a keen house plant keeper too.
Whether you prefer to hit the garden center in the hunt for new additions to your living room jungle or stock up on indoor shrubs from some of the best places to buy plants online, every plant parent needs to be clued up on how to look after them.
That's where heading off on vacation for a week or two can come in tricky. Jetting off and abandoning your dedicated watering schedule is never good news if your mission is to keep your plants healthy and thriving.
Luckily, a super smart way of keeping house plants topped up with H2O even while you're off on your travels has graced the internet, with a TikTok video from a passionate house plant pro racking up millions of views.
TikToker Justine Shannon, who proudly runs her @selfcareplants page, shared a step-by-step guide on how to use the "wick method" to drip feed hydration to your carefully plotted flowers and leaves even while you're away in holiday mode.
The trick involves cutting long pieces of thick string or wick and burying one end deep into the soil of your plant. The other end is placed into a saucepan or bowl of water, elevated above so that the water can soak into the string and drip down into the soil.
With the plant watering hack, which Justine successfully demonstrated in her videos when she went away for 12 days, impressed plenty of fellow home gardeners, with many taking to the comment section to vow to give the idea a go.
One wrote, "Damn I like this, hopefully it works!"
Meanwhile another reported that a friend of hers had pulled it off herself, commenting, "A girl I know did this for a 15 days vacation and all of her plants were thriving!!!"
One more pointed out that the tip is perfect for those who find the commitment of everyday plant care a little overwhelming, chipping in to add, "This is SUCH a great tip for neurodivergent gardeners!!! Helps it seem less daunting."