New study finds that 71% of women feel stressed about their sex life
A new study examines anxiety around sex for women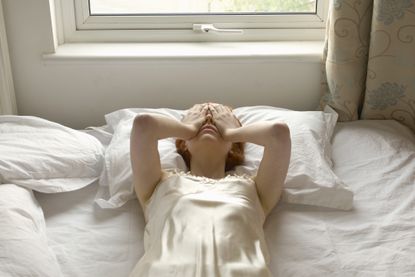 (Image credit: Getty)
A new survey from sexual wellness app Ferly found that nearly three-quarters of women feel worried or experience sexual anxiety about their sex lives. Ferly co-founder Billie Quinlan calls it a "sexual health crisis."
The survey of 20,000 people found that about one-third of women experience anxiety before, during, or after sex. Older millennials ages 31-35 are the most anxious about their sex life. About 42% of women say they don't understand their sexual needs, and only 9% of women say they feel confident asking for their needs to be met.
"The lifting of UK lockdown restrictions is no doubt having an impact on the way we feel about intimacy" says Quinlan. "There is a huge amount of anxiety surrounding closeness - beyond just the bedroom - and, naturally, this is an inhibitor to libido".
A whopping 85% of women say insecurities cause them to judge or speak down to themselves. Finally, 12% of women report pain during sex, compared to 3% of men, and less than a quarter of women orgasm "very often" during sex, compared to almost 50% of men.
The World Health Organization says sexual health "requires a positive and respectful approach to sexuality." It's not only about disease prevention. Ferly says sexual health is an investment women should be making in themselves, and that it starts with a greater understanding of your own body.
The company uses Mindfulness Based Cognitive Therapy to help women identify and overcome struggles related to sex and intimacy.
The survey found that almost 60% of women rate their level of sexual desire as high or very high, showing that desire is not the issue.
"Contrary to popular belief, women have a high sexual appetite, so it's vital that the barriers prohibiting women from enjoying the pleasurable sex lives they desire and deserve are spoken about, and that accessible platforms and solutions are provided," Quinlan says.
"For years, men have been afforded the opportunity to identify and 'solve' problems relating to intimacy and sexual health - viagra was introduced in the same year that the first anatomical study of the clitoris took place - and women continue to be left behind. Women are still falling victim to a pleasure gap that means they experience 4 times the pain that men do during sex, and are orgasming just half as often".
Rebecca Holland is a travel and food writer based in Chicago. She has written for the Guardian, New York Times, Architectural Digest, Food & Wine, Wine Enthusiast and more. She is currently a graduate student at Northwestern's Medill School of Journalism. When not working, you can find her eating her way through Chicago's neighborhoods, or in non-pandemic times, traveling around the world.