The Strawberry Moon 2021 is coming—but what time can you catch a glimpse of this stunning sight?
The Strawberry Moon is one celestial occurrence you won't want to miss this summer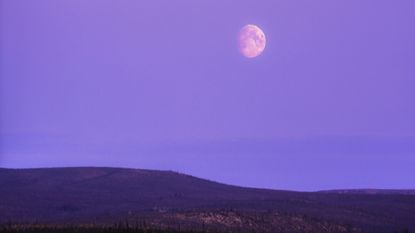 (Image credit: Getty Images)
The Strawberry Moon is upon us and so we're already excited to see it light up the sky with its surprising pink shade, but what is it and how often does it happen?
Some things just look better in pink and the moon is about to surprise us with a pink shade of its own. This year has seen a whole host of celestial events, including the rare ring of fire solar eclipse in June and May's total lunar eclipse, which is also known as a Flower Moon.
Though that's not all that the planetary movements have to offer us this month, as a Strawberry Moon will soon be here. This beautiful event is sure to excite astrology fans and it's well worth checking out your weekly horoscope to learn more about what this occurrence will mean for the days ahead.
But what is a Strawberry Moon and how often do they happen anyway?
What is a Strawberry Moon and how often do Strawberry Moons happen?
A Strawberry Moon is the full moon in June, but also typically marks the last full moon of spring or the first full moon of summer. But what really makes it stand out in the night sky is the pinkish hue that the moon takes on during this event. According to NASA, towards the end of June, the moon typically sits in a lower position in the sky.
When this happens, it allows more of the moon to shine through our atmosphere. Since the moon is sitting so low, it can sometimes give off a more pink or red-ish hue to those observing it, though of course, the moon hasn't actually turned pink.
The next Strawberry Moon is set to appear on Thursday, June 24, within days of the summer solstice. Though the idea of the moon taking on a rose hue may sound rare, Strawberry Moons are actually annual events, occurring every June, usually towards the end of the month.
This month's Strawberry Moon is particularly special, however, as it is also understood to be the last Supermoon of 2021. A Supermoon is when the coming of the full or new moon coincides with when the moon is closest to the Earth in its orbit. This means some people might refer to 2021's June full moon as a Super Strawberry Moon.
What does the Strawberry Moon mean?
Though it's only natural to assume the name Strawberry Moon is inspired by the moon's unusual pink shade, it actually has far more to do with the time of year this moon occurs.
Historically, according to The Old Farmer's Almanac, the name Strawberry Moon was used by Algonquin, Ojibwe, Dakota, and Lakota tribe peoples, as well as others, to mark the time that strawberries were ripe for picking. The arrival of the pink Strawberry Moon was used as an indicator that it was time to gather berries for the community.
What time will the Strawberry Moon 2021 be visible?
For those who are eager to catch a glimpse of this seasonal Strawberry Moon, the time to do so could be fleeting, but well worth it.
As reported by Forbes, the Strawberry Moon will rise around 20 minutes after sunset on 24 June, though it will officially reach its 'full moon' point at 18.40pm UTC.
For New York on the East Coast, moonrise, when the moon is visible rising above the horizon, will take place at around 20.53pm, whereas for Los Angeles it will be around 20.36pm. For those who are on the other side of the pond, catch the celestial event at 19:39pm GMT. If you don't want to miss the Strawberry Moon 2021, remember to check out the moonrise times where you are to ensure you get to experience this beautiful sight.
So, on 24 June, why not take your loved ones to watch the sunset, but don't leave once the sun is out of view? Instead, if you stick around just a little longer to catch the full moon and you may just notice the subtle pink hue of the Strawberry Moon 2021.
What effect might the Strawberry Moon have on our emotions?
It's possible emotions might run high during this celestial event, according to psychics and astrologers. In order to make the most out of the Strawberry Moon—and not feel overwhelmed by its power—Inbaal, psychic and wellness advocate at Psychicworld.com (opens in new tab) recommends spending time in nature, recharging by staying still for 10 minutes (not even meditating!), and harnessing your creativity, particularly by exploring writing and its healing properties.
"Make a point of nourishing yourself, so that you have the strength to stay on top of things," Inbaal said.
Rylee is a U.S. news writer who previously worked for woman&home and My Imperfect Life covering lifestyle, celebrity, and fashion news. Before joining woman&home and My Imperfect Life, Rylee studied journalism at Hofstra University where she explored her interests in world politics and magazine writing. From there, she dabbled in freelance writing covering fashion and beauty e-commerce for outlets such as the TODAY show, American Spa Magazine, First for Women, and Woman's World.