Prince Andrew praises new child protection software, SafeToNet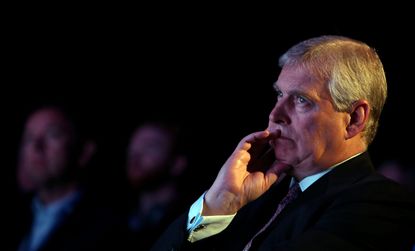 Prince Andrew has praised an enterprising mum-of-four using artificial intelligence to put an end to sexting.
51-year-old Sharon Pursey worked in the technology sector before she had her four children, now aged 16 to 29. She went back to her roots to design the app because she was 'deeply troubled' about the surge in 'sexting' amongst young people.
The SafeToNet software uses artificial intelligence (AI) to remove high risk words associated with sex, aggression and cyber bullying from children's smartphone keyboards.
MORE:These are the inspiring women the public wants to see knighted
The app can also stop children from sending inappropriate photographs or accessing certain websites. And when parents download the app to their own phone and link it to their child's, it will alert parents to any changes in their youngster's online behaviour.
"My children were telling me how popular social media sites such as Snapchat were being used for sexting because children believed the images were not permanent,' Sharon told the Mail.
"We decided we wanted to create an environment to allow children to use their phones safely and realised the way to do this would be to put something on to the operating system that would work as a safety net to filter harmful content," she explained.
The mum-of-four was invited to join Prince Andrew's Pitch@Palace initiative in 2017, which opened SafeToNet up to business opportunities around the world. Pitch@Palace, which celebrates its fifth anniversary today, has acted as a springboard for more than 900 businesses, including hundreds more female-led enterprises.
"Remember that a really successful idea is one that solves a problem," the Prince pointed out. "And when it comes to solving problems, women tend to have the upper hand."
The Duke of York also paid a touching tribute to his mother the Queen, saying, "Being led by an inspirational woman, I have seen the positive effect of women in a team from an early age and have always made choices on the best person for a role regardless of their gender."
Samantha Simmonds is a freelance journalist, content writer, copywriter, and editor based in London.
She graduated from Reading University with a First Class degree in Psychology, later achieving a Distinction in her Diploma in Fashion & Personal Styling from The London College of Style.
Samantha is currently creating digital editorial content for John Lewis, writing for The Edit's wellbeing channel. She also writes for publications including Women's Health, Top Santé, Refinery29, GoodtoKnow, Cosmopolitan, Healthy, Health & Wellbeing, woman&home, and Yahoo, and has created commercial content for brands including Berghaus, Amazon, and Regaine.