Lady Hale: Everything you need to know about the determined and powerful woman who ruled Boris Johnson's suspension of Parliament unlawful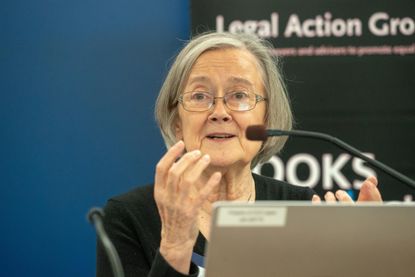 The Supreme Court's president, Lady Brenda Hale, announced today that prime minister Boris Johnson's decision to suspend Parliament was unlawful.
The Conservative party leader prorogued Parliament for a total of five weeks earlier this month.
And now 74-year-old Lady Hale - Baroness of Richmond - has ruled that it was wrong for the suspension to take place, preventingpreventing MPs carrying out duties in the run-up to Brexit.
Speaking of the prorogation, Lady Hale stated that 'the effect on the fundamentals of democracy was extreme'.
She went on to explain that the unanimous decision of the 11 justices meant that Parliament had not been prorogued, and that it was for the Speakers of the Commons and Lords - John Bercow - to decide what to do next.
Now, MPs have called for Mr Johnson to step down and Downing Street are said to be 'currently processing the verdict'.
Who is Lady Hale?
So who is the woman behind today's verdict? Lady Hale is the most powerful woman in the country's appeal court -and even made history in October 2017 by becoming the first ever womanappointed as President of the Supreme Court.
During her time in the role, she has ruled on a string of ground breaking cases, including the appeal against Brexit.
In February of this year, she even escorted Prince Charles and the Duchess of Cornwall on a tour of the Supreme Court in celebration of its tenth birthday.
As a long time beacon of gender diversity in the judiciary system, Hale was also the first ever female Lord of Appeal in Ordinary to be appointed back in January 2004.
The Yorkshire born mother-of-one is described on the Supreme Court's website as a 'home maker as well as a judge' and has had a successful and varied legal career since she graduated from the University of Cambridge in 1966.
After that, she taught law at the University of Manchester until 1984, in which time she qualified as a barrister and practised at theManchester Bar.
She was a teacher, and worked part-time at a pub during her law studies - and eventually received top results in her exams.
In 1984, she also became the first woman ever to be appointed to the Law Commission, which is a organisation championing law reform.
Today, many online commentators have noticed the suggestive spider brooch she wore to announce that Parliament suspension was 'unlawful'. Some have suggested it may be a nod to to the tangled and complicated web being weaved around Brexit - although that is of course speculation...
Today, Lady Hale is still in touch with the academic side of her career and is currently known asChancellor of the University of Bristol, Visitor of Girton College, Cambridge, and Visiting Professor of King's College London.