50 Over 50 Awards: 'Don't Tell Me I Can't' JD Williams Award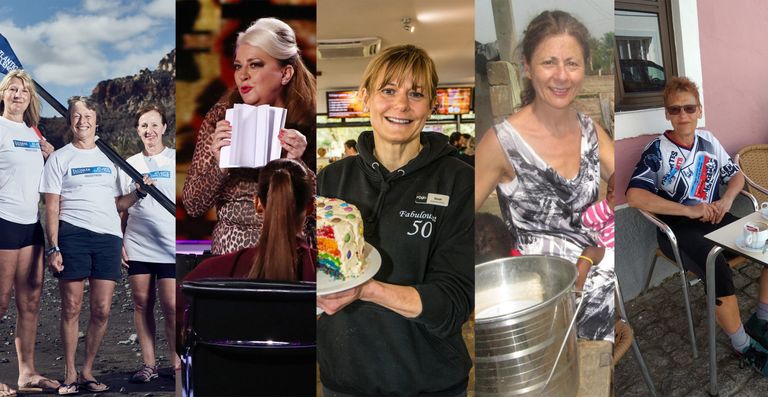 By Amy Hunt
These five inspiring 50+ women in our "Don't Tell Me I Can't" category, prove that anything is possible.
We are delighted to announce the latest shortlist of nominees in our 50 Over 50 Awards, in partnership with JD Williams.
For the 'Don't Tell Me I Can't' category, we spoke to five incredible readers who have all accomplished amazing things in their midlife and beyond - in spite of any setback that came their way.
Below, hear the amazing stories of one woman who took up mountain biking as she approached her sixties, and the solo traveller who took a trip across the world to volunteer at an orphanage.
Get ready to be inspired...
The winner of our 50 Over 50 Awards will be announced in our November issue.
Words: Eleni Kyriacou
Helen Lewis, 64

The solo traveller who volunteered at an orphanage
"Don't tell me I can't…go backpacking in Africa in midlife."
Helen took a sabbatical from her own marketing consultancy and went to Ghana to volunteer in an orphanage.
She lived with a host family and then backpacked around Africa – often on her own – visiting Burkina Faso and Togo. She's since returned twice and is attending the wedding of the family's daughter in January (who she's also sponsored through university).
Helen says: "The main thing I got from backpacking and volunteering was realising I could do it. I felt like a truly free person, an independent spirit and wasn't frightened of what was in store or of being on my own. There's always a solution, whatever problem is thrown at you.
At the orphanage the children were between four months and four years old, and needed bucketfuls of love and attention. I fell in love with them.
In a country with little tourism, volunteering is a great leveller. Age is irrelevant."
Sarah Heward, 53

The woman who turned a failing Little Chef into a success story
"Don't tell me I can't…make a million from fish & chips."
Sarah saw an ad for a run-down Little Chef in Tyndrum whilst on holiday in the Highlands. Within weeks, she'd bought it and relocated to Scotland with her husband.
She's since transformed it into the award-winning Real Food Café well-known for its fish and chips. She's served over 100,000 customers and has a turnover of £1million.
Sarah has suffered numerous setbacks including the sudden deaths of her first two husbands (one prior to her move, the other one year after they opened), and embezzlement from a former employee. But her grit and several years' experience in hospitality have kept her going.
Sarah says: "There were many obstacles – I underestimated seasonality, was under-funded, and of course the personal trauma too. But you get through by having faith, the right people around you and seeking help.
My vision was a roadside café/diner that went against expectations – good quality, home made or locally sourced food in a friendly environment. It feels great to have such a popular café and wonderful to have customers from all over the UK and the world, as well as our lovely regulars." therealfoodcafe.com
Ros Harper, 63

Loves mountain bike racing in her sixties
"Don't tell me I can't…take up an extreme sport – and compete!"
Ros, a retired biology teacher, got on her bike in a bid to get fit after breast cancer treatment in 2010. She's since had both knees replaced and cycling has helped her recover. She regularly competes up and down the country, has completed the ArdRock endurance race in Yorkshire and ridden coast-to-coast across the Scottish Highlands.
There are very competitive female cyclists of Ros' age who are as highly skilled. Recently, she trained as a sports masseur and offers her services at events to raise money for Bowel Cancer Research (she lost her husband to this last year).
Ros says: "I discovered that riding over steep, rocky trails was what I love doing, and I've been trying to improve my skills ever since. Riding makes me very happy. My friends are very encouraging but not many wanted to join me."
Elaine Theaker and Sharon Magrath, both 55, and Di Carrington, 62

They crossed the Atlantic in 60 days.
"Don't tell us we can't…row the Atlantic and break world records"
Elaine Theaker, Sharon Magrath, and Di Carrington, are not professional athletes but they make up Team Atlantic Ladies. Although they'd never rowed as a team before, they undertook intensive training and in February 2018, competed in the Talisker Whisky Atlantic Challenge. They faced 40ft waves, extreme weather and severe seasickness. They broke three world records associated with rowing the Atlantic: they're the first female trio, the oldest female team, and Di is the oldest female.
Skipper Di, says: "The scariest moment was when the other two were injured after we capsized twice on our last day.
We were drifting north and could have missed our finish in Antigua. And rowing at night in the inky black was difficult. Many best moments: January's blue moon, we saw a green-backed turtle, the sunsets and rises and the great companionship."
Mandy Muden, 55

The Britain's Got Talent comedy magician
"Don't tell me I can't …get on national TV in my 50s"
Mandy received four emphatic "yeses" from the BGT judges this year when she performed her comedy magic show.
She's toured her unique blend of zany humour and sleight-of-hand magic in Singapore, Hong Kong and Dubai, and has also performed for the Queen at her Golden Jubilee concert at Buckingham Palace. She's the first woman to ever host the famous Magic Circle (which was all-male till 1991), and was also awarded Member of the Inner Magic Circle. She's also won the Carlton Award for Comedy.
Mandy says:"As a child, I loved magic but there was nowhere for girls to learn as the Magic Circle was male-only. So I bought books and tried to figure out tricks myself.
I started working in a circus in France, as a magician's assistant. Britain's Got Talent is one of the few areas in TV where an older woman like myself can break through, and I'm incredibly grateful. Being a female comedy magician has been a very hard road, but I'm still here. My mantra is 'don't lose your nerve'."