'I fell in love with a conman—and lost £850,000'
Divorcee Carolyn Woods, 64, who was swept off her feet by a handsome conman, says her romance turned into a nightmare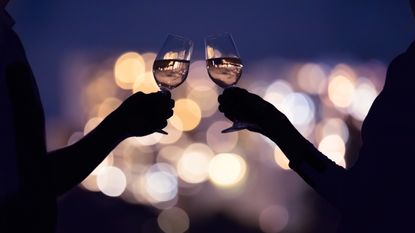 (Image credit: Getty Images)
It's easy to see how an attractive suitor could so easily turn a head. If you're newly single and facing your middle years, who wouldn't love a fairy-tale ending? But a growing number of criminals are taking advantage of this. New figures show there was a 20% increase in bank-transfer romance fraud in 2020 – with the average loss per victim at almost £8,000*. Could you spot a conman? Carolyn Woods lost much, much more. And she wants her story to be a warning to others…
It was almost closing time when a striking man, dark-haired and impeccably dressed, walked into the clothing boutique where I worked. I helped him try on a jacket, and he told me his name was Mark and that he was a Swiss banker. He'd flown in from Geneva, and was planning to buy Cotswold Airport.
Before he left, he asked for my number and minutes later my phone pinged: 'Did I turn your head?'
'A few degrees perhaps,' I replied.
That evening, while I was out with friends, I received another text: 'You are perfect for me.'
I wasn't looking for love. Divorced for 10 years, I was enjoying my independence, having moved to an idyllic country cottage in Tetbury, but no one had ever come on to me so strongly. I agreed to a date.
Mark Conway was great company. He came from a wealthy family, he said, but had made his own fortune. He could fly a plane, spoke seven languages and had a photographic memory. I told him he sounded like a secret agent. He said he couldn't stop thinking about me. And so began a whirlwind relationship, in which things moved so quickly, I could barely draw breath.
Now I know this to be the classic behaviour of a psychopath. First they love-bomb you, then they blow hot and cold, making you feel guilty if you question them. After they have squeezed everything from you for their own amusement, they will discard you. My relationship followed this pattern exactly.
Mark said his job was really a cover for his work for MI6—I would have to bear with him as he flew in and out of my life. It sounds extraordinary, but I believed every word he said. He looked the part and subsequently lots of things happened to convince me he really was a real-life James Bond, including driving me to the MI6 building and walking into what looked like the underground car park, past armed guards—a stunt he must have staged somehow.
On day four, he took me to see a gorgeous farmhouse and suggested we live together. I was shocked, but he said we shouldn't waste time. Whenever I expressed uncertainty, he allayed my fears. Pretty quickly, the farmhouse idea was discarded in favour of us moving into Widcombe Manor, a stunning Georgian property outside Bath that Mark said he'd bought and was renovating.
One day, I overheard him on the phone talking about cashflow problems. When I asked, he said it was something to do with the repairs and it seemed natural to offer help. I had money from the sale of my former family home—so I lent him £24,000.
Over time, that became hundreds of thousands more. It might seem crazy that I parted with so much, but I felt secure. Mark hadn't begged me for it, I reasoned, I'd offered. And it was for our home—our future together. I'd seen plenty of evidence of his wealth—he carried bundles of cash, travelled by helicopter, shopped in Harrods and had a property portfolio, including the stunning Bath house we subsequently lived in—of course he'd have no problem paying me back.
At that time, I was head over heels in love, totally captivated by Mark—and already in his control. Very early on, we talked about marriage, with Mark telling me I would have to propose to him, as it was a leap year. I didn't see him on the 29th of February, but I prepared a card for him which read, 'I love you. Will you marry me?' He immediately went into wedding overdrive, sending me for a session at Nicky Clarke's London hair salon and a dress fitting at a prestigious store in Knightsbridge.
He said he couldn't wait for the renovations to be complete and suggested we move to a town house in Bath's Royal Crescent. I moved in but it was far from the idyllic life I'd pictured for us. He would flit in and out but never stayed the night. I invited my family to meet him, but he didn't show up for dinner. When he turned up briefly the next morning, he was utterly obnoxious. I now know this to be a tactic, intended to drive a wedge between me and my loved ones.
Throughout our relationship, Mark went to huge efforts to support his story. He seemed obsessed with security, and constantly changed our phones and checked for bugging devices. He told me he was being sent on a mission to Syria and returned with a bandaged arm, claiming to have been shot. Another time, he appeared in combat gear, saying he'd left a training exercise so he could see me.
Just as I was becoming concerned about my money, Mark gave me dreadful news—he had a brain tumor, and was under guard in hospital, as MI6 were concerned he'd spill secrets. I couldn't visit, he said, but he was able to meet me in the car park—he had a bandage on his head with a drain poking out of it.
Alone in the Bath house, I became frightened and lonely. After leaving hospital, he continued to contact me daily, now claiming to be in Italy. Meet-ups he scheduled never happened, the wedding seemed long forgotten, and I had no money left. He dismissed my fears and made me feel guilty for bothering him. Finally, he suggested we meet in Nice and I booked a flight with the last of my credit card funds. Mark didn't show. I returned home brokenhearted and told my daughters everything.
Even after that, he was still in daily contact, telling me he loved me. I've learned that in the last phase of a relationship with a psychopath, they keep you on a string so they can survey your destruction. They feel nothing but contempt.
In desperation, I got in touch with James Miller. He was a former associate of Mark's, who Mark had told me to call if I needed anything while he was away. More recently, he was supposed to have met me with airline tickets so Mark and I could be reunited. I texted three words: 'Please, help me.'
I'd only met James a couple of times, but he seemed my only hope. In fact when I met him, he offered me little reassurance. Mark also owed him a lot of money and he'd become suspicious—he revealed he'd discovered that Mark was a lifelong con man with a string of offenses to his name.
He was, in fact, Mark Acklom, and he'd first broken the law in 1991, having obtained a £450,000 mortgage by posing as a City trader—he was just 16. He'd also stolen his father's credit card and racked up thousands of pounds of debt by staying at The Savoy and flying his friends in private jets. He was sentenced to four years, but once out had continued conning respectable organizations and individuals, including James Miller. Acklom, I discovered, was married with two children and had been living in luxury on the other side of Bath in a mansion paid for with my money.
That was 2013. It took six more years to bring him to justice. Mark took everything. My money, my home, my confidence. I was completely dependent on the kindness of my friends and my daughters Lara and Emma. One evening, shortly after discovering his true identity, he rang to say he still loved me. 'Just give me my money,' I said coldly. I never heard from him again.
Following an initially flawed police investigation, I enlisted the help of Sky News' crime correspondent Martin Brunt, and we tracked Acklom to Spain and then to Switzerland. He was extradited and eventually admitted five counts of fraud— although he was charged with 20. He was jailed for five years, and I've no doubt that once out he'll go back to the same ways.
So where am I now? Have I recovered my £850,000? No. The police have to find it first. My health has suffered, I've struggled to work and my trust has been severely shaken. I want to warn others about Acklom, which is why I've written a book, but I refuse to let that man take anything else. I am thankful for my friends and the support of my incredible daughters.
Having come through this traumatic experience, James and I became close and are now living together in Scotland. Life has been a struggle, but we support each other as best we can. Ours was a match made in hell, but we've managed to find our own little corner of paradise.
---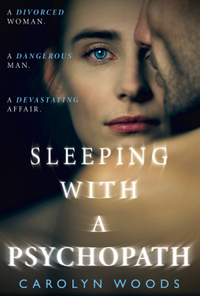 (opens in new tab)
Sleeping with a Psychopath by Carolyn Woods (opens in new tab) | RRP £8.99
Carolyn is still £850,000 out of pocket and has written a book to warn others about psychopaths and the way that they operate. Reading like a fictional thriller, this true-crime story is a blow-by-blow account of Carolyn's story with Mark, and shares in fascinating detail the power of manipulation—and her will to survive it all.
How to spot a con artist
The romantic con artist looks for empathy in a victim—someone likely to fall for a fantasy sob story, says Emma Davey, an abuse counsellor from mytraumatherapy.co.uk (opens in new tab).
'A person who is vulnerable and looking to be saved is a perfect candidate.' Emma focuses on narcissism, a personality disorder with many shared traits of the psychopath. Look out for these signs:
✢ They are untrustworthy and will lie over even the smallest things.
✢ 'Gaslighting' is common technique used to make you doubt your own judgment, and to control a victim.
✢ They can switch moods easily.
✢ They will never listen to your point of view or consider your feelings.
✢ They need validation and attention.
Need help?
If you think you've been a victim of romance fraud, contact your bank immediately and report it to Action Fraud via actionfraud.police.uk (opens in new tab). In Scotland, report to Police Scotland by calling 101.
Stephanie Clarkson is a successful childrens' author of Hello Happy, Be Kind, and Super Milly and the Super School Day.
Stephanie graduated from the University of Leeds with a degree in French and Italian, before training as a journalist. She was then a staff writer at The Daily Mail and Deputy Features Editor on woman&home magazine until 2006 when she turned freelance. She continues to write regularly for the British press.
When she's not writing, she enjoys working with schools to promote literacy and the love of reading.