Hispanic Heritage month—Hispanic people that changed the world and everything you need to know about the celebration
Hispanic Heritage month celebrates the cultural importance and invaluable contribution made by Hispanic communities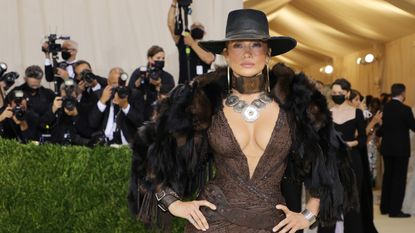 (Image credit: Mike Coppola/Getty Images)
Hispanic Heritage Month has officially started. The month-long celebration gives people across the globe the opportunity to celebrate Hispanic communities and honor their diverse history and cultural impact.
Some of America's biggest stars and politicians including singer Jennifer Lopez, New York representative Alexandria Ocasio-Cortez, and actress Sofia Vergara come from a Hispanic background, making this month the perfect time to recognize and learn more about their culture.
Though Hispanic Heritage Month runs through October 15, 2021, that doesn't mean the celebration has to end. You can still educate yourself on the Hispanic community and its history year-round.
---
What countries celebrate Hispanic Heritage Month?
Anyone can celebrate during the 30 day period, but it was made official back in 1968 when US President Lyndon B. Johnson first introduced National Hispanic Heritage Week.
In Presidential Proclamation 3869, President Johnson made it nationally recognized when he wrote, "Wishing to pay special tribute to the Hispanic tradition, and having in mind the fact that our five Central American neighbors celebrate their Independence Day on the fifteenth of September and the Republic of Mexico on the sixteenth, the Congress by House Joint Resolution 1299, has requested the President to issue annually a proclamation designating the week including September 15 and 16 as National Hispanic Heritage Week."
It wasn't until Ronald Regan's presidency that the week-long celebration was extended to a month. On August 17, 1988, Congress passed a law to extend Hispanic Heritage Week into a month, then in 1989, the US recognized its first National Hispanic Heritage Month.
How is Hispanic Heritage Month celebrated?
Clear your schedule and mark your calendars! The official US government has a website (opens in new tab) dedicated to the holiday, which features a variety of events and activities going on throughout the month. These events range from concerts to festivals throughout the country and are usually family-friendly—and did we mention most of them are free?
If you prefer celebrating on your own or with close friends and family, then you can still participate in the holiday. Skip the crowds and stay close to home while you enjoy a traditional meal from one of the many Spanish-speaking countries across the globe?
You can also get lost in a book written by a Spanish-speaking author or support one of your locally-owned Hispanic businesses. These are just a few examples too, there are countless ways you can honor and recognize the Hispanic community through art, film, food, and even volunteering.
Each year, to mark the occasion, the National Council of Hispanic Employment Program Managers (NCHEPM) also announces a theme surrounding the holiday. Last year, the theme was "Hispanics: Be Proud of Your Past, Embrace the Future." The theme for 2021 is "Esperanza: A Celebration of Hispanic Heritage and Hope."
Hispanic people who changed the world
Jennifer Lopez
J. Lo has made a name for herself in the entertainment industry and often pays homage to her Hispanic background. She was born in the Bronx, New York in 1969 to Puerto Rican parents who had always supported her goals of joining the entertainment industry. With a dream of becoming a singer and actress, she pursued her ambitions and has since remained one of the most notable Hispanic American figures in the movie and music industry.
Some of her more notable performances include her breakthrough performance in 1997's Selena and Hustlers (2019), which, at the time, received Oscar nomination buzz.
Alexandria Ocasio-Cortez
Also known by her initials AOC, Alexandria has made it her mission to advocate for Hispanic American rights. Born in 1989 in the Bronx, New York to a Puerto Rican mother and a Bronx-born father of Puerto Rican descent, she challenged Democratic incumbent Joe Crowley, the first to do so since 2004, and pulled off a surprise primary win in June 2018. Her victory also made her one of the youngest people elected into the House of Representatives during the midterm elections that year.
Roberto Clemente
Roberto helped pave the way for Hispanic American baseball players, playing 18 seasons in Major League Baseball for the Pittsburgh Pirates. He was born on August 18, 1934, in Carolina, Puerto Rico to Melchor Clemente and Luisa Walker. As the youngest of seven siblings, their resources were limited leading him to help his father out unloading and loading trucks, as well as helping out in the sugarcane fields.
He excelled in baseball where he was known for having an unbelievably accurate and strong throwing arm. It's said that he had the ability to throw a baseball from the outfield to home plate. These skills garnered him attention and the label of a baseball "hero."
Cesar Chavez
Born in Arizona to a Mexican American family, Cesar eventually became famous for his activism efforts. One of his most defining moments occurred when he and his family moved to California during the Great Depression, which is what pushed his advocacy for farmers' rights. During his time as a lumber handler, he also helped set up a chapter of the Community Service Organization—a civil rights organization for Latinos in California.
Frida Kahlo
Considered one of the most famous artists in the world, Frida often created vibrantly colored self-portraits that dealt with themes such as identity, the human body, and death. In Mexico, she is celebrated for her attention to Mexican and indigenous culture, and recognized by feminists for portraying the female experience in her artwork.
Why is Hispanic Heritage Month important?
In the US, it's a time of year to recognize all the important contributions the Hispanic community has made. It also celebrates the independence days of the various Hispanic countries including Mexico, parts of the Caribbean, Central and South America and Spain.
Whether your community members originate from a Hispanic country or have ancestors who hail from there, take the time to get to know their rich culture and history this Hispanic Heritage Month.
Rylee is a U.S. news writer who previously worked for woman&home and My Imperfect Life covering lifestyle, celebrity, and fashion news. Before joining woman&home and My Imperfect Life, Rylee studied journalism at Hofstra University where she explored her interests in world politics and magazine writing. From there, she dabbled in freelance writing covering fashion and beauty e-commerce for outlets such as the TODAY show, American Spa Magazine, First for Women, and Woman's World.