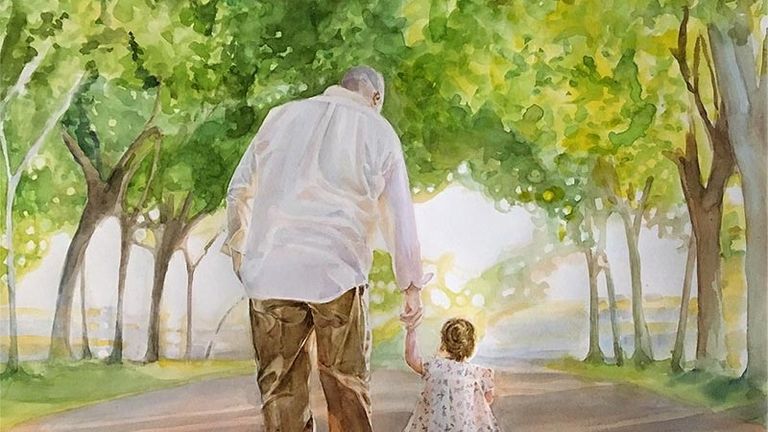 (Image credit: Paint Your Life)
Families across America have been turning their most treasured photos into hand-painted portraits, in a touching new way to pay tribute to lost loved ones. 
If you've ever lost a loved one you'll know that through the toughest days and darkest moments it's the memories that will keep you going. To hold onto these treasured times with friends or family, and help them live on forever in their hearts, people across the country are transforming photo album classics into bespoke portraiture. 
This new trend for commemorative artwork has been well documented across social media and review platforms like TrustPilot. The beautifully painted pieces arguably make the service noteworthy in its own right, but it's the viral sharing of emotional reactions from those receiving the artwork that has seen the phenomenon spread so quickly.    
One of the most common requests from customers is to piece together meetings that may never have happened. Often couples who have lost a parent will choose to have a portrait done of their mum or dad holding the grandchildren they never got to meet.
While plenty of people design their own artwork, these touching tributes have also been increasingly popular as a gift. One story shared to Facebook explained that a user had sought out an artist to have a portrait done as a very special Mother's Day present, saying: "My mom lost her sister to lung cancer 10 years ago. Not a day goes by that we don't think of her and wish she were still here with us! I had this painting done for Mother's Day and was so excited to see her reaction!"
A video which has been especially popular is from the company specialising in the service, called Paint Your Life. In the video you meet Derek, who is commissioning a portrait for his wife, who has lost her mother. His idea is to piece together a picture of her mother with her two grandchildren – his kids – who she never met. The sensitive scenes which unfold have been shared countless times on social media.  His wife bursts into tears unwrapping the portrait, asking him, 'how did you do that?' over and over again until he finally replies, saying, 'magic'.
As any pet-owners will know, animals are as much a part of a family as humans, and their passing too can be difficult. With this in mind it's not surprising that animal lovers have commissioned artists to capture their best friends in hand-painted pieces also. Plenty of digital images of cats and dogs have been given a makeover to transform them into lovingly-crafted, unique, personalised portraits that their owners will treasure forever.  
Putting into words what is so captivating about the experience, one user wrote: Thank you for capturing this beautiful moment we thought impossible', while another described their artwork as a 'dream'.
---