This year's Women's Prize for Fiction longlist features inspiring and important books to read this year
This year's Women's Prize for Fiction longlist features inspiring books that have never been more important to delve into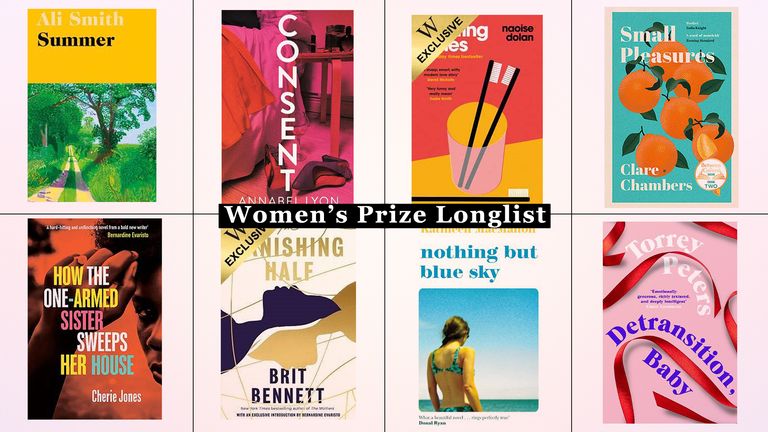 (Image credit: Future)
The Women's Prize for Fiction 2021 longlist has been revealed - and it features important and inspiring reads that have never been more apt.
This year's longlist of 16 books aims to celebrate diversity among women writers, as well as the historical societal journey of female liberation and the tumultuous relationships they face with those in life, with some of the up-and-coming best books of 2021 being featured - all of which have never been poignant for women in today's society.
"We read so many brilliant novels for this year's prize and had an energetic judging session where we discussed our passions, opinions and preferences," says novelist and chair of judges Bernardine Evaristo. "Sadly, we had to let some very deserving books go but we're confident that we have chosen sixteen standout novels that represent a truly wide and varied range of fiction by women that reflects multiple perspectives, narrative styles and preoccupations. These novels fascinated, moved, inspired and challenged us and we're excited at announcing their inclusion on the Women's Prize longlist."
Also on the judges panel with Girl, Woman, Other writer Bernardine, are, podcaster, author and journalist, Elizabeth Day; TV and radio presenter, journalist and writer, Vick Hope; print columnist and writer, Nesrine Malik; and news presenter and broadcaster, Sarah-Jane Mee.
When it comes to the books that the panel settled on for the Women's Prize longlist, the judges picked some of the best books of 2020 as well as other slightly newer or slightly older additions too, many of which centre around the themes of familial female relationships, motherhood, poverty and isolation, addiction, identity and belonging, race and class, grief and happiness and coming-of-age.
And of course it is full of books for women, which have never been more widely celebrated than they are today - so we know we'll definitely downloading most of these onto our Kindles and eReaders to make a show of support for these amazing female writers.
Women's Prize for Fiction 2021 longlist
Because of You by Dawn French
Burnt Sugar by Avni Doshi
Consent by Annabel Lyon
Detransition, Baby by Torrey Peters
Exciting Times by Naoise Dolan
How the One-Armed Sister Sweeps Her House by Cherie Jones
Luster by Raven Leilani
No One is Talking About This by Patricia Lockwood
Nothing But Blue Sky by Kathleen MacMahon
Piranesi by Susanna Clarke
Small Pleasures by Clare Chambers
Summer by Ali Smith
The Golden Rule by Amanda Craig
The Vanishing Half by Brit Bennett
Transcendent Kingdom by Yaa Gyasi
Unsettled Ground by Claire Fuller
Women's Prize for Fiction 2021 longlist: What should I read?
1. Because of You by Dawn French
An uplifting story about mothers and daughters and familial relationships, in which two very different women give birth to two very similar daughters on the same night.
One leaves the hospital with a lovely baby girl and the other leaves alone. After seventeen years later, things come to a head and power of motherly love will be tested to its limits.
---
2. Burnt Sugar by Avni Doshi
A story of a toxic mother and daughter relationship that explores the themes of betrayal, regret and the past. It follows Tara who was wild in her youth when she left an arranged marriage to join an ashram and rebelled against Indian society's expectations of women. But as an elderly woman her relationship with her own daughter is put to the test when her daughter is forced to take of her.
---
3. Consent by Annabel Lyon
An exploration of the different types of sisterly relationships and the dynamics at play that follows twins Saskia and Jenny who have very different personalities but one ends up putting her life on hold to look after the other after an accident causes serious injury. Their lives become intertwined with another pair of siblings who end up having something very similar in common...
---
4. Detransition, Baby by Torrey Peters
A funny debut that focuses on the lives of three trans and cis women living in New York who are working through family planning and motherhood. Three lives become interrwined through a series of events and dreams of family and motherhood seem within the grasp of those who want it if they are willing to form an unconventional family to raise a baby together.
---
5. Exciting Times by Naoise Dolan
A story of love, commitment, power and privilege in the social circles of modern-day Hong Kong that tells the tale of 22-year-old Ava who chooses to leave her home in Ireland and set off to make her own money on the other side of the world in Hong Kong. And with a badly paid teaching job, a roommate who showers her with money and a new friend, there are exciting times to come.
---
6. How the One-Armed Sister Sweeps Her House by Cherie Jones
This Barbados-based novel follows three very different women in different family generations while exploring poverty and misogyny. It tells of three marriages that take place in a beautiful island where violence, isolation and women's sacrifices lurk underneath the cover of wealthy tourists and pretty beaches.
---
7. Luster by Raven Leilani
An exciting debut novel that follows a young black woman through the sexual and racial ups and downs of contemporary life, as she finds herself becoming involved with a white surburban couple who have a loosely open marriage and are parents to an adopted black daughter.
---
8. No One is Talking About This by Patricia Lockwood
A funny novel that looks at the down sides of social media in a way that's not been done so before, as a social media influencer jets across the world to please her fans and meet them where she can - but her real life ends up clashing with this eventually.
---
9. Nothing But Blue Sky by Kathleen MacMahon
An exploration of marriage in which a widower finds himself questioning what he really knew about his late wife. David thought he had the perfect marriage, but after his wife dies suddenly he finds out the secrets that she had been hiding from him and has to reassess everything.
---
10. Piranesi by Susanna Clarke
A dark tale with Gothic elements about a house and it's enigmatic inhabitants. Piranesi lives in a house where he spends his life shut off with his head inside his notebooks. But when messages start to appear scratched out on the pavements, he's led to believe there's someone else intruding in his carefully constructed world.
---
11. Small Pleasures by Clare Chambers
A story about belief that follows a reporter and someone who claims to have had a virgin birth. Taking place in the suburbs of South East London and set in the year 1957, this follows Jean Swinney who is a journalist on a local paper and feels like she is trapped in a life of duty. But then she is led to find out whether a woman who claims she's had a virgin birth is a fraud or an unlikely miracle.
---
12. Summer by Ali Smith
An insightful piece of work that looks at the balance between past and present society. In Sacha's present life, the world seems like it's falling down and everything in her family is in meltdown. Whereas, in the past a different set of siblings are enjoying a lovely summer but know that it can't last for long. A story about families and people on the precipice of change.
---
13. The Golden Rule by Amanda Craig
The story of a murderous pact between strangers that turns on its head what you would usually expect. Hannah returns to her remote Cornish home after everything in her life goes wrong and, in her desperation, when she meets a woman on the train they make a pact to commit murder for each other. But when she goes to make her move, things end up looking a lot different to what they had previously seemed.
---
14. The Vanishing Half by Brit Bennett
Taking place across the 1950s to the 1990s and in both the Deep South to California, this novel follows two sisters living very different lives. The identical twin sisters grew up together in a southern black community, but after running away at the age of 16 everything changes. And ten years later the two sisters could not lead more different lives.
---
15. Transcendent Kingdom by Yaa Gyasi
This much-awaited novel follows the story of a Ghanaian immigrant family in contemporary America. Gifty had dreams of what her parents were looking for when they made their journey to Alabama, however after her family goes from four to two, her dreams are dashed and years later she goes on a mission to search for answers.
---
16. Unsettled Ground by Claire Fuller
A story of two middle-aged sisters whose lives start to drastically change after the death of their mother. At 51-years-old twins Jeanie and Julius, who still live with their mother in a life of poverty and isolation, have to deal with her death and their carefully constructed livelihoods are threatened.
---