Richard and Judy's Search for a Bestseller competition is back and this is how to enter
Enter and you could win a publishing deal worth at least £10,000!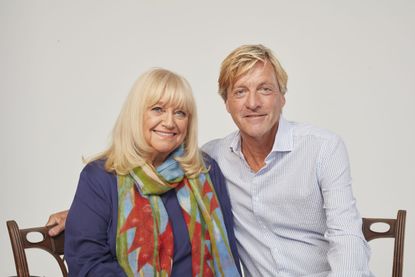 Richard and Judy's Search for a Bestseller competition 2020 is now open! So brush up your manuscript and send your entry by August 14 for your chance to become a published author.
Supported by WHSmith and new publishing partner, Welbeck Publishing, Richard and Judy's Search for a Bestseller is open to all aspiring unpublished writers.
So if lockdown was your chance to write, finish or edit your novel perhaps now's the time to let it shine?
Why is the Richard and Judy Bestseller competition so popular?
'It's so difficult for new authors to get established and published now,' says Judy Finnigan, a bestselling novelist herself. 'Richard and I are really proud to give unknown writers a chance to get their work seen.'
Judy has been at the heart ofthe UK's most successful Book Club – The Richard and Judy Book Club – since it launched in 2004.
'For a new author who's struggling to find representation, this really is a fantastic opportunity,' says Judy.'As the Search for a Bestseller deadline is August 14, there isn't time to start a new novel – but if you've already written or almost finished a book, and don't know where to start getting it published, this is the competition for you.'
Why you should enter this competition
Past winners of Richard and Judy's Search for a Bestseller have all gone on to achieve great success and impressive sales.
Tracy Rees won in 2014 with her brilliant historical novel Amy Snow, and Caz Frear's gripping number-one bestseller Sweet Little Lies won in 2016.
The 2018 competition winner was Claire Gradidge for her wartime murder mystery, The Unexpected Return of Josephine Fox. Before her amazing success, Claire had received dozens of rejections from publishers over the years.
But winning Richard and Judy's Search for a Bestseller changed everything. 'If anyone has a dream,' says Claire, 'then I'd give them this advice – just don't give up.'
What do Richard and Judy have to say about 2020's competition?
Richard and Judy are both excited about this year's competition and are looking forward to reading your entries. Lockdown is sure to have produced some amazing work.
'Judy and I are delighted to be launching this year's Search for a Bestseller competition,' says Richard Madeley. 'Nearly any genre is accepted including crime, historical, romance or contemporary.
'We know how testing the last few months have been for everyone, so if you've been motivated to write – or just want to dust off that manuscript in your bottom drawer – send your submissions. We can't wait to see what lockdown treasures are in store!'
If you have a manuscript then you could have written a potential bestseller, and this competition really does change lives. Can you imagine the thrill of walking past a bookshop window and seeing your novel on display? Or sitting opposite someone who is totally engrossed in your book?
'A lack of confidence is common for first time writers,' explains Judy. 'You can't believe anyone will be interested in reading your inner thoughts. It's also a very personal thing to submit your work because you're asking to be judged, which is horrible for anyone! But if you love reading and you have a good idea, then enter your story.'
How to enter Richard and Judy's writing competition
To enter unpublished writers must submit a completed, original fiction manuscript aimed at adults. This should be 70,000 to 100,000 words. The competition is open from now until Friday 14th August 2020. While most genres are accepted,children's or young adult fiction, or sci-fi novels won't be right for this competition.
Richard and Judy will lead the Search for a Bestseller selection process, along with a panel of experts from Welbeck Publishing and WHSmith.
The winner will be announced on Monday 5th October 2020. They'll receive an amazing publishing deal worth at least £10,000. The winning novel will be published by Welbeck Fiction in the spring of 2021.
So if you think you've got a bestseller ready to roll, visit the Richard and Judy website HERE (opens in new tab) for the full terms and conditions, and the entry form.
Good luck!
Jane Kemp is the Features Director for Woman & Home, Woman's Weekly, Woman and Woman's Own. She's worked in journalism for many years, mostly in Women's consumer magazines, and enjoyed a long stint at Practical Parenting while her own four children were little. These days, her interests are more focussed on gardens and books, and she has taken great pleasure in seeing the expansion of books coverage in all the titles, as well as big-name authors writing exclusive fiction for Woman & Home and Woman's Weekly.