Meet the amazing woman behind Call The Midwife at a free w&h virtual event
Don't miss Call The Midwife creator Heidi Thomas as she talks about the inspiration and drama behind the Sisters and midwives of Nonnatus House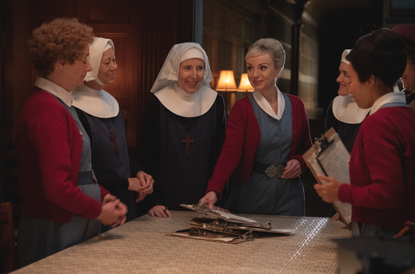 Hot on the heels of filming the Call the Midwife 2020 Call The Midwife Christmas special, we'll be talking to its award-winning creator Heidi Thomas on Wednesday 21st October at 7.30pm. Put the date in your diary now for what promises to be a fascinating evening.
At this exclusive event we will be finding out how Heidi took her brilliant idea from book to script. And we'll be asking how she's coped with its phenomenal success. Plus she'll be giving us a sneak preview of her new book The Wisdom of Call The Midwife. Doesn't that sound perfect for right now?
Sign up to register for yourFREE ticket to our Zoom live event with Heidi Thomas.
Meet Heidi Thomas at our free virtual event
Although best known forCall the Midwife, Liverpool-born Heidi has had a long and illustrious writing career, from early work in the theatre and radio, to film (Ballet Shoes) and period drama, includingLittle Women,Upstairs, DownstairsandCranford.
Most recently, Heidi and her team have just wrapped up filming the 2020Call the MidwifeChristmas special. Broadcast on Christmas Day, the specials typically draw in millions of viewers, earning Heidi the title 'Queen of Christmas'.
Acknowledging how much the series is part of her life, Heidi said, "We are very much a family at Call the Midwife, and like families everywhere, we have missed each other. We will now be putting more love and energy into our work more than ever and I can't wait to share series 10 with our fantastic, loyal audience.'
Why we love Call The midwife
As its creator, Heidi has conjured a cast of characters that audiences truly care about. From sassy, brittle Trixie, who can flirt (and smoke) for England, to serene but starchy Sister Julienne, each character has her flaws but tackles difficult situations head on, often with a dose of humour.
On paper, the gritty storylines (from domestic abuse to mental health issues) do not make for popular Sunday-night viewing. The brutal reality of life in the East End in the 1950s and 60s, particularly for women, the sick and the poor, is never shied away from, yet the warmth, strength and compassion shown by the Sisters and midwives of Nonnatus House strikes a deep chord with its audience. Who didn't weep buckets when newly-wed Nurse Barbara died of septicaemia, or punch the air when Chummy (Miranda Hart) finally marriedpoliceman beau, Peter?
Heidi has also written the foreword to a fabulous new title: The Wisdom of Call the Midwife, a lovely book sharing words of inspiration from the Sisters and midwives of Nonnatus House. Heidi will be chatting to Woman & Home books editor Zoe West about the book at our LIVE event on Wednesday 21st October. Like to ask Heidi a question? Join the Q&A live, or send it in advance to zoe.west@futurenet.com
REGISTER FOR YOUR FREE PLACE HERE
It's safe to say, woman&home's Books Editor, Zoe West has read a LOT of books.
As an avid young bookworm obsessed with the adventures of The Magic Faraway Tree and the misadventures of red-haired orphan, Anne Shirley, Zoe never lost her love of reading - and the fact she now gets to do it as her job is a constant source of wonderment for her.
When Zoe isn't reading she is interviewing authors, hosting live events where she gets all the gossip, and seeking out exciting new writers she can't wait to tell her readers about.