Hay Festival is going ahead and it's the best line up ever – here's how to attend from your sofa!
Hay Festival is on and it starts Friday the 22nd of May!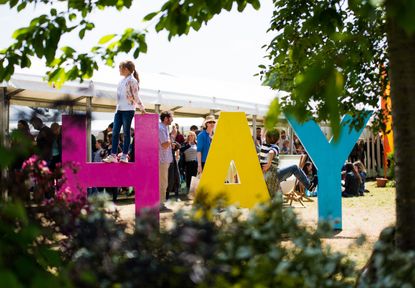 (Image credit: Sam Hardwick)
Every summer, thousands of people gather for what is hailed as the Glastonbury of literary festivals.
A must for any bookworm, Hay Festival literary festival started in 1988 as a small gathering in a pub garden. It now attracts more than 600 award-winning writers and up to 250,000 visitors every year. It's one of our must-attend Festivals annually.
Wasn't Hay Festival cancelled?
Yes, but when the news hit that the Hay Festival would be cancelled, visitors and loyal attendees were gutted. Worse, the future of 'Hay' looked set to be in jeopardy. Fortunately, an urgent plea for help from the festival organisers saw donations totalling £350,000 roll in. Now the festival will go ahead in a digital format through free live broadcasts and interactive Q&As.
This has meant a stunning line up that may never have existed in its physical form! And, as long as you register for the events beforehand, they are absolutely free to watch.
All that's left for you to do is grab yourself an ice cream, pull up a deckchair and enjoy the show!
How long is Hay Festival?
Hay festival runs from the 22nd of May to the 31st of May, a total of 10 days. There are 83 events to choose from.
How can I attend Hay Festival?
Browse the programme online and, if an event interests you, click the Register link to save your spot.
Your virtual seat will be confirmed by email, and you will be sent another email ten minutes before the show to remind you the event is about to start. You can chat with other audience members and ask questions of the speakers, just as you would at a real Hay Festival event.
What are the Hay Festival highlights this year?
As if from a green field in Wales (oh, how we wish), the main event kicks off from Friday 22 May with a packed programme including:
• A gala performance of William Wordsworth's works to celebrate his 250th anniversary from the likes of Margaret Atwood, Benedict Cumberbatch, Vanessa Redgrave and Monty Don at 6.30pm on Friday 22 May
• A live Q&A with actor and author Stephen Fry as he previews scenes from the third part of his Greek trilogy which follows Mythos and Heroes at 9pm Friday 22 May
• Maggie O'Farrell talking about her first foray into historical fiction with Hamnet – one of the most talked-about books of 2020 at 1pm Sat 23 May
• Hannah Rothschild talks to Rosie Boycott about her book The House of Trelawney at 1pm on Tuesday 26 May
• A conversation with two compelling writers: Ingrid Persaud and Jessie Burton at 5.30pm Tues 26 May
• A special preview of Booker Prize-winning Roddy Doyle's new novel at 7.30pm on Wednesday 27 May
• Jules Hudson from EscapeTo The Country talks about many of the topics that come up during his house hunts in some of the most beautiful parts of the country at 2.30pm on Thursday 28 May
• Bestselling novelist Hilary Mantel talks to Peter Florence about the final instalment in her hugely successful trilogy about Thomas Cromwell, The Mirror and The Light at 2.30pm on Saturday 30 May
• Allie Esiri, Helena Bonham Carter and Dominic West take a journey through the year with Shakespeare at 5.30pm Saturday 30 May
• Sandy Toksvig talks about her long-awaited memoir The View Of My Life From The Top Of The Number 12 at 5.30pm on Sunday 31 May
Will the festival keep up the paper rose tradition?
Each of the events at Hay traditionally ends with a paper rose being presented to the speaker. However, it is unlikely to happen this year for obvious reasons.
How to make a Hay Festival Paper Rose
For an authentic Hay experience, why not make a paper rose yourself? To carry on the tradition, the festival organisers are encouraging you at home to make your own. They're asking people to end share a pic of the results with them on Instagram.
Can I speak to the organisers of Hay Festival if I have questions?
For more information visit their website or if you have any questions email boxoffice@hayfestival.org
It's safe to say, woman&home's Books Editor, Zoe West has read a LOT of books.
As an avid young bookworm obsessed with the adventures of The Magic Faraway Tree and the misadventures of red-haired orphan, Anne Shirley, Zoe never lost her love of reading - and the fact she now gets to do it as her job is a constant source of wonderment for her.
When Zoe isn't reading she is interviewing authors, hosting live events where she gets all the gossip, and seeking out exciting new writers she can't wait to tell her readers about.