Are you mothering your pet? Here's what 'pet talk' really means
We asked language experts to explain what 'pet talk' actually means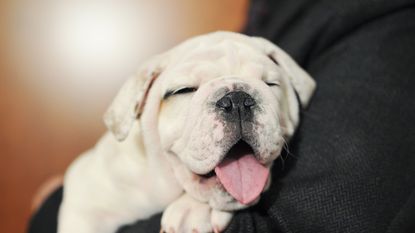 (Image credit: Jenny Anderson/WireImage)
If you suddenly lose your ability to speak properly when snuggling your beloved pets, don't panic - you're not alone.
Motherese or 'pet talk' is a second language for millions of people around the world, and yet most of us have little understanding of its unusual vocabulary. While science has uncovered how dogs communicate with humans, our own interaction with our canine friends remains a mystery to many.
'Pet talk' is growing increasingly popular with the rise of adopting rescue animals, but there is still no dictionary dedicated to enlightening people on its vast terminology. Speakers will often impulsively utter certain words to their animal friends, without understanding the intent or meaning behind their speech. Luckily, the cultural experts at the language learning app, Babbel, have shed light on the origins of pet talk and its most popular words today.
More from woman&home:
• Best running shoes for women – for casual jogs, long runs, and beautiful trails
• Plus size shapewear to help you look and feel your best
• Best yoga mats for beginners, better balance, meditation, and high-impact moves
What exactly is motherese and why do we use it?
Motherese is the language used to address babies, toddlers, and young children, as well as adorable animals like puppies and kittens.
It is identified mainly by simplified speech, higher pitches, and mismatched noises. To outsiders, it can sound a bit like a platonic 'speaking in tongues' - an uncontrolled spillage of words fueled by a cute creature rather than a divine spirit. There's no grammar or lexicon to grasp, with speakers at their own will to personalize it to their preference.
In fact, if you're lucky enough to have a mini human or furry animal bopping around, you're probably already fluent in it.
However, there is one major difference that demarcates 'baby talk' from 'pet talk.' People are more likely to over pronounce their vowels when speaking to babies, whereas this impulse is not common when addressing pets.
"This might mean that we only hyperarticulate when there is a chance that whoever we are talking to is likely to respond," Babbel explained. Pet talk, therefore, allows the speaker to experiment more with sounds and articulation. With no pressure to influence an infant's speech and language development, people are entirely free to come up with new words - and by the looks of it, they haven't held back.
What are some examples of pet talk?
While there's no right way to speak motherese, Babble has detected a spike in a few select words used towards pets over recent years.
These nouns have repeatedly cropped up on social media - and it looks like they may be here to stay.
Smol: The word 'smol' is just like 'small' - but maybe a little cuter. It's used to describe uber-adorable pets, like newborn kittens or small dog breeds. "By shortening the word 'small' and placing emphasis on the 'oh' vowel sound, smol is a great example of motherese in action," Babbel's linguists explain.
Blep: The word 'blep' may not sound familiar, but if you're a cat or dog parent, you've definitely witnessed one. It refers to the 'blink and you'll miss it' action when your pet pokes the tip of their tongue past their front teeth. Again, it's a classic example of motherese. "By simplifying an action into a single syllable vowel based 'eh' sound, we've created a vowel-based motherese word," says Babbel.
Boop: You can probably see a pattern here. Another one-syllable word, 'boop' is what happens when you tap the nose of a cute pet. We've all been tempted to bounce a finger on our dog's snout, but few of us knew the action had a name. High pitched, vowel-based, and sweetly short, this particular word carries all the trademarks of motherese for pets.
Derp: Derp is another simple but effective term to describe a particular action, summing up your pets' goofy behavior in just one sound. A 'derp' might refer to a clumsy accident or physical failure, or even a funny face or bizarre noise. "It's easy to see how this vowel-heavy, silly-sounding word is rooted in a motherese way of speaking," says Babbel.
Need to stock up on pet food, toys, or grooming products for your pet? Visit our Zooplus discount code page and make great savings today.
Emma is a Lifestyle News Writer for woman&home. Hailing from the lovely city of Dublin, she mainly covers the Royal Family and the entertainment world, as well as the occasional health and wellness feature. Always up for a good conversation, she has a passion for interviewing everyone from A-list celebrities to the local GP - or just about anyone who will chat to her, really.
Emma holds an MA in International Journalism from City, University of London and a BA in English Literature from Trinity College Dublin.