The best toaster oven air fryers for easy and delicious meal-prep in 2022
We've tested some of the best toaster oven air fryers, from the likes of Sage, Breville and Ninja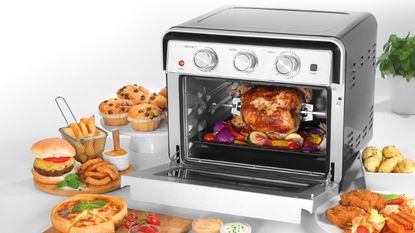 (Image credit: Salter)
The best toaster oven air fryer will allow you to rustle up your favorite dishes and dinners in a quicker, healthier way than a traditional cooker. We've rounded up the best models which combine quick cook times, sleek design and value for money.
Toaster oven air fryers take the functionality of the best air fryers and pair them with mini ovens, resulting in a versatile product that can offer a wide range of cook functions, with less oil or fat required. Most can perform a range of cooking tasks, from air frying and baking to roasting and dehydrating. The typical toaster oven air fryer often offers five or more functions.
Of course, with so many models on the market, it can be tricky to know which one is the right choice for your home. However, we've done the hard work so you don't have to, rounding some of the best toaster oven air fryer products available to buy today.
How we tested the best toaster oven air fryers
Why you can trust Woman & Home Our expert reviewers spend hours testing and comparing products and services so you can choose the best for you. Find out more about how we test.
As with all the kitchenware products we review—from the best cookware to the best kitchen gadgets—we tested these toaster oven air fryers in the kitchen of a real-life home to see how they performed under normal pressures. During our research, factors we assessed included:
How well it performed overall—we looked at how thoroughly (and easily) each air fryer cooked various types of food, as well as how easy it was to use. We also looked at the different functionalities of each model.
Design—we considered how the product would look on the average kitchen countertop and how much space it would take up.
Ease of care—we investigated how simple it was to maintain the product, from post-use cleaning to storage.
Overall value for money—factoring in all of the above, we decided whether or not the product justified its price tag.
Keep reading to find out what we thought of each of the toaster oven air fryers we tested, and to discover which one we considered to be the best overall.
The best toaster oven air fryers
Ninja 8-in-1 Mini Oven
1. Best overall toaster oven air fryer
Specifications
Price: £199.99
Cooking functions: Air fry, roast, bake, grill, rehydrate, toast, bagel and keep warm
Capacity: 10 liter
Dimensions: 19.5cm x 51cm x 37cm (H x W x D)
Reasons to buy
+
Takes up less space than other models
+
Easy-use digital display
+
Wide range of cooking options
Reasons to avoid
-
Small in height, so can't be used for larger food items
Ninja is renowned for its air fryer products, and its 8-in-1 Mini Oven is a testament as to why. Due to its six heating elements and variable airflow, it can circulate hot air at a range of speeds to result in the best possible cooking environment for your food and requires just 60 seconds of preheat time. It promises to be up to 50% quicker than a traditional oven and requires significantly less fat or oil to cook food.
As the name suggests, it offers eight different cooking functions and we particularly loved how it handled baking everything from al forno pasta dishes to sultana cookies. It also worked wonders with fish and meat, resulting in perfect succulence each time we tried it. Much like other Ninja products, the 8-in-1 Mini Oven also comes with a handy recipe booklet, which talks you through the best settings to use to cook your favorite foods (it's certainly one for the bagel fans out there: it's the only toaster oven air fryer we tested that offers a 'bagel' cook mode). On that note, while it's wide (Ninja advises it can fit a 13" pizza) it's not particularly tall, so it's better suited to 'flatter' foods. It's worth knowing that Ninja has a larger capacity 10-in-1 model that allows more flexibility in terms of the food it can cook.
Another strong point about the Ninja Foodi 8-in-1 Mini Oven is that it can take up less room on a countertop than the bulkier toaster ovens out there. Due to its neat cuboid design, it can be stored on its back when not in use, meaning it's a great choice for space-strapped kitchen counters. It's easy to maintain, too; the product comes with a baking tray, wire rack and air fry basket, all of which were really easy to clean quickly in warm soapy water.
All in all, the Ninja Foodi 8-in-1 Mini Oven is a great choice if you're looking for a strong all-rounder that offers an impressive range of functionality as well as an easy-use cooking experience. We also loved the flip-up design element, which means it's suitable for kitchens of all sizes (Ninja suggests it takes up 50% less space than other models); it's a real stand-out detail in a market that perhaps typically veers toward the counter-hogging. Additionally, Ninja is a name you can trust: the brand is synonymous with high-quality air fryer products, and the Foodi 8-in-1 Mini Oven is no exception to the rule.
With thanks to Very.co.uk (opens in new tab), who provided a sample of this product for testing.
(opens in new tab)
Sage The Smart Oven™ Air Fryer
2. Best luxury toaster oven air fryer
Specifications
Price: £329 (UK only)
Cooking functions: Bake, roast, grill, pizza, air fry, crumpets, reheat, warm, slow cook and toast
Capacity: 22 liter
Dimensions: 48cm x 27.8cm x 40.3cm (H x W x D)
Reasons to buy
+
Wide range of functions: 10 in total
+
Easy-read digital display
+
Smart brushed stainless steel design
Sage's The Smart Oven™ Air Fryer is a great pick if you're looking for a truly impressive product to incorporate into your kitchen. With its sleek stainless steel aesthetic, it arguably has a more 'modern' look than some other competitor products, and we also really rated its large easy-read digital display.
The product's Element IQ system utilises a quintet of quartz elements for spot-on heat circulation within the oven, resulting in perfect crispiness every time, without the need for excess oil. With 10 different cook modes available—ranging from classic 'Air Fry' and 'Roast' all the way through to 'Grill' and 'Crumpets'—we were impressed by how easy it was to operate and how little user intervention was needed. All in all, it was a pretty self-explanatory experience, and the product and its parts (including a fry basket) are straightforward to clean and reassemble post-use.
The product boasts a generous capacity 22l capacity across three different tray positions, meaning you can fit in everything from cake trays to a large meat joint. We tested out a couple of recipes from the product's accompanying recipe book: the Deep Dish Apple Pie was juicy and crispy, while the air-fried sweet potato wedges were such a hit that we cooked them three nights consecutively.
We were also impressed by the 'toast' function; as simple as it sounds, nailing the just-right balance when cooking toast can be a struggle for some conventional toasters. However, the Smart Oven managed two slices of perfectly browned, crunchy toast in about two minutes flat, free from burnt edges or caught-in-the-toaster crusts.
We loved its cool aesthetic too. In brushed stainless steel, it looks really modern and is probably one of the more 'stylish' air fryer toaster ovens out there. Its one obvious downside is that hefty price tag but if you've got the cash to spend, it's a brilliant investment for your kitchen.
With thanks to AO.com (opens in new tab), who provided a sample of this product for testing.
Russell Hobbs Express Air Fry Mini Oven
3. Best budget toaster oven air fryer
Specifications
Price: £109.99
Cooking functions: Air fry, grill, bake, toast and keep warm
Capacity: 12.6 liters
Dimensions: 29.7cm x 45.3cm x 35cm (H x W x D)
Reasons to buy
+
Great price
+
Large capacity
+
Very versatile
Reasons to avoid
-
Can take practice to master timings
Offering incredible value for money is Russell Hobbs' Express Air Fry Mini Oven. Combining five cook functions with a generously sized capacity, we found it passed the all-important fries test (crispy on the outside and fluffy on the inside), and it's also great for cooking freezer food, pizza, fresh bread, tray bakes and more.
We tested it out on homemade potato wedges and frozen chicken nuggets; the nuggets were perfectly cooked in 12 minutes while the potato wedges were fluffy on the inside and crispy on the exterior after 25 minutes. Thanks to the design of the product, there wasn't much guesswork needed when it came to monitoring the progress of the wedges; the clear glass door made this easy.
It can also be used to roast meat and veg, offering more of an oven-like capacity than some of the products on this list that are more limited by height. We particularly liked the 'keep warm' function, which kept leftover food at the perfect temperature for second helpings during dinner.
Also worth mentioning is the instruction manual. While some other brands provide recipes to try, this user guide is a little on the brief side, offering only a quick insight into cooking times for certain fresh and frozen foods. It does provide relatively easy-to-follow instructions on how to cook in the various modes, as well as tips for the first use and how to maintain the product.
While it certainly cooks faster than the typical oven, we did find some of the timings take a little practice to nail. While the user guide gives suggested timings for various items (a maximum of 24 chicken nuggets take 10-14 minutes for example, while 800g of chunky fries will take 20-25 minutes), it does also add '...or until cooked through' and '...or until golden brown' after each suggested time window.
It lacks some of the more sophisticated details that other models on this list have—there's no digital display, for example—and is also on the large and clunky side. However, for an all-rounder product that offers great practicality and serious value for money, it's a definite must-consider.
Salter 22L Multifunctional Air Fryer Oven with Rotisserie Function
4. Best toaster oven air fryer for families
Specifications
Price: £120
Cooking functions: Air fry, toast, roast, rotisserie, grill, bake and dehyrate
Capacity: 22 liters
Dimensions: 40.5cm x 42.1cm x 45.5cm (H x W x D)
Reasons to buy
+
Great range of cook modes
+
Large capacity
+
Stylish design
Salter's 22l Multifunctional Air Fryer Oven with Rotisserie works hard. Making a solid addition to any kitchen that has the countertop space and need for a product that boasts a bigger capacity, it can do everything from roasting a chicken to cooing a pizza. It can also dehydrate fruit, bake pastries, grill meat and so much more. Its rotisserie function can even cook a chicken in about 45 minutes. In short, it's impressive and is the perfect choice for bigger families that are looking for a product that offers great value for money.
We tested it with seasoned fries, cooked in air fry mode, and later tried it with Salter's recipe for steak, which could be cooked in 'toast' or 'air fry' mode. We cooked it using the former, which took about 13 minutes for a medium finish and were really pleasantly surprised by how succulent the meat was, despite the fact there was no hissing frying pan involved. On that note, the rest of the recipe does involve a frying pan, namely for the garlicky mushroom sauce.
We liked that it came with a range of accessories—including a drip tray, rotisserie spike and grill rack—and it was easy to assemble. It was also simple to use: you just have to preheat the fryer, select the required function and start to cook. One slight issue we spotted compared to other models is that its light will switch off once the food is in, meaning that keeping an eye on the progress of your food can be difficult without opening the door.
This one also comes with an easy-follow how-to booklet, complete with a small selection of recipes—including katsu chicken curry and homemade chips—to try out if you're looking for some dinner inspiration. Its generous capacity is great for cooking in bulk, and it's also easy to clean.
As with other toaster oven air fryers, we did find that the suggested timings are slightly out and a trial-and-error approach was needed: our fries weren't quite ready after the suggested 15-25 minutes cooking time.
(opens in new tab)
Breville VDF127 Halo Rotisserie 10 Litre Digital Air Fryer Oven
5. Best toaster oven air fryer for smaller kitchens
Specifications
Price: £169.99
Cooking functions: Air fry, bake, rotisserie and dehydrate
Capacity: 10 liters
Dimensions: 29.2cm x 31.8cm x37.5cm (H x W x D)
Reasons to buy
+
Three levels of cooking surfaces
+
Great price point
+
Requires up to 99.5% less oil
Reasons to avoid
-
Limited range of cooking options compared to others
Breville's Halo Rotisserie Air Fryer Oven offers you complete versatility in terms of how you use it, with the option to do everything from spit-cook a chicken to perfectly air fry burgers and fries. It has four preset modes - fries, chicken, steak and vegetables - meaning that classic foods can be prepped with just a press of a button.
It also comes with a range of accessories - a 3.2 liter mesh basket for chips, a trio of air flow racks, a rotisserie spit, a rotisserie handling fork, and a drip tray - meaning that you've got zero need to buy anything else to get started. It's great for cutting the need to switch on the oven here and there for smaller cooking jobs, allowing you to perfectly cook a wide range of fresh and frozen foods without having to consume too much energy.
We tested how it performed when cooking a whole chicken, and were impressed. It's worth noting here that Breville recommends cooking a bird that is under 1.3kg, so if you have a larger family, or regularly cook for big groups, this might not be the solution for you. For reference, our chicken was just under, at 1.1kg).
We followed the instructions to the letter, brushing the bird with a tablespoon of oil before leaving it to cook on the rotisserie spit for an hour. When the 60 minutes was up, we took a tentative look and were impressed. It looked perfectly cooked and after leaving it to sit for 10 minutes, we started carving it. It was juicy, moist and cooked through, with a crispy skin. The drip tray also meant that clearing up was pretty straightforward, too.
Compared to some of the other models on this list, it's perhaps not the most aesthetically pleasing: it takes up a lot of countertop space and lacks some of the sleek metallic accents that others feature. However, for a highly cost-effective toaster oven, it's a great option - especially if you want to cook larger foods. It's also on the noisier side but much like any appliance, this will fade into the background after continued use.
With thanks to Robert Dyas, who provided a sample of this product for testing. Check out this month's Robert Dyas voucher codes for discounts.
Salter Aerocook Pro XL 11L Digital Air Fryer (Black/Rose Gold)
6. Best toaster oven air fryer for two people
Specifications
Price: £99.99
Cooking functions: Air fry, roast, rotisserie, grill, toast, dehydrate and bake
Capacity: 11 liters
Dimensions: 38.2cm x 32.4cm x 33.9cm (H x W x D)
Reasons to buy
+
Great price
+
Neat size
+
Wide range of cook modes
With its 11 liter capacity, Salter's Aerocook Pro XL is the perfect choice for one or two-person homes. If you're looking to cook for a bigger family or plan to use your toaster oven air fryer regularly, this isn't the product for you—however, if you live on your own or with someone else, it could be the perfect pick.
We loved its design: it sits neatly upright on a countertop rather than taking up space widthways, and the rose gold accents also make a cool addition to an appliance that is traditionally stainless steel only. It's also got a wide digital display, which we thought was a nice twist on the typical portrait-leaning display. It comes with eight tap-to-use presets, meaning that cooking everything from fish and burgers to drumsticks and muffins couldn't be simpler.
For its two-figure price point, it offers an amazing range of functionality. Grilling meat is really easy, as is the clear-up, thanks to the included drip tray. But perhaps most impressively of all, given its size and cost, is its 'Rotisserie' mode, which you can use to cook a small chicken or joint of meat. (A rotisserie tong and fork are both included.)
We tested it on chops, and a pizza, and were largely impressed with the results: the chops were juicy and the pizza was cheesy and golden. All in all, it's got all the functionality you need from a basic model, and at a brilliant price point.
How to choose the best toaster oven air fryer for you
There are a range of factors to consider to when choosing a toaster oven air fryer for your home. These include:
Budget—this will obviously be a big consideration when it comes to choosing the best toaster oven air fryer for your home. While some air fryers can comfortably cost three figures, you might be surprised by how cheap you can find models by reputable brands.
Space—how much room do you have on your kitchen countertop for the product? While some toaster oven air fryers can be a little bulky, others are more slimline and compact. Make sure you actually have room for the model you buy!
Functionality—what type of cooking do you plan to use the toaster oven air fryer for? With every model offering a different combination of cooking modes, make sure you choose one that ticks your boxes. For example: if you love baking, pick one that has a 'Bake' mode.
While they might seem like expensive or bulky additions to your home, don't be put-off: there are air fryer toaster ovens out there that span all different budget and space requirements.
How is a toaster oven different from an air fryer?
There are several key differences between toaster ovens and air fryers, which may influence which one you choose to buy. These include:
Heating—an air fryer is a convection oven that circulates hot air throughout the appliance. A toaster oven will typically have two heating elements, one at the top and one at the bottom of the appliance.
Size—an air fryer will typically be smaller than a toaster oven, making them better suited to smaller kitchens and easier to store. A toaster oven will often boast a bigger capacity that's suited to larger food items, or bigger quantities.
Time—an air fryer will typically be able to cook food quicker than a regular oven due to its circulated hot air. A regular toaster oven will not be quite as prompt in serving up your meals, and will take closer to the cooking time offered by a normal oven.
Price points—a toaster oven can tend to be more expensive than the typical air fryer.
There are also several similarities between air fryers and toaster ovens, such as:
Range of cooking options: both products will offer you a wide selection of cooking modes to ensure you can cook food exactly as you wish to. When considering this, do also be mindful of how the product's height might impede the range of food types you can use it for.
Ease of maintenance: both air fryers and toaster ovens are typically very easy to clean and look after.
Oil: both air fryers and toaster ovens significantly reduce the amount of oil required in cooking. Whereas you'd perhaps typically slosh oil around a frying pan or baking tray, a minimal spritz is required with air fryers toaster ovens.
Quality of food: both air fryers and toaster ovens promise to cook your favorite dishes to perfection. Food should be perfectly crisped and cooked just as well—if not better—as if it had spent time in a "proper" oven.
Are air fryer ovens worth it?
If you've got the space and are looking for a cost-efficient way to trim down the amount of time you spend in front of your oven, yes.
With rising energy prices currently a concern for many, an air fryer is certainly a great way to limit how often you turn on your main cooker: there's no long pre-heat waiting period, they're typically designed with a low wattage, and many food types can be cooked more quickly in an air fryer. Easy to use and care for, they can also help to contribute towards a healthier lifestyle by requiring significantly less oil or fat than traditional cooking methods.
And despite their all-in-one functionality, we didn't once think that the products we tested compromised the quality of the food: the items we tested were just as crisp or succulent as they should be, if not more so.
Katie Byrne is a contributor to woman&home and a writer whose interests span everything from homes and interiors, to pop-culture, travel, business and self-development. A former digital editor, her freelance journalism has featured across a wide range of print and online titles, including Raconteur, Digital Spy and more. When she's not writing, she loves reading (and has the groaning bookshelves to prove it...), dreaming up new décor ideas for her flat and devouring Netflix's latest true-crime series with her husband. You can find her on Twitter: @katie_b123 (opens in new tab).