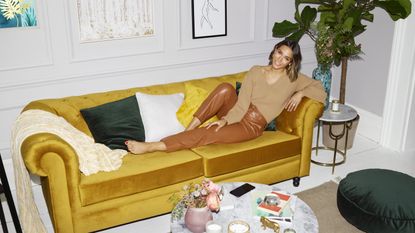 (Image credit: Home Essentials)
You can definitely feel the nip in the air signally that autumn is officially here. Bringing with it the desire to nest and cozy up our rooms, all in the readiness to hunker down for colder climes.
Making a seasonal change needn't mean a big overhaul (though there's nothing wrong with that, of course). Just a small addition or amendment to a room's decor can bring all the change you need to switch the mood and make a dream room real.
So where to start your journey of discovery and transform your home? With the latest collection from Home Essentials, that's where. It has everything you need to make a coveted, desired scheme a reality—be it smaller accessories for a quick decor update or larger pieces of furniture for a total makeover, there is something for every room and every budget. Home Essentials is affordable, too, with nothing out of reach, meaning you can have the room you want without breaking the bank.
Don't panic, either, if you feel inundated and overwhelmed with design ideas that you see across social media, websites, and mood boards. Home Essentials has plenty of design ideas and room scheme tips and tricks that make shopping for items really easy. Plus its new Dream Rooms collaboration with Frankie Bridge and Nicki Bamford-Bowes has lots of first-hand help and guidance for transforming your space. So you may not have a dream home now, but you can make it into one.
Mother, singer-songwriter, author, and mental-health advocate Frankie Bridge lives with her husband and children in a home that she has taken the time to make their own; a stylish sanctuary where they can be together spending precious time as a family. "I'm delighted to be partnering with Home Essentials," she says. "Like everyone else, I've spent an unprecedented amount of time at home and have realized that home really does provide the backdrop to our families' lives. I'm on a personal mission to makeover my home, so I can't wait to see how Home Essentials will make my dream rooms a reality."
You will spot Frankie in Home Essentials' fabulous new TV ad which features snippets of her home and some of her favorite picks from the new autumn-winter collection. You can shop the buys, too, including her fabulous two-seater yellow chesterfield sofa (£499) and the Sophia marble coffee table (£229), as well as smaller buys such as the pink Sunlight vase (£19) and a lightweight knitted throw (£25.60) – each is a transformational piece that is really accessible in terms of price and with fantastic, reliable quality you can trust.
Creative and seriously talented interior designer and stylist, Nicki Bamford-Bowes is also on hand with design and styling tips, along with product picks to inspire your own makeovers. She loves to create beautiful spaces that are warm, welcoming but always practical. "My passion for interiors has always been its power to transform your environment; it's amazing how a few clever additions can really change an entire space," she says. "Home Essentials makes it super easy and it's affordable to do."
To get started transforming your rooms into your dream home, head to Home Essentials (opens in new tab) for the newest autumn-winter collection decor picks, styling ideas, and advice.
Lizzie Hudson is a content and communications consultant with an extensive and varied career in the media industry.
Her wealth of experience in areas such as digital, print, and social media has led to her founding her own content agency, Hudson Media UK.
Lizzie has lent her words to publications including woman&home, the Daily Mail, Living Etc, Homes & Gardens, Style at Home, Ideal Home, and Marie Claire.