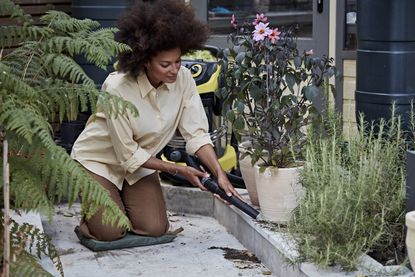 (Image credit: Future / Rachael Smith)
There are many jobs that need to be done outside and around our homes as the end of the summer draws near.
Patios and decking are areas that are often overlooked as we busy ourselves preparing lawns, beds and pathways for autumn, but careful cleaning and maintenance of these important parts of our gardens is crucial for their longevity and for getting the garden ready to be used again in the spring.
That's where it's worth looking at how a wet and dry vacuum cleaner from Kärcher can help. These clever vacuum cleaners are designed to take on jobs too tough for your indoor vacuum – whether that's around the home, or particularly the outdoors where the weather and elements all take their toll.
As well as being an essential tool for cleaning pathways and patios, you can also use Kärcher's range of Wet & Dry vacuum cleaners to help tackle cleaning jobs in sheds, and garages too.
Swap sweeping for efficient suction instead
When you're writing your to-do list of garden tasks this autumn, make sure to include cleaning up your patio and decking at the top of the list.
As well as clearing out the clutter from these spaces so they are clear and ready for winter weather, this also includes getting on top of leaves - which is no small job throughout autumn! Make sure to clear any leaves before they start to rot, and this includes getting the leaves that have fallen into all the corners and awkward spaces, including decorative pots and vases. The Kärcher Wet & Dry vacuum cleaner's attachments are perfect for this.
It's important to consider the whole surroundings. For example, unkept borders with loose soil or clippings are easy to vacuum up – as well as raised decking where leaves may have slipped down the sides.
Clear space for storage
It's easy for clutter to build up in sheds and garages over the summer months as indoor and outdoor living blends seamlessly in the sun. However, come autumn, we need these indoor storage spaces for all of our outdoor furniture and other items that can't be left outside in bad weather.
Make sure your sheds and garages are clean and clear before loading them up with furniture for the winter. Use a powerful Kärcher Wet and Dry vacuum cleaner to get rid of anything on the floor of your shed and garage that could cause damage to outdoor furniture whilst it's in storage.
Further still, you can switch seamlessly from the suction to the blower function, available on certain models, allowing no dirt or dust to go untouched!
Clean furniture before packing it away
Outdoor furniture that has been out on your patio or deck throughout the summer will all need to be packed away during the winter to protect it from the elements. Before putting it away, furniture made from wood, metal, glass, and other finishes, can all benefit from being cleaned as this will help keep them looking their best for next year. Often it's better value – and kinder to the environment – to maintain pieces over time, rather than replace them every summer.
When cleaning furniture the important thing is to be able to get into all those little corners and joins. One advantage of the Kärcher Wet & Dry vacuum cleaner is that it has a flexible suction hose attachment, so you can reach all those fiddly areas and really get rid of dust and dirt ingress.