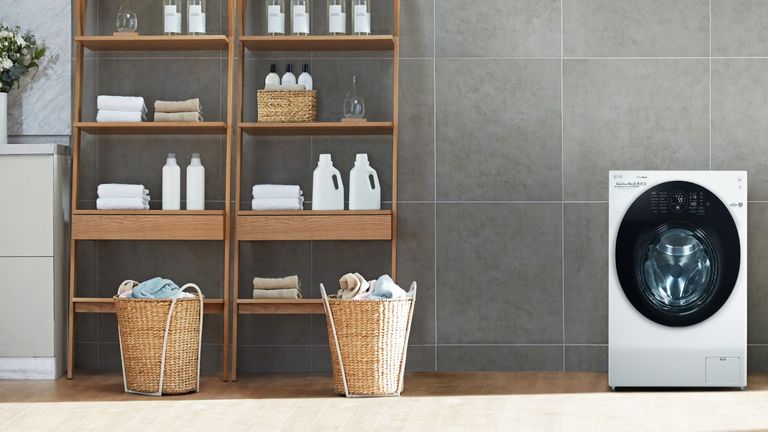 (Image credit: LG)
Sustainability is at the forefront of our minds more than ever, with many of us determined to take action for a more earth-conscious lifestyle for ourselves and our families. 
We're well versed in the importance of reducing plastic, minimising energy consumption and recycling religiously, but one area that may sometimes be overlooked when it comes to sustainability is the appliances in our kitchens. If you're in need of an upgrade, or replacement appliance, consider LG's range of eco-conscious products. 
LG is adopting a more sustainable approach in four major ways with their eco-friendly-product commitments:
By promoting an intelligent lifestyle Sustainability is a driving force behind product development, with smart products that put the planet's health at the forefront
Aiming for zero carbon LG aims to decrease and neutralise carbon emissions within the manufacturing process
Promoting a circular economy by recycling wastes within the production process and collecting e-waste for proper recycling after use
Striving for a better society LG strives for a sustainable business eco-system, from an eco-friendly supply chain to creating a fair and safe workplace for all employees.
Revised energy efficiency ratings 
From March 2021, revised energy efficiency classes for household appliances are coming into play so there is more transparency around sustainability. Consumers will find revamped labels on dishwashers, washing machines, fridges and televisions, with scores ranging from A-G (with A being the most energy-efficient rating), eliminating the A+, A++, A+++ classes. 
This new system aims to give consumers a more accurate representation of appliances' energy consumption and is a great aid for the eco-conscious buyer when it comes to new purchases on products that can typically use up a lot of energy, such as washing machines and freezers. LG's has a range of A Rated products that will help us work towards a more sustainable future together. 
LG products with an A Rating 

Two standout product's from LG's range are the Direct Drive TrueSteam Washing Machine and the LG DoorCooling™ Fridge Freezer - the only fridge freezer currently in the world with an A rating. 
Direct Drive TrueSteam Washing Machine
This innovative washing machine is the perfect hybrid of smart and sustainable technology. As well as having A-Grade efficiency, this clever washing machine also boasts A-Grade spin performance and A-Grade noise. It's no wonder it was rated the 'Best Washing Machine Ever Tested' by Which, as their Which Best Buy in the washing machine category. 
Features of the Direct Drive TrueSteam Washing Machine include: 
TrueSteam™ technology TrueSteam™ technology removes up to 99.9% of allergens from clothes and sterilises bacteria – ideal for allergy sufferers. If you have sensitive skin or want to wash baby fabrics, the Steam Softener option uses pure steam only. And if clothes just need a quick freshen-up.
TurboWash™ technology Enjoy more time away from your laundry with LG's TurboWash™. Performance boosting jet sprays dispense water directly onto clothes, cutting the wash time to just 49 minutes for a 6kg load. 
6 Motion Inverter Direct Drive Installed with the superior Inverter Direct Drive - a product of LG's quality engineering and design - offering reliable and quiet performance, our machine motors come with a 10 year warranty. With 6motion technology the drum moves in several ways to suit different programs and clothes.
LG DoorCooling™ Fridge Freezer
The only fridge freezer with an A rating for energy efficiency, this clever appliance provides supreme quality at no major expense to the environment.
Features of the LG DoorCooling™ Fridge Freezer include:
LG Centum System™ LG's Centum System™ Inverter Linear Compressor creates less internal friction, leading to better reliability and durability. It even comes with a 20-year warranty, a first for the industry.
NatureFRESH™ technology LG refrigerators indulge your senses with freshness by keeping your food fresher for longer. Fresh foods are healthier, taste better, and are more visually appealing on the plate. LG DoorCooling⁺™ evens inside temperature by up to 32% more than conventional systems. LINEARCooling™ is LG's unique temperature control system which limits temperature fluctuation within ±0.5℃, maintaining initial freshness longer than a conventional cooling system.

Shop the full range of LG home appliances at John Lewis & Partners today