7 things you can make with the KitchenAid food processor attachment
Did you know that with the help of the KitchenAid food processor attachment you can make all these dishes...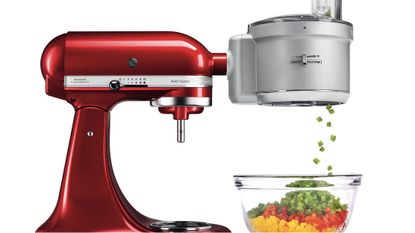 (Image credit: KitchenAid)
woman&home newsletter
Sign up to our free daily email for the latest royal and entertainment news, interesting opinion, expert advice on styling and beauty trends, and no-nonsense guides to the health and wellness questions you want answered.
Thank you for signing up to Woman & Home. You will receive a verification email shortly.
There was a problem. Please refresh the page and try again.
If you're the proud new owner of a KitchenAid stand mixer, or are considering buying one, you might be interested to know more about its versatility – the thing that makes it the best food processor out there in many consumers' minds. Once you've got the main KitchenAid mixer, buying the attachments is a cost-effective way to get a number of different machines in one.
The KitchenAid food processor attachment, for instance, opens up a world of extra culinary options. So much so that we think it's one of the best additional spends you can make once you've got the main machine. Whether seamlessly slicing, grating or chopping, it's sure to save you lots of time in the kitchen, meaning you could even test out some new recipes – perhaps some with more labour-intensive processes that might have deterred you previously.
We've put together some suggestions of simple dishes that you can make with a KitchenAid food processor attachment, with the hope that they will open your eyes (and your kitchen) to a world of new recipes. Once you've tried the basic principles of these, the techniques can be applied to all sorts of other recipes and dishes.
Dauphinoise potatoes
Among the most luxurious of all potato dishes, Dauphinoise potatoes are the ultimate treat. The layers of thinly sliced potato, snuggled down in a creamy, garlicky sauce always prove popular, but the fine slice can be a little arduous if done by hand. Save yourself time when you're making this delicious side dish – just turn to your KitchenAid food processor, select how fine you'd like your spuds sliced using the slicing function, and your root veg will be perfectly slivered in seconds. It's a real game-changer.
Coleslaw
A side dish or salad that works with so many other recipes, coleslaw really can be easy to make if you switch your box grater for the KitchenAid food processor attachment. Slot the handy gadget onto the front of your stand mixer, and make light work of grating all your ingredients. Mix your flavours up to match the mood of the season; try lovely fresh crunchy veggies mixed with bright lemony mayonnaise in the summer and more robust root veggies in a winter coleslaw. Don't get hung up on the foundation cabbage-and-carrot recipe: as long as it can be grated and coated in a deliciously creamy mayo dressing, we're okay with it being called coleslaw.
Macaroni cheese
Wonderfully nostalgic and comforting, macaroni cheese holds a special place in many people's hearts. To make a cheese sauce in a fraction of the time it would normally take, treat yourself to grating your cheese with your food processor attachment. If you want to make your macaroni cheese extra indulgent, why not go all in on a mix of different cheeses to get a rich, savoury cheese flavour. Our recipe calls for cheddar or Parmesan, but a combination of both really enhances and adds extra flavour to the sauce.
Pickles
Thanks to the slow food movement, the age-old techniques of pickling and fermenting are having a resurgence. With a little help from our friend the food processor, these traditional techniques couldn't be easier to put into practice. Depending on what kind of pickles you're making, simply use the slicing or grating function and process your veg accordingly. The possibilities are almost endless, so why not experiment? If you want to go classic though, we love turning thinly sliced discs of cucumbers into classic sweet-and-sour pickles, which work well on everything from burgers to cheeseboards.
Potato rosti
For a seriously impressive breakfast, you can't beat a potato rosti (fried potato cake) served with eggs and bacon. Rostis rely on grated potato, which, when fried, create those beautiful crispy shards. Give your arms a rest, and avoid the risk of grater-grazed knuckles, with a little help from your food processor. All you need to do is peel your spuds before pushing them through the funnel to be grated – ready for your rosti mix in mere moments.
Salsa
The latest versions of the KitchenAid food processor attachment feature a handy dicing function – something we haven't seen on many other models on the market. This nifty trick sees the machine take fruit and vegetables and turn them into a tiny, even dice in the flick of a switch. The obvious choice to make the most of this function is a lovely fresh tomato salsa. Simply deseed and dice tomatoes, onions and peppers and mix with a little lime juice, chopped coriander, fresh chilli to taste, olive oil and seasoning. While it makes a perfect taco topper, salsa is also great spooned over scrambled eggs to add a little freshness to breakfast time.
Soup
Soup by its very nature makes a hassle-free meal, so really the prep shouldn't be too laborious either. Our spicy vegetable soup requires chopping all the veg into small pieces, which is where your KitchenAid food processor attachment comes into its own. Feed through the carrots, swede, celery and parsnips to get a perfectly diced finished which will ensure an even cooking time and a perfect texture.
Sign up to our free daily email for the latest royal and entertainment news, interesting opinion, expert advice on styling and beauty trends, and no-nonsense guides to the health and wellness questions you want answered.
Rosie Conroy is a food and drinks journalist with over a decade of experience working for big-name titles in both print and online. Formerly the Digital Food Editor of woman&home, Rosie went on to head up the team at SquareMeal, reviewing the best London restaurants and hunting out emerging culinary trends. With previous experience in food styling and recipe development, Rosie knows what to look for in a good piece of kitchenware and has extensive experience testing consumer goods—from kitchen electricalz and cooking accouterments through to new foodie treats.