Salomon Supercross Blast GTX W review: Will these new laces help to revolutionise your running?
The Salomon Supercross Blast GTX W is the only pair of running shoes you need when heading outdoors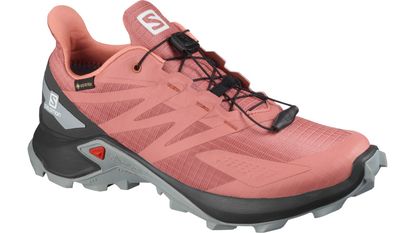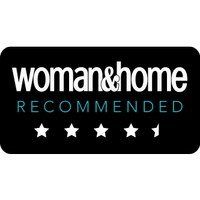 (Image credit: Salomon)
These running shoes will push your workout up a notch in wet weather.
Reasons to buy
+

Stunning design

+

Great grip

+

Very supportive

+

Comfortable
Reasons to avoid
-

One-pull laces

-

Poor breathability
Why you can trust Woman & Home Our expert reviewers spend hours testing and comparing products and services so you can choose the best for you. Find out more about how we test.
If you're looking for a pair of trainers that offer great grip across treacherous terrain the Salomon Supercross Blast GTX W could be the ones for you.
When looking for a pair of the best running shoes for women, you want a shoe that will take your workout up a notch. The best running shoe for you will fit well, support you to no end as you run, provide the right amount of padding for ultimate comfort and benefit your workout overall.
To help you on your search, we put the popular Salomon Supercross Blast GTX W to the test. We considered how well they fitted, how they performed and how they benefited our workouts—from couch to 5k runs to trail runs, and even HIIT treadmill workouts.
Here's what we thought...
Specifications
Size range: US 5-12 / UK 3.5 to 10.5 Offset: 10mm Terrain: Muddy and soft Waterproof: Yes, Gore-Tex RRP: $130 / £120
Who will the Salomon Supercross Blast GTX W suit?
The Salomon Supercross Blast GTX W running shoes are great for every runner out there, whether you're new to the sport or have been racking up the miles for years.
They are particularly great for those runners who like running outside in all weathers, as they will keep you steady and secure. Plus, the waterproof Gore-Tex fabric will ensure you remain dry in all conditions. You can use them for road running or trail running, thanks to their incredible grip.
What are the Salomon Supercross Blast GTX W like to wear?
The first thing we noticed about the Salomon Supercross Blast GTX W was how easy they are to slip on because they don't have traditional laces. Instead, they have a one-pull lace system (known as Quicklace), which holds firmly in place while you're running. Much thinner than ordinary laces, this means no more wet and muddy laces to deal with in future, but it also takes a bit of time to find the right level of tightness for you. Plus, the one-pull laces are quite long, so you have to tuck them into a special loop on the tongue before setting off. However, the goods news is, ours did hold in place throughout all our workouts.
Despite having a chunky sole (the 10mm drop makes you feel a lot taller when wearing them), the Salomon Supercross Blast GTX W are ultra lightweight. In fact, they are just 290g, so won't hold you back as you run.
Another great feature worth mentioning is the arch support. While wearing the Salomon Supercross Blast GTX W, we definitely felt secure and our feet felt in a perfect position. Plus our ankles were cushioned and supported throughout the workouts.
During one run to test these running shoes, a torrential downpour threatened to stop the trial. Not only did feet stay dry, the Salomon Supercross Blast GTX W didn't feel heavy in any way, even in this type of rain. The only slight criticism was that after one 90-minute session feet felt quite hot afterwards, but that's probably to be expected on a long run.
(opens in new tab)
The Salomon Supercross Blast GTX W design
The super-stylish Salomon Supercross Blast GTX W running shoes definitely look the part when it comes to a shoe that can handle all terrains. Currently available in either black, green or pink, the colors are muted and mature, instead of garish, so you could wear them with jeans post-workout and wouldn't look out of place.
Depending on which angle you look at the Salomon Supercross Blast GTX W, they are almost a hybrid between a walking boot and running shoe. From the top, they look narrow and sleek, but from the side, the 10mm drop does make them look chunky. Overall, though, they definitely have the appearance of a trainer.
And, while there is some branding on these running shoes, the top and sides are mainly textured material with an aesthetically pleasing design.
The versatility of the Salomon Supercross Blast GTX W
The Salomon Supercross Blast GTX W running shoe is designed to be worn over all terrains and we found they definitely lived up to this promise. Our trials of these trainers included running in torrential rain and across mud, concrete, and grass. The Salomon Supercross Blast GTX W is made with Contagrip TD, which really worked to offer full support and confidence in these conditions, and didn't slow us down.
Thanks to the use of Gore-Tex technology, these running shoes stay 100% waterproof. They would also work well indoors on a treadmill or even Nordic walking, but they may feel slightly too raised for anything else, such as Zumba or a dance class.
After using these running shoes on several different occasions, the sole was still in almost perfect condition. You will get many workouts out of these shoes before they wear down and need replacing.
(opens in new tab)
Sizing and comfort of the Salomon Supercross Blast GTX W
We found the Salomon Supercross Blast GTX W to be totally true to size. Our tester has wide feet but found these trainers were comfortable and gave plenty of room at the toes. They didn't rub or need breaking in and could be worn straight away without any issues.
After 90 minutes, the Salomon Supercross Blast GTX W still felt comfortable, despite feet feeling hot.
Are the Salomon Supercross Blast GTX W worth buying?
Online reviews of the Salomon Supercross Blast GTX W are duper positive, and it's not hard to see why. Reviewers rate the trainers for the traction, support, and cushioning it offers.
For us, the Salomon Supercross Blast GTX W trainers are definitely worth the investment, whatever your fitness level. For beginners, they are comfortable and versatile, so will help motivate you to get outside, no matter what the weather. And you can use them for a range of activities, whether that's outdoor runs, trail walks, or treadmill workouts.
For advanced runners, the grip is so good you won't have to worry about the terrain you're crossing and will never feel like you have to slow down and lose focus on your workout.
Faye M Smith is an award-winning journalist with over 15 years experience in the magazine industry. Her continued work in the area of natural health won her the coveted title of the Health Food Manufacturers' Association (HFMA) Journalist of the Year Award 2021. Currently Health Editor across several brands including woman&home, Woman and Woman's Own, Faye specialises in writing about mental health, the menopause, and sex and relationships.