Is roller skating a good workout? Our fitness experts weigh in
More than just a fun hobby, roller skating can be an effective full-body exercise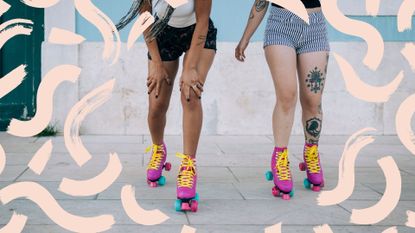 (Image credit: Future/Getty Images)
woman&home newsletter
Sign up to our free daily email for the latest royal and entertainment news, interesting opinion, expert advice on styling and beauty trends, and no-nonsense guides to the health and wellness questions you want answered.
Thank you for signing up to . You will receive a verification email shortly.
There was a problem. Please refresh the page and try again.
You might think it's just for kids and teenagers, but roller skating is a fantastic activity for everyone—adults included. Since the pandemic, this retro sport has had a resurgence in popularity, with Google searches rocketing to an all-time high in May 2020. But as Mel Blackwood, skater, and director of The Roller Girl Gang, argues, the roller revival is more than a trendy lockdown hobby—it's become a way for people to connect while also improving their fitness.
"The uptake has been incredible," says Blackwood. "During the first lockdown, people were looking for hobbies that would get them out of the house and roller skating has that added benefit of socializing for people who want to make friends. It isn't a close contact activity, so it's great for anyone wanting an activity that's social, without the touching aspect."
Is roller skating good exercise?
Much like the benefits of swimming and other leisure activities like ice skating or surfing, roller skating offers big fitness benefits. While it might take you a little while to master the movement, roller skating can be one of the best workouts for the whole body, exercising your legs, core, and even your upper body—it's great strength training.
"Roller skating is a great high-octane sport that's fun, but also very effective in building stamina, muscle, and endurance," says fitness expert Nicola Barnabo. "It's one of the very few sports that allows you to embrace your inner child and hark back to precious memories spent with family, while also improving your overall fitness."
1. It's a great lower leg workout
"Roller-skating is a powerful activity that will work all major muscles in the leg – particularly the quads and the calves," says Joe Dale, registered osteopath. "However, the real advantage can be seen with the more subtle stabilizing muscles around the ankles, knees, and hips, which are used during roller-skating, but often get under-used during traditional exercise."
Over time, roller-skating will strengthen these muscles and consequently the stability of the joints. "This will benefit any other exercise you do too, such as running," adds Dale. "Strengthening the muscles around the knee can also improve knee flexion (the ability to bend the knee), which can reduce joint pain over time."
2. Roller skating will boost your balance
"An often-neglected area of our health, balance is something that becomes increasingly important as you age," says Barnabo. "Working on your balance will support your overall mobility as you get older, when your balance begins to naturally decrease with age."
Staying up on two legs while roller skating is no small feat, but finding that perfect posture and balance will make this fun activity a breeze. "As your balance improves in your skates, you'll notice that you feel more balanced without them. This is because skating helps to improve your posture and builds muscle in your lower back and core, which are essential in helping you to balance yourself as you age."
3. It will improve your mental health
During the pandemic, many of us have learned the importance of prioritizing our mental health and meeting up with friends. Combining fitness with social meet-ups is a great way to do this.
"Not only is exercise great for the body, but it's also great for the mind and a fun sport to share with friends," says Barnabo. "Regular exercise releases endorphins in your brain, which can make us feel happier. Often referred to as a runner's high, after exercise, we receive a rush of endorphins.
"Roller skating is also a very sociable sport, whether skating with friends or meeting new people through a shared passion, roller skating allows us to spend time with people socially and have fun together."
4. Skating will strengthen your heart
Once you get the hang of it, roller skating can be an effective cardio workout. "As a form of aerobic exercise, it works your cardiovascular system, training your body to use oxygen more effectively," says Barnabo. "This improves your body's overall health, as regular exercise builds a stronger heart that can tackle more vigorous activity. This means that, with regular practice, your body will become more accustomed to the strenuous activities of day-to-day life as well, not just sport."
How many calories does roller skating burn?
"Roller skating is a great way to expend calories," says Barnabo. "Based on the average weight of a UK woman, one hour of roller skating would burn approximately 426 calories. Moreover, roller skating also helps to build muscles. Moving your legs to keep you skating forward will help you to add more definition to your legs, especially your quads and calves.
"While your legs certainly do a lot of the work when skating, it is also a full-body workout. Making sure you're staying upright and balancing properly will build your core strength, while using your arms to propel yourself forward will, in turn, work your arm muscles."
How to roller skate safely
Falling can be a worry when you first start roller skating, but providing you have the right equipment, you should feel safe. "The physical benefits outweigh the initial unsteady parts," says Blackwood. "When it comes to equipment, you get what you pay for. Roller skates that are priced above $90 / £90 will normally give you a good experience and as you get more confident, you'll learn how to fall correctly." Protective guards and helmets can also help beginner roller skaters get started with brands such as Decathlon and Skate Pro providing great options.
In terms of physical limitations, roller skating is normally suitable for all age groups. "Roller-skating is a very low-impact exercise when compared to other activities such as running," says Dale. "This makes it beneficial for someone who experiences knee pain during higher-impact activities. Furthermore, the stress to the knee joint experienced when roller-skating is a sideways one, which would complement other running and jumping exercises, which cause a downwards stress to the knee. Overall, roller-skating is a great exercise to try out, particularly alongside other activities such as running." Take a look at our guide to how to start running if you're new to it.
If you're still concerned about whether or not roller skating is right for you, then check with your doctor and consult a coach or professional in your area.
---
w&h thanks Nicola Barnabo, fitness expert at Decathlon UK (opens in new tab), Joe Dale, registered osteopath and owner of VPS Medicine (opens in new tab), and Mel Blackwood, director of The Roller Girl Gang (opens in new tab).
With five years of experience working across print and digital publications, Stacey is a journalist who specializes in writing about the latest developments in health and wellbeing. She has also previously written for Women's Health, Get The Gloss, Fit & Well, Stylist, and Natural Health magazine, covering current health trends and interviewing leading figures in the wellness space.
When she's not talking to health experts, you can probably find her hiking somewhere in the Welsh countryside or near the coast. Her favorite two ways to switch off are a Pilates class and a glass of wine with a home-cooked meal.