What is audio erotica? Plus, where to find the internet's new favorite porn
Audio erotica offers a new way to explore sexual storytelling and ethical porn, expert reveals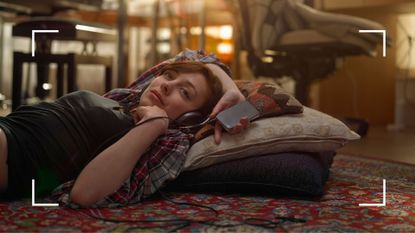 (Image credit: Getty Images)
You may have heard of ASMR, but have you heard of audio erotica? It's been around for a few years but with the surge in desire for ethically-made and (actually) sexy porn designed for the female gaze, it's become more popular than ever before.
And where there's popularity, there are providers. So many of the top sexual wellness platforms, such as Ferly and Dipsea, are also offering stories to subscribers to help them relax and get into the moment. While others, like quinn and Cuddle, have organized external creators to bring together thousands of audio files, purely for the point of orgasm.
Whether you want to explore sexy ASMR, guided masturbation techniques, more mindful sex, or just want a story to accompany your best vibrator during a solo session, we've got you covered. Here, a sex expert and founder of an audio erotica hub reveals what you need to know about the genre, and we review the top-rated audio erotica platforms to help you find the best one.
What is audio erotica?
Audio erotica is sexually-explicit audio content, normally within the plot of a story and containing noises you'd otherwise expect to hear from traditional porn. These stories can feature external characters with names and backstories or sound as if the narrator is talking to you directly.
But what makes it so special? "Your erotic libido is stimulated and aroused as you imagine what is said," explains Anna Richards, a sex expert and founder of one of the top-rated audio erotica platforms, FrolicMe. "Not only the explicit words as you hear them trigger a sexual thrill but the descriptive sexual nature in which they are used. You interact in a more personal, intimate, and fantasy-filled way and are no longer just a bystander. It generates a live moment, allowing you the listener to feel part of a shared fantasy. Quite simply, you are directly involved in setting the scene as you may wish to imagine it, creating your personal erotic porn of choice to stimulate pleasure."
Much like how sex stories and erotic fiction offers readers a prompt for an erotic fantasy, without visually revealing what the people look like or the background of the scenario, audio porn allows listeners to imagine these things, eyes-closed.
There's another benefit to audio erotica too. While there's plenty of ethical porn for women out there to explore, there's also no denying that much of the porn online is produced unethically. By just being one sensory aspect, audio porn and erotica removes a lot of the negative issues surrounding mass-produced porn, the sex expert explains. "Issues often raised of consent, exploitation and violence are not prevalent in audio porn which offers the listener a safe haven in which to begin their own sexual exploration."
Looking to explore the genre for yourself? These are the best audio erotica websites and apps to try out in 2023, as reviewed by us.
Erotic audio for women
1. Dipsea
Best audio erotica platform overall
Specifications
Platform : App, available to download on iOS or Android
Cost : Free to download, subscription from $4.99 / £4.91 per month
Highlight: 100s of stories to choose from
Reasons to buy
+
100s of erotic audio stories are available
+
A simple quiz selects the best stories for you
+
Beautifully-designed app and website
+
Extensive wellness section
Reasons to avoid
-
Choice of only two stories with free trial
Dipsea is perhaps the most famous wellness and audio erotica platform. It was founded by two friends, Gina Gutierrez and Faye Keegan, in 2018 to help women tap into their sexuality through storytelling. It offers a whole library of exclusively audio porn on a visually-pleasing app and/or webpage, making it our top pick overall.
On sign-up, you start by choosing your favorite dynamic (her + him/her + her/him + him/non-binary) and picking what you're into (everything from British accents to threesomes). The app will then offer a curated playlist of stories to choose from, behind a paywall, with two available to try for free. Stories are based on characters and relatable real-life situations, and driven by a plot line, so you get a full story to invest in.
When you're finished, you can wind down with a soundscape suited to the mood or explore the platform's extensive wellness range of 'how to' guides, information booklets, guided erotic exercises, and more.
2. FrolicMe
Best audio erotica platform website
Specifications
Platform: Website
Cost : Free to view, $124 / £99.90 per year subscription
Highlights: Videos and stories available too
Reasons to buy
+
Huge range of erotic audio stories
+
Ethical videos and films
+
Browse and buy sex toys
+
Some free options available
Browsing for the best sex toys on your computer? FrolicMe is your next stop. It's a feminist pleasure site dedicated to producing ethical porn, audio erotica, and sex stories of all kinds. It has one of the biggest collections of all three too, with pages and pages of videos, audio files, and digital booklets.
Categories of erotic audio include classics like 'Voyeur', 'Female Masturbation', and 'Romantic Sex', all created by established voice actors. Scroll through the filters to find new content, a particular theme, or just browse to discover something different.
While it is one of the most expensive subscriptions on our list at $124 / £99.90 a year, you get what you pay for, with no other platform offering this amount of content. There are categories in the audio porn and audio erotica sections full of free options too, if you're looking to try before you buy.
3. quinn
Best audio erotica platform app
Specifications
Platform: App
Cost : $4.99 / £4.51 per month for subscription
Highlight: Stories read by celebrities
Reasons to buy
+
Huge variety of content
+
Save your favorites
+
Offers short preview before sign-up
+
Stories by celebrities
Reasons to avoid
-
Full subscription required on sign-up
Quinn is the audio erotica platform for those who want everything all at once and explore things they didn't even know they liked. It's a creator-driven site, meaning anyone can upload their own stories, erotic sounds, guided masturbation sessions, and more.
The platform is divided up into sections to help users navigate their way around the vast amount of content on offer: Discover (a place to find newly-released audio, trending stories, popular playlists created by others, and genre-based suggestions), Voices (find individual creators), Categories (an A to Z, featuring everything from 'friends to lovers' stories to creator-uploaded masturbation noises), Playlists (grouped by theme, such as 'Ambiance'), and Favorites (a place to store your top-rated). There is so much on offer, it may be difficult to know where to start.
Among the highlights of this app are the celebrity-read stories, which also feature guided masturbation episodes, by the likes of Jesse Williams (of Grey's Anatomy fame). Quinn has also partnered with brands like Bumble, the dating app for relationships, to create content for listeners.
4. OhCleo!
Best audio erotica platform for free stories
Specifications
Platform: Website or app
Cost : Free to download, subscription to access more content
Highlight: Great choice of free stories
Reasons to buy
+
Many stories available for free on sign-up
+
Huge range of calories to choose from
+
Get to know creators with individual profiles
Reasons to avoid
-
Subscription details immediately emailed to you without choice
Much like quinn, OhCleo! is a creator-first platform, meaning stories are recorded and uploaded by the creators themselves under their own usernames, rather than in a professional setting, as you'll find with Dipsea.
There are thousands of audios to choose from on OhCleo! with stories grouped mainly by theme in the Search tab at the bottom of the page. You'll find everything here from ASMR to Christmas-themed audios, Mile High Club, and vampires. But the selection doesn't feel quite so overwhelming as quinn, with content dived up into the Search tab, along with Explore (new stories, trending work, female voices, male voices, and themes), and Saved (your favorites).
Many of these are also available for free. While there are stories reserved for those who choose to subscribe to the platform, many audio erotica stories from top creators are there for you to enjoy immediately, unlike the other platforms so far on this list. A word of warning if you are looking to subscribe though, make sure you sign up with an email you're comfortable receiving communications to as the subscription details are automatically emailed here when you request more information.
5. Radish Fiction
Best audio erotica platform with audiobooks
Specifications
Platform: App (iOS or Google Play)
Cost: $9.99 / £14.49 per month
Highlight: Choose from regular digital and audio books
Reasons to buy
+
Some free stories
+
Stories available to read as well
+
Browse by theme or search for your own
Reasons to avoid
-
Not available as a website
Radish is an erotic platform for those who want a little reading time and a little listening time, with options to explore erotica in both ways. Tap the Listening option at the top of the screen and you'll find the audiobooks, grouped into easy-access categories such as 'Radish Originals', 'Spicy Listens', 'Long Audiobooks', and themes like 'Billionaires', 'BDSM', and 'Lunch Break Listens'.
Much like OhCleo!, many stories on both the regular and audiobook sides are available for free. The search bar at the top of the app is the best place to start to find one, here you can find whatever you're looking for, or scroll through stories based on suggested themes and stories charted by the hundreds of thousands of listens in some cases. It's clearly a popular platform and it's not hard to see why.
Radish Plus is the platform's subscription service and although it does offer more stories, at $9.99 / £14.49 a month, it is one of the more expensive options on this list. However, much like FrolicMe, you get a great selection for your money. This one comes with hundreds of regular digital stories to read as well as ones to listen to, giving an unlimited number of options to those looking to explore their sexual fantasies.
6. Cuddle
Best platform for erotic sounds
Specifications
Platform: App (iOS)
Cost: $12.99 / £4.42 per month
Highlight: Create your own soundscape with erotic noises
Reasons to buy
+
Create your own soundscape
+
Over 500 stories to choose from
+
Read stories digitally as well
Reasons to avoid
-
Difficult to navigate the progress bar once in a story to speed things up or go back
If you find sounds like kissing, breathing, or spanking a turn-on, then Cuddle is the platform for you. Under the play symbol on the navigation bar you'll find four potential soundscapes to choose from based on erotic sounds like Kissing, Oral, Breathing, and Spanking. Match these up with your choice of background noise (In The Rain and On The Beach are available for free, otherwise it's subscription-only), and play away to your heart's content.
There are also over 500 stories to choose from on Cuddle, ranked in explicitness via the lemon symbol, so you know what you're getting yourself in for. Audio stories are found on the homepage, where you can find the story of the day, featured stories, most popular, 'Quickies', or more intense selections. Under each of them, you'll be able to see what gender the voice is and how long the story runs.
7. Ferly
Best audio erotica platform for improving your relationship
Specifications
Platform: App
Cost : $49.99 / £39.99 per year
Highlight: Improve your sex life with science-based sessions alongside stories
Reasons to buy
+
28 sensual stories to choose from
+
Guided self-touch sessions
+
Expert-led sexual wellness content
+
Beautifully illustrated app
Reasons to avoid
-
Not as much selection as other platforms
Ferly is best known as an app to help those who struggle with sexual anxiety find their flow again, thanks to the platform's impressive range of expert-led sexual wellness exercises and advice library. But the platform also has content designed for sexual relaxation, including guided self-touch practices and audio erotica.
"Fantasy is an important part of cultivating a healthy sexuality," Ferly themselves say, which is why the platform also features this range of sensual stories. You'll find these under the Relax tab at the bottom of the app, and you can scroll through all the different genres on offer, such as 'Ice Play', 'BDSM', 'Threesome', and 'In Public', along classic 'Her + Him' and 'Her + Her' stories, to find the ones you like. There's a spice rating for explicitness and a run-down of what's involved in the scene too.
Each of the stories is beautifully illustrated with a front cover and sits between 6 and 15 minutes long, which is great if you're looking to get in touch with yourself or your partner for a short time. Any longer than that and I'd suggest an alternative app like quinn or Cuddle.
8. Yuu
Best erotic audio platform for growing content
Specifications
Platform: App (only on iPhone)
Cost: $3.99 / £2.99 per month
Highlight: Aesthetically pleasing illustrations
Reasons to buy
+
Professionally produced
+
Clear theme under each story
+
Cheapest option
Reasons to avoid
-
Only 3-day free trial
-
Less choice than other platforms
Yuu is a newcomer to the world of audio erotica platforms, established just last year. The millennial pink app and illustrations on the front cover of the stories inside it make for an enjoyable scrolling experience, with the content theme of each story clearly displayed under the title.
There are noticeably fewer apps to choose from on Yuu compared to other, more-established platforms like Dipsea, but this is perhaps why the subscription cost is the only one that sits under $4 / £3 per month. Sign-up while this is still the case, we say. The ones available are produced to a high quality by the app creators themselves, ruling out anything untoward from external creators.
There's still some variety, however, with a good amount of choice for those interested in exploring lesbian sex stories or heterosexual scenarios. On the Search tab you'll find suggested themes like 'Face Sitting', 'Shower Sex', and 'Romance', alongside more explicit options, with up to five stories in each one, plus more on a 'Suggested' tab underneath your chosen one. There's also the Categories tab, with six options available as of now covering the basics like 'Her + You', 'Him + You', 'Group Stories', and 'Fantasy', and a Favorites tab for your top picks.
For the moment, Yuu is only available on the App Store (iOS) though, so it's not one for those without an iPhone.
A digital health journalist with over five years experience writing and editing for UK publications, Grace has covered the world of health and wellbeing extensively for Cosmopolitan, The i Paper and more.
She started her career writing about the complexities of sex and relationships, before combining personal hobbies with professional and writing about fitness. Everything from the best protein powder to sleep technology, the latest health trend to nutrition essentials, Grace has a huge spectrum of interests in the wellness sphere. Having reported on the coronavirus pandemic since the very first swab, she now also counts public health among them.