Transgender Real Life: My Husband Became A Woman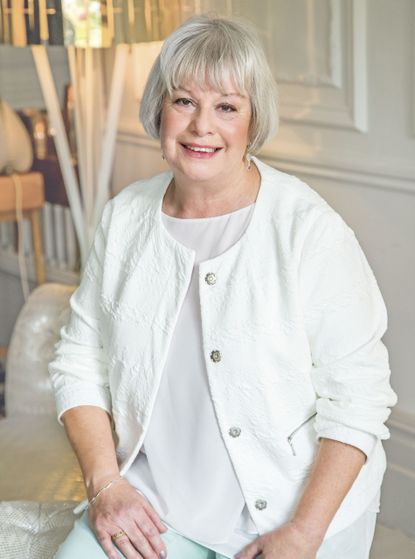 Former olympian, Bruce Jenner - now known as Caitlyn Jenner - transitioned in to a woman earlier this month shattering the taboo of transgenderism by posing for the cover of Vanity Fair. While Eddie Redmayne will also highlight the stigma transgender people face in upcoming film, The Danish Girl, where he plays transgender artist Einar Wegener, one of the first people to have sex reassignment surgery in the 30s.
Eddie Redmayne as transgender artist Einar Wegener
Transgenderism is defined by the Oxford Dictionary of English as 'a state or condition in which a person's identity does not conform unambigiously to conventional ideas of male or female gender'. It often has nothing to do with a person's sexual orientation.
Six months ago, John, 66 - now Jane - had an operation to become a woman. Wife Barbara, 67, tells w&h how they're still happily married...
'We first met when we were both in our late thirties and teaching at a secondary school. John, as he was then, was married with two children. He was very intelligent with an attractive personality, and we got on well as colleagues and sometimes went to the pub together.
I was 38 and had recently separated from my husband of 18 years because of his difficult moods. When John spilt up with his wife two years later we got together and, eight months on, we got married. A family of our own wasn't a consideration as John already had two children and I'd never had a strong maternal instinct. In many ways, working with children fulfilled me.
The first eight years of our marriage we were blissfully happy. Then one day I was packing for both of us for a holiday to Canada, feeling mildly irritated that John was out all day playing cricket, when I came across a bag of women's clothes at the back of the wardrobe.
There was a denim mini skirt, a pair of denim hot pants, some women's knickers and lacy bras. Totally thrown, I dug deeper and found a pair of size nine high heels.
I immediately thought my husband was having an affair. More than that, he must have secretly been bringing another woman into my home. My heart was thumping and my imagination was running wild. I wanted to know the truth, but if I really wanted to uncover the facts I had to pretend everything was fine and pick my moment.
On the plane, I kept looking at John, thinking, 'I don't really know you at all. What's this big secret you're hiding?'
Two days later, lying in bed together, I blurted out, 'So what's this bag of women's clothes I've found then?' John immediately told me the truth. The 'other woman' was him. With hindsight, I realise he had wanted me to know. For my part it was a total shock, but I couldn't have borne it if John had been unfaithful, so in some ways it was a relief. There was pure relief in his voice too, as he said he had wanted to tell me for years.
We talked for hours. I'd read about the phenomenon for cross-dressing before and when I was assured John wanted the marriage to continue and that he loved me, I assumed this would be 'our secret' because of the stigma that might affect his job or relations with his wider family.
Back to normality in the UK, I told my two closest female friends about John. They were wonderful, promising to support me. One friend was even keen to invite John to the house as Jane - his female alter ego - to show her acceptance.
Two days after we got back, I first saw John in female clothing. I wasn't sure how I'd feel, but to my surprise - probably because John seemed so happy and vibrant - I felt this was still the person I loved underneath.
Barbara and Jane now
Our secret brought us closer and I wanted to be supportive but in 2011, John told me he wanted to start hormone treatment and make the transition to live as a woman full-time and be called Jane.
I was gripped with anxiety and started to wake up feeling low. It was one thing to dress up as a woman, but to have hormone treatment was the first step towards having a full sex reassignment operation. John said the feelings were deep-rooted, and that even as a child, he had told his mother, 'Look I'm a girl, I want to wear girls' clothes.' Transgenderism in those days was underheard of so his mother dismissed him.
I still loved John, but a strong sense of bereavement kicked in. Until that point I hadn't lost my husband, but now I was going to. I felt very disturbed by the idea of the operation too.
The next step was to come out as a woman at the university where Jane, as I now knew my husband, then worked. They have clear legal policies on gender and were immensely supportive. Jane received over 100 emails from students.
I still desperately needed to work through my feelings of loss and asked my GP to refer me to a counselor. Exploring my feelings helped to re-establish in my mind that I was doing the right thing, by staying with Jane. I wasn't losing my husband, instead I had the same person in a different form.
I knew we had to tell Jane's son and daughter, who were in their thirties and lived three hours' away. As you can imagine, they were completely taken aback. They looked at their spouses in shock and horror. I can understand how hard it must have been to realise their father wasn't who they thought. Jane explained that she is female, it's not just about wearing women's clothes. Many transgendered people are estranged from their families, but eventually, after many emails and phone calls, they came to terms with it.
The next step was telling everyone in our village. I went round knocking on people's doors before a wine and cheese evening I was organising for a local group, telling them they would notice a change in 'John' that evening. One male friend was horrified, saying, 'He can't do that!' I explained it to him in terms of how you can love someone, no matter what. Eventually over the years, he got used to John, as Jane. Everyone else was very kind, making an effort to talk to Jane that evening to show she was accepted.
With hormone treatment, Jane grew breasts and her facial hair slowed down. She had to live as a woman full-time for two years before having the operation which involved full vaginoplasty. I was very worried but thankfully, it was a success. Six months on, I have complete peace of mind. With the operation over, I feel we can move on.
I still worry about the looks we get when we go out and we're careful where we go, for instance we wouldn't go into town late at night. We've only once had a bad reaction, when the man behind the counter in our local butcher's commented, 'I see we've come in fancy dress today.' We're friends with the owner so he would have been furious. Jane was so upset we never went back.
Through meeting other transsexuals via the support group The Beaumont Society, another wife and I have set up a support group called Beaumont Partners, to help the wives and partners of transsexuals. I felt so alone when I found out and wouldn't want anyone else to feel that way. With time and courage, sometimes you can work it through. Jane and I are just ordinary people whose love and compatibility has transcended everything.
Jane says
'When I first came out, everyone told me, 'You're so brave' but I just felt relieved that I was no longer living a lie. The person who's courageous is Barbara. I'd wanted to tell her for years but was too scared in case she was angry or even left me. I'd suppressed this side of myself all my life, but our marriage is even stronger now because I never have to watch what I say.
One of the hardest things was telling my children. I'd heard of many transsexuals being cut off by their families so was very anxious beforehand and my son and daughter were understandably stunned. They each have three children and their biggest concern was how they'd react or whether they'd get bullied at school because of me.
They agreed not to tell them, but then my daughter broke ranks and told her eldest two children, who were 13 and 15 then. I wrote to them both separately, reassuring them, 'It may seem strange to you... I don't understand it much either, but I'm still your granddad and I'm still the same person.'
They were a bit shy when they first saw me in Jane mode for a pub lunch, but Barbara brought out a card game as a distraction, so we could all act normally. Suddenly the elephant in the room wasn't there any more.
Over time, I was able to reassure my children and explain it wasn't a passing phase or a midlife crisis. My son recently told his children too and we had a wonderful family visit at Christmas. My daughter admitted, growing up, she always felt I'd been searching for something and now everything made sense.'
Contact Beaumont Partners for support via the website Beaumontsociety.org.uk/partners. You can also email orchidbp@virginmedia.comor write to Beaumont Partners, 27,Old Gloucester Street, LONDON WC1N 3XX.