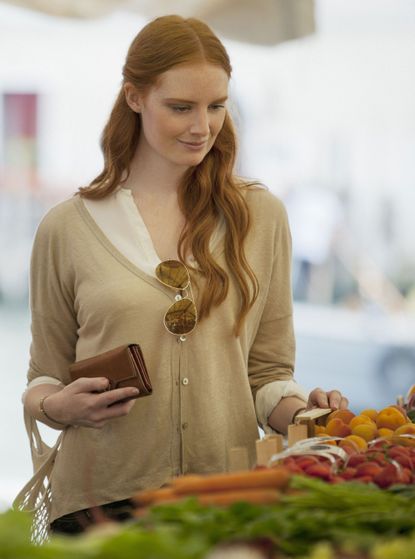 (Image credit: Rex Features (Shutterstock))
woman&home newsletter
Sign up to our free daily email for the latest royal and entertainment news, interesting opinion, expert advice on styling and beauty trends, and no-nonsense guides to the health and wellness questions you want answered.
Thank you for signing up to Woman & Home. You will receive a verification email shortly.
There was a problem. Please refresh the page and try again.
Fasting every other day is the new way to lose weight for good. Find out how to make it work for you...
10 January 2014
Intermittent fasting has changed the way we diet. Last year, we were all hooked on The Fast Diet - a revolutionary way to lose weight without a prolonged period of deprivation.
The idea behind the diet was simple - limit your calorie intake to just 500 calories a day for two days each week, and then eat what you like on the rest of the days. This straightforward diet took the health and wellbeing world by storm, and with seriously impressive results, it wasn't hard to see why!
Now, one of the co-authors of the Fast Diet (also known as the 5:2 diet) is back with a new plan that aims to revolutionise slimming all over again.
The Every Other Day Diet, or Alternate Day Diet, is the brainchild of Dr Krista Varady. She's the world's leading researcher on intermittent fasting, and has herself used the technique to lose weight. She found that fasting every other day, rather than twice a week, worked for her so started looking in to the science behind such a diet. That's when the Every Other Day Diet, was born.
This alternate day diet really is as simple as it sounds. There's just one rule - limit yourself to 500 calories on 'diet days' then you can eat as much as you like on 'feast days'!
Sound too good to be true? Dr Varady has found that a modified fast of 500 calories is most effective for weight loss, no more, no less. Even if dieters then eat 110% of their recommended calorie intake on a 'feast day', which is the norm, they're averaging one third fewer calories over two days, so still slimming down.
Ready to try it for yourself? Click through now to discover the alternate day diet's core principles and kickstart your weight loss plan to keep the pounds off for good...
BuyThe Every Other Day Dietby Dr Krista Varady and Bill Gottlieb (£13.99, Yellow Kite)
Why the diet is different
Calorie-controlled eating is not a new concept, but the Every Other Day Diet definitely is. The main reason diets often fail is because the plan is so restrictive. Maybe you're cutting out carbs, or trying to avoid sugar. As Dr Varady points out, deprivation not only makes you miserable, it also means you're more likely to give up because that hungry feeling is never-ending. The Every Other Day Diet is different. You only have to limit yourself until the next day, so the emotional stress is never overwhelming.
The science behind the Every Other Day Diet
Dr Varady's weight loss plan has the edge over faddy diets for another reason too. The Every Other Day Diet has been years in the making because it's based on sound scientific research. Dr Varady conducted seven clinical trials involving nearly 400 people while devising the EODD, just about all of whom were obese. Many had previously followed other diets which hadn't worked. Once they switched to dieting every other day their health, and waistlines, were transformed. And they weren't feeling hungry either!
How much can you expect to lose?
The science is one thing but Dr Varady knows dieters want to see results, and fast. Most patients on the clinical trials lost an impressive 12lb (5kg) in the first four weeks following the Every Other Day Diet, that equates to 3lb (1.4kg) a week. They also dropped two dress sizes. Following the plan long-term pays off too. Dieters lost up to 3 stone (22.7g) after a few months, but the results were dependent on starting weight. The key to staying slim is simple, too. Once your goal weight is achieved, you swap the EODD for a new plan - eating 1,000 calories on Monday, Wednesday and Friday then enjoying feast days the rest of the time.
How to make diet days easier
Is the thought of restricting your meals to 500 calories putting you off? Dr Varady has a few tips to get you started:
Weighing yourself at the same time every day helps with motivation - and keeps the scales moving. Research suggests that over time slimmers using this technique lose twice the normal amount of weight because it encourages them to consume less calories.
Eat lunch and dinner - but skip breakfast. Eeking those calories out to cover three meals - or simply having breakfast and dinner - isn't a good idea because the hunger encourages over-indulgence when you do eat.
Don't banish high-fat foods. In studies people who stuck to low-fat options on a diet day were more likely to cheat because they didn't feel satisfied. Remember that you can eat whatever you like as long as you don't go over 500cals. Oily fish and nuts are great options to fill you up.
Why you won't overeat on feast days
This is where the Every Other Day comes into its own. Unlike other plans, like Paleo and Dukan, you really can eat as much of what you like on a feast day. No wonder so many American slimmers can't get enough! So how do you keep the weight off? Dr Varady says: 'After eating 25% of normal calorie intake on Diet Day, EOD dieters usually only eat 110% of normal calories on feast day so their overall calorie intake over two days is less.' This could be due to a 'metabolic reboot' after diet day which kick-starts the body's appetite regulators back in to action. Or a gradual shrinkage of the stomach, combined with a no-binge psychology which makes food less tempting. Either way it seems to be working!
The importance of exercise
Once you're losing weight on the EODD, exercise is essential to keep the momentum going. Dr Varady conducted a study of 65 obese people which lasted eight weeks. Those participants who did 25 minutes of exercise every day, building up to 45 at the end of the study, along with following the diet, had twice as much weight loss as those who didn't work out. They also had more calorie-burning muscle which helps to keep the weight off afterwards.
Give the Every Other Day Diet a go!
For more info and delicious recipe ideas, buy The Every Other Day Diet by Dr Krista Varady and Bill Gottlieb (£13.99, Yellow Kite)
Sign up to our free daily email for the latest royal and entertainment news, interesting opinion, expert advice on styling and beauty trends, and no-nonsense guides to the health and wellness questions you want answered.