How to tell when you really need antibiotics (and when to soldier on)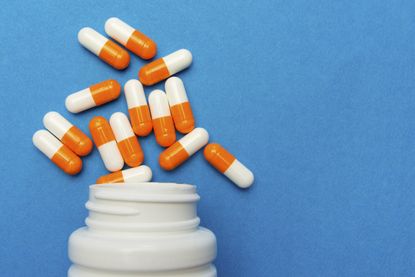 (Image credit: Getty images)
After a huge government campaign there's been a reduction in the amount of antibiotics prescribed by GPs, but worryingly the amount of antibiotic-resistant infections are still growing.
A new report (opens in new tab) has revealed the amount of antibiotic-resistant infections are on the rise, despite a 17% drop in the antibiotic prescriptions being issued by GPs in England.
Which means if you're still taking them when they're not really needed, it's time to stop – as taking antibiotics incorrectly could mean you end up in a much worse situation.
"Many people believe antibiotics speed up recovery," says leading pharmacist and Jakemans expert Marvin Munzu. "But using antibiotics to treat viral infections, overuse, skipping doses, not completing courses or sharing them with others will increase the likelihood of antibiotic resistance."
There's an estimated 5,000 deaths in England each year from antibiotics no longer working and, since 1984, no new registered classes of antibiotics for humans have been developed.
"One in five people expect antibiotics when they visit their doctor," says Marvin. "GPs are commonly pressurised by patients asking for antibiotics. For example, people asking on behalf of a child to treat infections that don't respond to the drugs."
Sadly, there's not an easy way to work out how many times is too much. "The more we prescribe, and treat inappropriately, the more resistance we will encounter," says private GP Dr Jeff Foster. "As we get older the number of infections we get decreases. There is no fixed amount – if your illness needs antibiotics, then they will be prescribed."
And the dangers of overusing could mean the difference between life and death. "As an infectious diseases doctor, I see first-hand what happens if antibiotics don't work – and it's scary," says Dr Chris Van Tulleken from University College London Hospitals. "Antibiotics are not just vital for treating serious bacterial infections, they're needed to help with other treatments like chemotherapy. Resistance is a problem that will affect every one of us, so we all have a role to play. As GPs we are often asked to prescribe antibiotics by patients who think that they will cure all their ills. Your pharmacist can recommend medicines to help with your symptoms or pain."
When to take antibiotics
Only take antibiotics if they are prescribed for you.
Finish the course, even if you feel better, otherwise the infection may not be fully treated and could return.
DON'T…
Skip doses. If you forget to take a dose, take it as soon as you remember then continue your course as normal. However, if it's almost time for the next dose just skip the missed dose – don't take a double dose to make up for a missed one.
Save some of your antibiotic for the next time you get sick.
Take an antibiotic that has been prescribed for somebody else. And don't let anyone take your antibiotic, even if symptoms are the same.
What antibiotics won't work for
Most coughs, colds, sore throats, earache and sinusitis, even with green phlegm, are viral – you'll usually recover in a week or two, using pharmacy medicines for symptom relief.
What antibiotics should be used for
Skin and urinary tract infections, chest infections, septicemia, meningitis, severe acne, rosacea and general infections.
Faye M Smith is an award-winning journalist with over 15 years experience in the magazine industry. Her continued work in the area of natural health won her the coveted title of the Health Food Manufacturers' Association (HFMA) Journalist of the Year Award 2021. Currently Health Editor across several brands including woman&home, Woman and Woman's Own, Faye specialises in writing about mental health, the menopause, and sex and relationships.