This three-minute song helped to ease pre-surgery anxiety as effectively as a sedative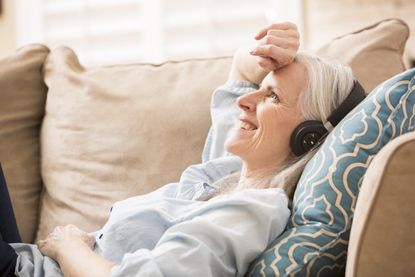 The therapeutic effects of music have been well documented, and the right song can help to induce anything from calm to complete euphoria.
Capitalising on the transformative ability of our favourite tune, a new study has looked at the amazing impact a song written to reduce anxiety, blood pressure (opens in new tab) and our heart rates had in the pre-operative environment.
Writing in theBMJ journal (opens in new tab) researchers at the University of Pennsylvania revealed that a study group of 157 people were either given the drug midazolam or played the song Weightless by UK band Marconi Union for three minutes, during which they had an anaesthetic to numb a region of their body.
They found that 'anxiety scores from after to before the procedure were similar in both groups', essentially meaning that the song worked as effectively as the sedative when it came to this marker.
As a result the study concluded, 'Music medicine may be offered as an alternative to midazolam administration prior to peripheral regional anaesthesia.
'However, further studies are warranted to evaluate whether or not the type of music, as well as how it is delivered, offers advantages over midazolam that outweigh the increase in communication barriers' +
https://www.youtube.com/watch?v=2JNM-xPZXgI
Commenting Dr Veena Graff, assistant professor of anaesthesiology and critical care from University of Pennsylvania Perelman School of Medicine, added, "Music lights up the emotional area of the brain, the reward system and the pleasure pathways.
"It means patients can be in their own world, they can be comfortable and have full control."
Music as medicine is also the subject of a Harvard seminar entitled Music as Medicine: The impact of healing harmonies (opens in new tab), which also cited several studies which looked at the beneficial role that music can play in healthcare.
MORE:What is anxiety? Anxiety symptoms, treatment and how to get rid of it for good
This included a study which enrolled 60 patients hospitalised for major strokes. Alongside standard stroke (opens in new tab) care, one-third of the patients listened to recorded music for a minimum of an hour daily, another third listened to audiobooks, and the final group didn't receive any auditory stimulation.
After three months verbal memory was compared for all groups, with music listeners seeing the best improvement (60 per cent) compared to 20-30 per cent in the audiobook group and the patients who did not receive auditory stimulation.
Miriam worked for woman&home for over five years and previously worked on the women's lifestyle magazines Woman and Woman's Own.