How a foam pillow designed for neck pain has helped to tackle the coronavirus pandemic
It's not just the best pillow for neck pain –– it's on the frontline of the coronavirus pandemic, too.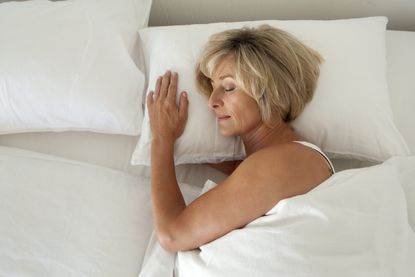 (Image credit: Getty Images)
Levitex designed their 'gravity defying' foam technology pillows with professional athletes in mind. But the coronavirus pandemic has seen their business take an unexpected turn.
Known to be perhaps the best (opens in new tab)pillow for tackling neck and back pain, Manchester-based start-up Levitex have now found themselves at the frontline of the coronavirus (opens in new tab) pandemic.
The company designed their groundbreaking foam with athletes in mind, but soon discovered that their pillows had a wider – and more critical – appeal.
The company's neck pain pillow, on general sale for £60, has found its way into hospitals across the North West; providing hundreds of patients recovering from serious illness with comfort and relief.
Levitex Pillow in Large, £60 (opens in new tab)
Before founding the groundbreaking company, which is based at Manchester Science Park, CEO James Leinhardt had spent his career helping critically ill patients with neck and back pain (opens in new tab). On realising that maintaining a good sleep posture (opens in new tab) was crucial to a person's overall health, he teamed up with Pain Medicine Consultant and Clinician, Dr Ilan Lieberman, to develop Levitex's revolutionary foam.
But when coronavirus took hold, Dr Lieberman returned to his role in the Intensive Care Unit at Wythenshawe Hospital and discovered an important new use for the pillow.
Witnessing first-hand the crucial need to help patients sleep better (opens in new tab), the company donated over 200 pillows to patients at Manchester Children's Hospital, North Manchester General, Wythenshawe Hospital, Salford Royal and Lancashire Teaching Hospital.
Speaking of the positive initiative, founder James Leinhardt told Metro, "'I've spent most of my career working with NHS trusts, care homes and local authorities across the country, and that's why I wanted to create a product that would genuinely help people. Good sleep posture is so important, and we've taken a scientific approach to everything in order to create a product that helps reduce things like neck pain and backache."
MORE:Sleep expert reveals how to retune body after lockdown (opens in new tab)
The pillows have also undergone independent clinical trials at University of Salford, which tested their comfort, support and pressure relief potential. The trials saw Levitex foam tested against eleven alternative sleeping technologies including memory foam, sprung mattresses and the air-alternating mattresses often found in hospitals.
Though Covid delayed Levitex's official launch, the pillows are now available on general sale at £60, and range in size from children's to larger frame adults.
And unsurprisingly, the five-star reviews are already rolling in from customers.
'Delighted with my pillow. I was used to sleeping with two pillows and wondered how I would get on with this single much slimmer pillow. It felt strange at first but I slept well from that first night,' wrote one well rested customer. 'Importantly, I had been suffering with a very sore neck for weeks – the result of working from home. Since using the pillow this has gone. Amazing! Great product and worth the money.'
While another wrote, 'At first it get a little alien, but after a few days I was sleeping like a baby!'
Kate is a freelance contributor to woman&home, covering everything she loves most: fashion, fiction, and fancy face cream. If she's not working, she's probably reading, feeding her online shopping addiction, or judging the taste level of celebrity houses (10/10 for Dakota Johnson, 2/10 for Tan France).

She graduated from Central Saint Martins in 2020 with a BA in fashion journalism, and her byline has also appeared in British Vogue, The Times, and Marie Claire.