Nearly one million women have missed breast cancer checks due to the pandemic
This is so important.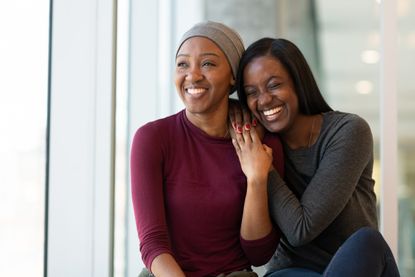 (Image credit: Getty Images)
The charity Breast Cancer Now estimates that 986,000 patients are waiting for mammograms - an X-ray which examines the breast for diagnosing cancer - due to screening halting when the pandemic hit.
The X-ray's help to detect early stages of cancer and hugely increases the survival rate. Doctors are concerned that delays may mean otherwise healthy women will sadly die unnecessarily.
Every 10 minutes a woman is diagnosed with breast cancer in the UK. This is scary but means it is more than likely we all know someone who will be affected, so we should all look out for one another in this scary time. Breast Cancer Awareness Month will be particularly prominent this year.
Each year more than 2 million women have breast cancer screening in the UK. Women registered with a GP are invited for a mammogram between the ages of 50 and 53 every three years until their 71st birthday.
Mary Wilson, Consultant Breast Radiologist at the Nightingale Centre, Wythenshawe Hospital, and Lead for the National Breast Imaging Academy Project, said: "Screening diagnoses around 19,000 breast cancers a year in England and there has already been a delay of over four months in the programme."
Breast Cancer Now forecasts that nearly 9000 of the women in the backlog could be living with undiagnosed breast cancer, with their diagnosis postponed due to Coronavirus taking priority.
Back in March, the NHS stopped all breast screening programmes to help stop the spread of coronavirus and they redeploy staff to fight on the frontlines instead. While some screenings are back up and running, the number of appointments have been hugely cut due to new social distancing measures. There is now a huge backlog from the cancelled appointments too.
Baroness Delyth Morgan, Chief Executive at Breast Cancer Now, said she is urgingthe governmentand NHS bodies across the UK "to set out how the anticipated influx in demand for diagnostics will be met." She is also asking the government to commit in its upcoming spending review to invest in the NHS cancer workforce.
The charity is urging women to attend their appointments if they're being invited. And very importantly, if you noticeany new or unusual changes in your breasts to get in touch with your GP urgently. Most breast changes won't be cancer but it is crucial to get them checked.
Anyone concerned about COVID-19 and breast screening can call the charity's free Helpline on 0808 800 6000.
Rachel is a freelance contributor to woman&home, covering news as well as books, lifestyle and travel. Her byline has also appeared in The Independent, The Financial Times, ELLE Magazine, VICE, Glamour Magazine and others. She loves nothing more than talking with people to share their stories. When she is not writing you will definitely find her nose in a book or magazine, or perhaps training for the next half marathon, practicing yoga or eating in London's best restaurants.